Romelu Lukaku has Belgium's World Cup stars raising expectations
MOSCOW -- The first thing you notice is his size. Romelu Lukaku isn't the tallest player on Belgium, but he is, for sure, the stoutest. He is sturdy and thick, the sort of presence that looms so large it feels like his shadow might swallow you. His shoulders are waterslides children could play on. His feet are so large (size 13 1/2) that Juan Mata, a regular-sized teammate at Manchester United, once tried his boots on and they looked like clown shoes.
The only thing wispy about him is his beard.
The beauty of Lukaku, though, is the way he plays against type. There are moments, of course, when he shows brute force and power (it sort of feels like he might sometimes rip a door off its hinges by accident), but his elegance is what sings. The way he shimmies and slides around an opponent. The way he flicks the ball at his feet. The way he gallops into space.
Lukaku, a 25-year-old giant at 6-foot-3 and 210 pounds, certainly could be a defender. Many his size are. Yet he is a scorer -- the scorer -- for Belgium, their biggest weapon (literally) at this World Cup.
On Saturday here, Lukaku put it all on display. Belgium 5-2 Tunisia was, for much of the game, a rout for the Europeans and Lukaku's play in the first half -- when Belgium grabbed hold of the match and never let go -- was lyrical.
After Eden Hazard had given Belgium the early lead from the penalty spot, Dries Mertens played a sharp pass that sent Lukaku careening down the side of the field. Barely downshifting, Lukaku cut to the inside -- with not even a wobble to his stride -- and unleashed a blast, perfectly placed, that rippled the net.
"Today we had a lot to celebrate," Belgium manager Roberto Martinez said. "The talent was on display for the world to see."
---
World Cup 2018 must-reads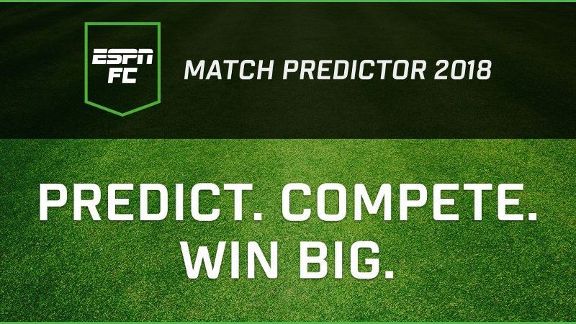 - Make your daily picks with ESPN FC Match Predictor 2018!
- World Cup fixtures, results and coverage
- Messi helpless as Argentina's World Cup dream fade
- Mbappe announces himself on the World Cup stage
- VAR at the World Cup: A timeline of the tournament
---
Lukaku's second was even better. Just before half-time, with Tunisia having cut the lead to 2-1, Thomas Meunier -- who turned in an excellent performance -- dribbled near the top of the penalty area. Lukaku, reading the play, rubbed against a defender and then slipped behind him, timing his run just right and picking up Meunier's slick pass as Farouk Ben Mustapha, the Tunisia goalkeeper, was bearing down on him.
Unbothered, Lukaku simply flicked his foot and the ball looped over Ben Mustapha's body. Lukaku, once he saw his shot was clear, did not even wait for the ball to cross the line. He turned away and celebrated, wrapping his arms around the teammates who surrounded him.
It was, in a way, balletic. And, since Lukaku scored twice against Panama in the opening game as well, it was historic, too: Lukaku became the first player to score multiple goals in consecutive World Cup games since Diego Maradona did it for Argentina in 1986.
Expectations for Belgium here are, understandably, quite high. Ranked third in the FIFA Ranking coming into the tournament and coming off the quarterfinal appearances in the 2014 World Cup and 2016 European Championship, the standard now -- with Lukaku, Hazard, Kevin De Bruyne and Thibault Courtois all shining -- has to be a semifinal.
To get there, the Red Devils will have to address concerns about their defense, and as strong as Saturday's match was, those cracks still showed through. Dylan Bronn's header from right in front of goal was far too easy and Wahbi Khazri's finish in second-half stoppage time came after a move in which the Belgium defenders were ripped open far too easily. Against a better team than Tunisia, there almost surely would have been more.
Martinez -- and anyone who watches Belgium regularly -- knows this, and he is working to address it. But he also can take solace in the virility of his attack. Scoring five goals all the time is not realistic, but the speed with which Belgium gets up the field and the ease with which they move the ball in and out of the passing lanes is lethal.
Lukaku lies at the heart of it all. He had a sporting moment on Saturday in addition to his goals, when he failed to control a pass as he ran toward the end line and then fell to a knee after being challenged. Some players would have tried to gain a penalty, but Lukaku quickly waved to the referee to let him know that Lukaku was aware there was no foul, and he simply popped back up and went back to work.
It was the sort of moment that showed his poise. Now, he will likely get a chance to rest a slight ankle injury in the final group match against England before continuing to try to lead Belgium deep into the bracket in the knockout rounds. If Belgium is to succeed, they will need him.
"The approach that Romelu has is a good one," Martinez said. "He will try to score as many goals as possible. And he will do whatever it takes."
Sam Borden is a Global Sports Correspondent for ESPN, also covering soccer for ESPN FC. Follow him on Twitter @SamBorden.