Sorry Brazil should sack Scolari
Two games, two defeats, one goal scored, 10 conceded. And still Luiz Felipe Scolari will not resign. Out of morbid curiosity, if nothing else, this blog rather wishes that the World Cup would continue a little longer, if only to see what sort of form would necessitate Scolari's exit.

Brazil
Netherlands
Game Details
Brazil came into the third-place playoff in search of scant consolation. They left empty-handed and humiliated for the second time in a week. Those who pinned the 7-1 horror show on the absence of Thiago Silva were left scrambling about for a new theory after he and his new 50 million-pound PSG partner David Luiz offered up another master class in slapstick defending. The Dutch took full advantage.
Silva should have been down the tunnel with his tail between his legs after just two minutes, having tugged Arjen Robben down to deny a goal-scoring opportunity so clear that FIFA should use it in instructional videos entitled "This Is When To Send Someone Off."
Only referee Djamel Haimoudi could explain why his card was yellow and not red. Luiz would have happily taken himself down the tunnel just 14 minutes later when he skilfully nodded down Jonathan de Guzman's cross into the path of Daley Blind. The billionaires at the heart of PSG must be desperately hoping that Chelsea offer some kind of 31-day "no quibble" returns policy.
It's not impossible to feel sorry for Scolari. He selected a squad with consistency and reliability in mind and was let down by the catastrophic incompetence of those who betrayed his trust.
Fred, and stick with me on this, was actually a very effective link man in the 2013 Confederations Cup, and scored five goals. This summer, he could have been replaced by a department store mannequin glued to the top of a remote control car and the team would not have suffered for the change.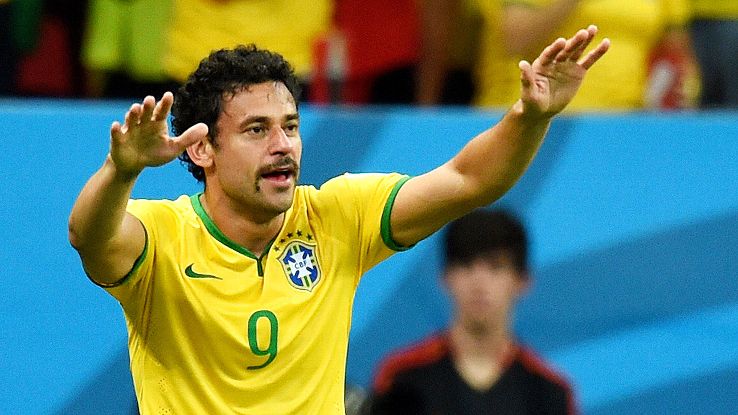 Paulinho was a machine last year, a dynamic presence dominating the central areas. Here, he looked lost and a little sad. Hulk's major contribution to the cause was to provide a market for XXXL shorts; Marcelo and Dani Alves looked like toys filled with cheap batteries; and, while Oscar certainly fulfilled his defensive responsibilities, there were only fleeting glimpses of what he had to offer going forward.
But none of that should be enough to get Scolari off the hook. This was his team, his gamble, his personality stamped on the squad. And he can talk about finishing fourth, lasting longer than other teams, injuries, suspensions, raised expectations or pressure for as long he likes, but the Selecao have been humiliated, it happened on his watch and he should have had the dignity to walk away.
---
Manchester United supporters could be forgiven for feeling quite excited about the coming season. After all, if their new manager can get through a World Cup without losing a game, if he can make Ron Vlaar look like Jaap Stam and if he can employ both Arjen Robben and Robin van Persie without putting up with a series of nasty, snide training ground bust-ups, he must be pretty special.
Louis van Gaal's side were never the kind of team to make you fall in love with football all over again, but to come out of a hellish group and finish third after crashing out of Euro 2012 without a single point represents quite the turnaround.
Van Gaal demands loyalty from his players and has no hesitation in putting well-paid noses out of joint. It's worth keeping all that in mind when you read The Sunday Mirror's claims that Wayne Rooney, whose sporadic attempts to leave the club for Manchester City and then Chelsea were well documented, believes he should be the new United captain because he's been at the club the longest. Fly to Manchester now, Louis. We can't wait to see how this unfolds.
---
Referee Djamel Haimoudi's uselessness on Saturday night was so profound that both teams had legitimate reasons to consider that he was biased against them.
His decision to book, not dismiss, Thiago Silva, was unforgivable. He then booked Oscar for diving when he was clearly fouled.
- Thompson: The Rio the World Cup didn't show
- Duarte: Brazil anxious over Argentina's quest
He refused to award a second penalty to Arjen Robben, presumably because he'd given one already and felt the odds that Robben could be genuinely fouled twice in one game were astronomical.
In fact, the only positive to come out of Haimoudi's hapless performance is that Sunday's referee, Nicola Rizzoli, needs merely to avoid accidentally swallowing his whistle and he'll look brilliant. A particularly bleak and cynical part of this blog's heart wonders if that was the intention all along.
Iain Macintosh covers the Premier League and Champions League for ESPN FC. Follow him on Twitter @IainMacintosh.