Whoever wants it more will take third
Hosts have appeared fairly regularly in the third-place playoff. Of Germany in 2006, South Korea in 2002, Italy in 1990 and Chile in 1962, only the Koreans have actually lost the match; a game that is meaningless to many takes on a greater sense of importance if home blushes are to be spared or savoured.
Louis van Gaal's postmatch news conference comments on Saturday's game could not have been more in contrast to those of Luiz Felipe Scolari. "I think that this match should never be played," said the Netherlands coach. "Let's work for Saturday's game," said Brazil's coach, widely expected to stand down as soon as his responsibilities in Brasilia are completed.
Brazil are still expected to win; the Dutch probably just want to go home but can play without such pressure on their backs.
GOALKEEPER
As with all selections in this game, much depends on whether Scolari wants his outgoing favourites to get a sendoff. Julio Cesar, having watched seven crash past him in Belo Horizonte, would be forgiven for suffering some kind of post-traumatic stress disorder. At 31, neither Jefferson nor Victor are players for the future, but it would be expected that Botafogo's Jefferson gets the nod.
Tim Krul, penalty king, was denied a second stint as pinch hitter by Van Gaal's need to make three subs in Sao Paulo. His reward for stopping Costa Rica should be a start in Brasilia, as Jasper Cillessen suffered terribly in Argentina's shoot-out. As one of the Premier League's best goalkeepers, Krul is up to the challenge, unluckily for other reserve Michel Vorm.
Edge: Netherlands
DEFENCE
For a defensively keen coach, Germany proved a living nightmare for Scolari's Brazilian back line. One of the costs of Belo Horizonte is that most are unlikely to ever feature again for the Selecao. Thiago Silva, after his unfortunate John Terry-in-reverse antics in the semifinals, is back from suspension and will lead the team. Maybe David Luiz's tears have dried by now; perhaps Dani Alves will be given his final start. Whatever, it is surely over for him and Maicon.
Paul Verhaegh, Joel Veltman and Terence Kongolo can expect to get a start for the Dutch, due to being lesser-spotted so far in the tournament. Ron Vlaar, the rock of Sao Paulo who became the poster boy for penalty misery, may be given the night off. Expect Van Gaal to go experimental; he may shuffle to a three-man defence and just go for broke. Dirk Kuyt, jack of all trades, and on his way to mastering that of a wing-back, may be making his final appearance for his country.
Edge: Brazil
MIDFIELDERS
Fernandinho, one of the horrors of Belo Horizonte, can hardly be expected to play in this match, nor perhaps ever again for Brazil. Ramires will probably play a role despite having a poor tournament himself. Hernanes, much heralded before the tournament but hardly seen, may get the chance to prove he might have been the answer. Oscar, who suffered a dreadful tournament after playing so well in the opener, either has something to prove or may be hidden away.
With Nigel de Jong again affected by the groin injury that had seemed likely to rule him out of the whole tournament, Jordy Clasie will almost certainly get a start, while Premier League types Leroy Fer and Jonathan de Guzman will get to play their part. That trio have much to prove to incoming coach Guus Hiddink.
Edge: Brazil
FORWARDS
Brazil's forwards have been, without sainted absentee Neymar, a most hapless bunch. It seems almost trite to repeat how bad Fred and Jo are. Poor Fred bore the brunt in Belo Horizonte, his home patch, where Jo, in the second round, had proved himself to be even worse. Scolari might as well have done with it and whack Luiz up there. Or one of the goalkeepers. Maybe Hulk in the centre. Just anything but Jo and Fred.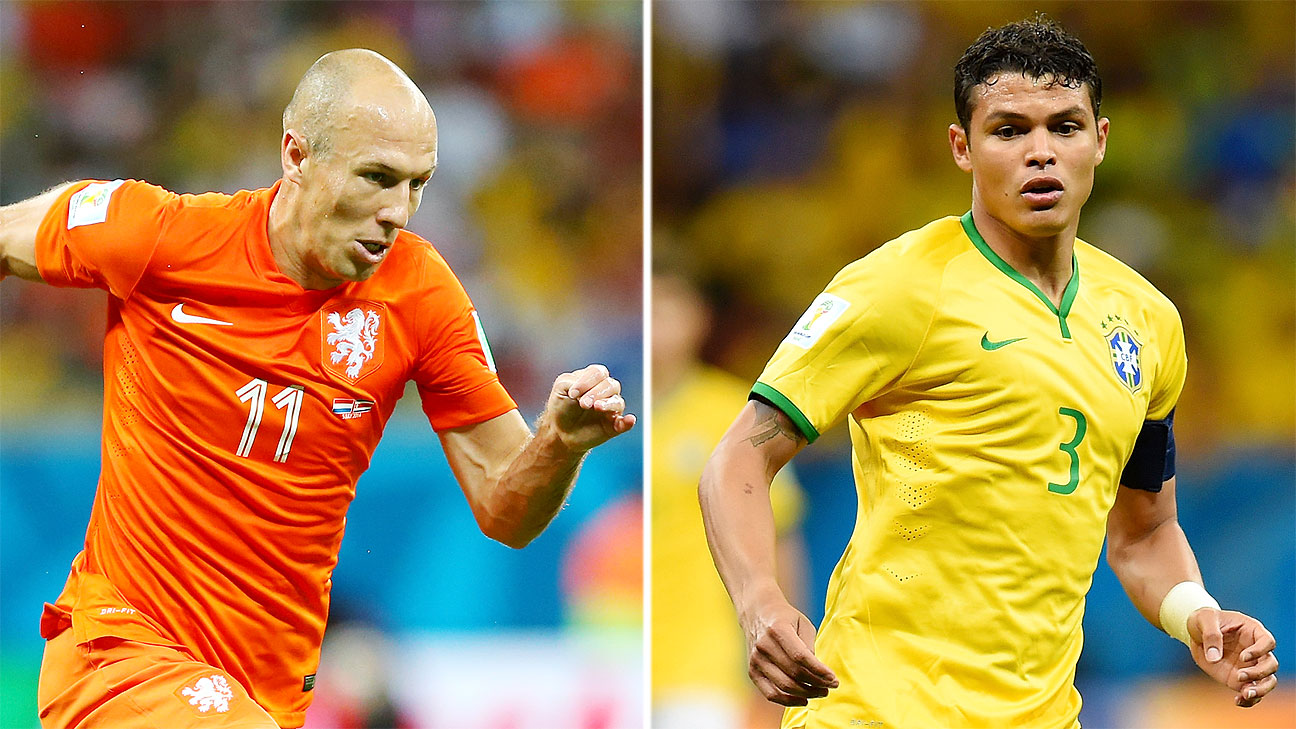 With Manchester United now becoming a priority for Van Gaal, do not expect Robin van Persie to play in this match. The skipper was a wrecked figure as he shuffled off for Klaas-Jan Huntelaar in Sao Paulo; the Schalke man perhaps should have been brought in earlier. Jeremain Lens can expect a role, too. Will Arjen Robben's enthusiasm see him play a part or will he absent himself?
Edge: Netherlands
RESERVES
In a match that will likely be reserves playing in place of first-choice picks, much depends on who either wants to play, or is willing to play. Brazil's squad would seem to be all likely to be demoralised, while the Dutch players have suffered two 120-minute matches in a row, with some ageing legs now exhausted. Again, this match comes down to who wants it most, so expect to see more first-teamers for Brazil than from the Dutch.
Edge: Brazil
COACHES
Scolari took on a job in which it was always clear that failure to win the World Cup would scar his legacy forever. The 2014 finals proved his approach to be outdated, while he never got control of the egos in the way he could back in 2002. He was handed a generation lacking in key areas, and ultimately, his lack of new ideas bound them for failure. Third place will be little consolation as he says goodbye.
Sao Paulo may have slightly damaged the idea that Van Gaal was the tournament's best coach, especially against Joachim Low's triumph with Germany, but he heads to Manchester with his reputation hugely enhanced. There is a possibility that he uses Brasilia for some experimentation, but he will also probably want to cast off the defensive shackles he needed to quell Lionel Messi -- which did work, but at the cost of the rest of his team.
Edge: Netherlands
INTANGIBLES
This game is hung on who wants it more, although there is a sizeable side issue of who can raise themselves. The Brazilians are likely to still be in shock, while the Dutch probably went as far as they possibly could, and will feel much better about themselves. These games are usually high-scoring, too, which should increase the entertainment levels.
PREDICTION
Brazil, because they have to, even if it won't be nearly enough.
John Brewin is a staff writer for ESPN FC. Follow him on Twitter @JohnBrewinESPN.