Les Bleus to watch this transfer season
If you are a Tottenham fan, you woke up to some great news this morning: French goalkeeper Hugo Lloris has signed a new five-year contract at the club. The France captain spoke to Mauricio Pochettino, the new Spurs manager, and the Argentinean convinced him to commit his future to the north London club.
Of course it doesn't mean that Lloris will spend the next five years at White Hart Lane. But it is a great sign that he believes the club is aiming in the right direction to break again in the top four and qualify for the Champions League. That's the competition Lloris wants to play in, having been disappointed to have missed out over the past two years. He is giving it another go but might well review his situation next summer if they again fail to qualify.
Once again, like Lloris, many French internationals are right at the heart of the transfer window this summer. Among the 23 players that Didier Deschamps took to the World Cup in Brazil, 19 of them are or could be involved in the transfer news this summer, starting with Mathieu Debuchy.
The Newcastle right-back, 29 this month, will officially sign for Arsenal at some point in the next day or two. He has passed his medical, and only the paperwork remains. The Gunner will pay $17 million for him (£10 million) and he will replace Bacary Sagna, who left after seven years to join Manchester City on a free transfer. Wenger tried to keep him with a great deal, but City were offering more money (around $188,000 a week). It's a new challenge for him, and he will be reunited with two of his good friends, Gael Clichy and Samir Nasri, the latter of whom will sign a new contract with the Premier League champions in the next few days.
- Andrew Mangan: Debuchy a good Sagna replacement
Another French defender could join them too -- Eliaquim Mangala, the Porto centre half, 23 years old. The two clubs have agreed a fee around $60 million (£35 million) but the players is still pondering a move. He knows that with Matija Nastasic and Vincent Kompany plus Martin Demichelis, the competition will be massive and he wants to play regularly.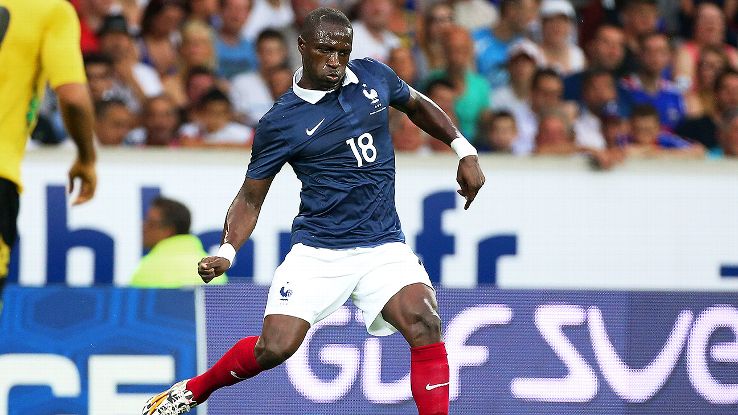 As more Frenchmen arrive in Manchester, another one is set to leave the city. Patrice Evra's story at Manchester United is coming to an end, as the left-back is expected to join Juventus on a two-year deal. The Italian champions will pay the Red Devils $3.5 million for the 33-year-old, who had another year left on his contract after United initially agreed to an automatic extension, as Evra played more than 25 league games last season. Evra started his career in Italy lower leagues 15 years ago and will finish it with the Champions.
Finally three other defenders should stay at their club. José Mourinho tried to snatch Raphael Varane away from Real Madrid. However, the young and promising centre-half (21) wants to stay in Spain. Laurent Koscielny signed a new contract at Arsenal just before the World Cup. Mamadou Sakho is very happy at Liverpool and talks over a contract extension could also begin soon despite him only joining the Reds last summer.
In midfield, there should be less movement. Blaise Matuidi renewed his contract at PSG last February and will be a key player again for Laurent Blanc and the French champions this year. Yohan Cabaye joined him at the Parc des Princes in January.
Could they play with Paul Pogba this season? It looks unlikely now. Hit by Financial Fair Play sanctions, the Parisians could only do one big deal this summer, and they chose to sign David Luiz for $85 million (£50 million). Now, they need to sell first before buying. To get Pogba, valued at around $100 million (£60 million) by Juventus, they would have to let Edinson Cavani go; they don't want to.
So it looks like Pogba, a PSG fan who was born and grew up in the Paris suburbs, will not join the club this summer. It doesn't mean that he will stay in Italy though. Juve, who need money, could cash in on a player they got for just $140,000 two years ago. Real Madrid and Manchester United are very interested, meaning that Pogba could be the saga of the summer.
Two lower-profile players could be on the move, too. Moussa Sissoko, 24, the versatile Newcastle midfielder, had a good World Cup with France; Liverpool, Tottenham and Spanish clubs have showed an interest in him. Morgan Schneiderlin, also 24, could be the latest Southampton player to leave St Mary's as well after Luke Shaw, Adam Lallana and Rickie Lambert. Arsène Wenger and Pochettino are big fans as his new international status has boosted his profile.
Finally, in attack, there should be a few moves. First of all, the ones who will stay: Olivier Giroud, 27, will remain a Gunner. His current deal at the club runs until 2016 but discussions about a contract extension started before the World Cup and should continue at the start of the season. It will be the same for Karim Benzema, 26, at Real Madrid. His agent has already met Florentino Perez three times in the past two months, according to reports. Talks will continue and the former Lyon striker is expected to sign a new contract soon.
Now, the ones who will leave. Mathieu Valbuena, 29, has spent eight good years at Marseille and wants a new challenge. He has always been attracted by La Liga (his dad Carlos is of Spanish origin). Valbuena's agent is reportedly in advanced talks with Valencia and has also opened discussions with Sevilla. He is available for around $13.6 million (£8 million).
If the Spanish league is about to discover a new Frenchman this season, it could also lose a more exciting one. Antoine Griezmann seems set to leave Real Sociedad this summer. The winger, 23, is one of the most promising player of his generation. He had a great World Cup, a great final season with the Basque club and is ready now to get to the next level.
His release clause is $43 million (£25 million) and he has refused to extend his contract that expires in 2015. Lots of big European clubs (Arsenal, Chelsea, Liverpool, Dortmund, Barcelona, PSG) have been watching him closely and have reportedly contacted his agent. No bids have officially been made yet but there is little doubt that he will leave Real Sociedad, where he arrived at the age of 13, this summer.
Another exciting young talent will be on the move. Remy Cabella, 24, stayed on the bench during the World Cup but he will leave Montpellier this summer; his most likely destination is Newcastle. The Magpies had a $13.6 million (£8 million) bid rejected in June but talks have restarted with Montpellier and a second bid, around $20.5 million (£12 million), is likely to be accepted. Cabella will arrive at St. James Park and will try to replace Loic Remy as the fan favourite.
Remy, 27, was a big hit at Newcastle last season but wants to play Champions League football, which is why he wants to leave Queens Park Rangers, where he is still under contract until 2017. His value is between $17-20 million ($10-12 million). Arsenal are keen, but will they sign him on top of the Alexis Sanchez deal, considering they also already have Giroud, Theo Walcott, Lukas Podolski, Alex Oxlade-Chamberlain and Yaya Sanogo? Tottenham and Liverpool are also apparently interested in the Frenchman, who wants to stay in the Premier League.
Julien Laurens is a London-based French journalist who writes for ESPN FC and Le Parisien. Follow him on Twitter: @LaurensJulien.