So much to lose for semifinalists
"Thinking about making a mistake and the consequences of it only prepares you to fail." Those were the words of Patricia Ramirez, a sports and health psychologist and the author of a series self-help books, in the pages of Tuesday's edition of Spanish sports daily Marca. Actually, Ramirez was talking specifically about the mental process of dealing with the pressure of a penalty shootout but as we look to the World Cup semifinals, her words hold true for all four participants in a more general sense.
Brazil, Germany, Netherlands and Argentina. This is exactly what a World Cup last four should look like, and for that very reason we have every right to expect everything in terms of spectacle and simultaneously to fear little return. Even for the most celebrated players involved, this promises to be one of the biggest occasions of their careers. It is hard not to think about how much there is to lose.
That shadow looms large -- perhaps even more for Germany than their three fellow competitors. In most other situations, they would go into Tuesday's game in Belo Horizonte as clear underdogs. Not exactly plucky minnows (it was difficult to ever imagine Germany as that, even in the 2006 edition when they were in the early stages of reconstruction), but certainly as emphatic second favourites against a host nation, powered by World Cup history and the burning desire to correct the failure of 1950.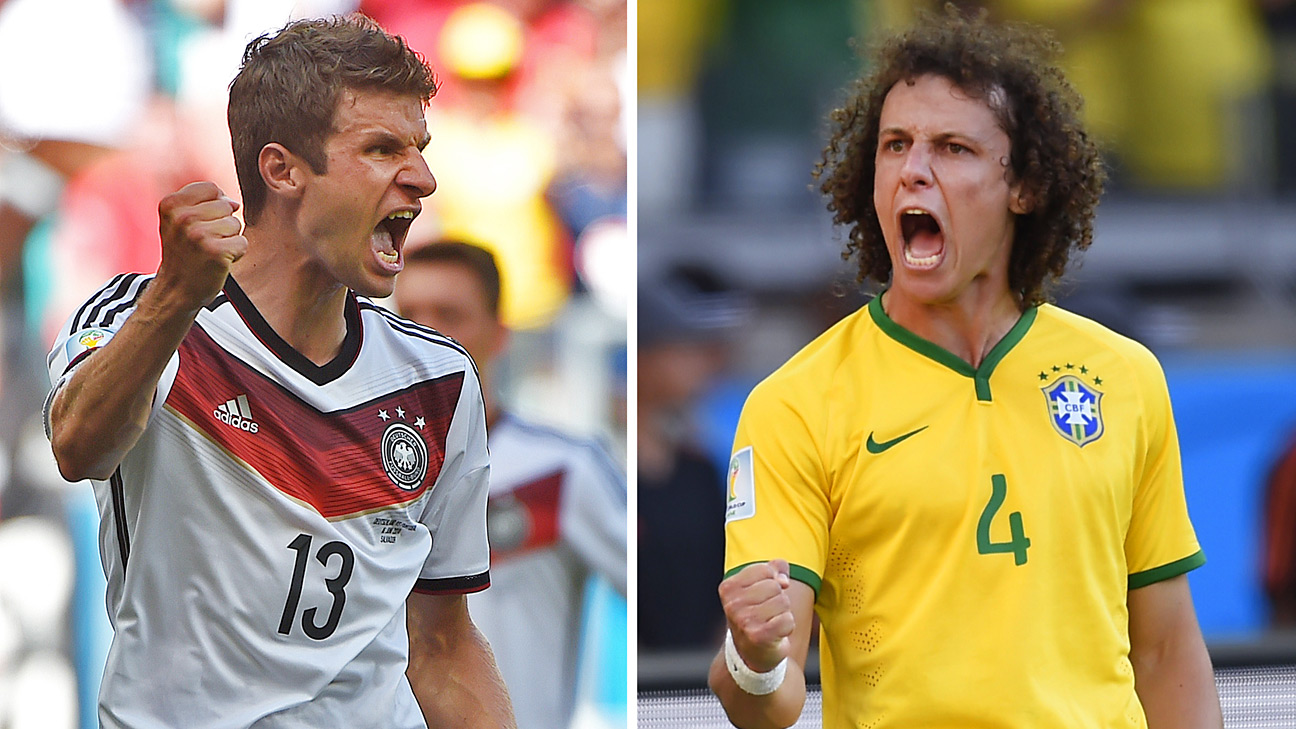 Yet somehow, Germany have eased into the position of favourites. They have not done it by tearing other teams apart -- they even had a few strokes of luck in the slightly flattering 4-0 win over Portugal in their opener -- but by riding out scares against Ghana and Algeria and emerging on the other side looking composed, as they did against France in the quarterfinal.
Rather than wowing us with their form, they have merely offered suggestions of the potential that everyone believed was there before the tournament started. Lest we forget, Joachim Low's side were third favourites in the pre-World Cup betting, ahead of holders Spain and only behind Brazil and Argentina. Having created a sense of progress ever since hosting 2006 under Jurgen Klinsmann, it is hard to avoid the feeling that it is now or never to harvest the bounty of that promise.
If there was a tipping point in the patience towards this attractive Germany, it was the Euro 2012 semifinal loss to Italy. By this time, we knew they could reach the latter stages of major competitions (it was their fourth semifinal in a row, between Euros and World Cups), but the first time we truly doubted that they could get over the line at some point and actually win something.
In the eventual final in Kiev, we saw a timeless display by Spain -- perhaps the denouement of their greatest era, as it turns out -- but not a timeless final by any means, even though Italy played it with plenty of determination and without fear. It accentuated the sense of what might have been had Germany not produced such an error-strewn match in the Warsaw semi. The time for indulgence of their mistakes has passed.
Brazil, on the other hand, began this tournament knowing there was little margin for error, but have produced a clutch of mistakes anyway. Their display as a host nation is highly reminiscent of that of France in 1998; flawed, not always comprising champagne football but pushed on by an aura of creating something historic, and of seizing a moment.
It is a situation -- especially now, with the absences of Neymar and Thiago Silva against Germany -- that leaves Luiz Felipe Scolari in his element. In Monday's prematch news conference, he was playing the patriot's card, as he has so many times before for Brazil and, for that matter, for Portugal. He spoke of school children singing the national anthem, and hit his substantial palm against his breast. "Let's feel that in our chests," he said. If it was Hollywood, the cut would have been immediately to the dressing room, where players would have been full of meaningful, in-the-zone stares and lingering, slo-mo hugs.
Being shorn of his two best players may be argued to give Scolari a ready-made excuse for failure, but it also gives him fuel to augment Brazil's considerable resistance. They have faced unimaginable pressure in this tournament, carrying the expectations of a nation of nearly 200 million. Yet they are way past the point that Ramirez describes about worrying about the consequences of failure.
The same can't be said of their South American neighbours. Argentina are perhaps even more fettered by the sense of history than the hosts -- the sense of creating it. With Lionel Messi at 27, this is supposed to be his World Cup, and many of Argentina's squad are playing with a nervousness that says they know it.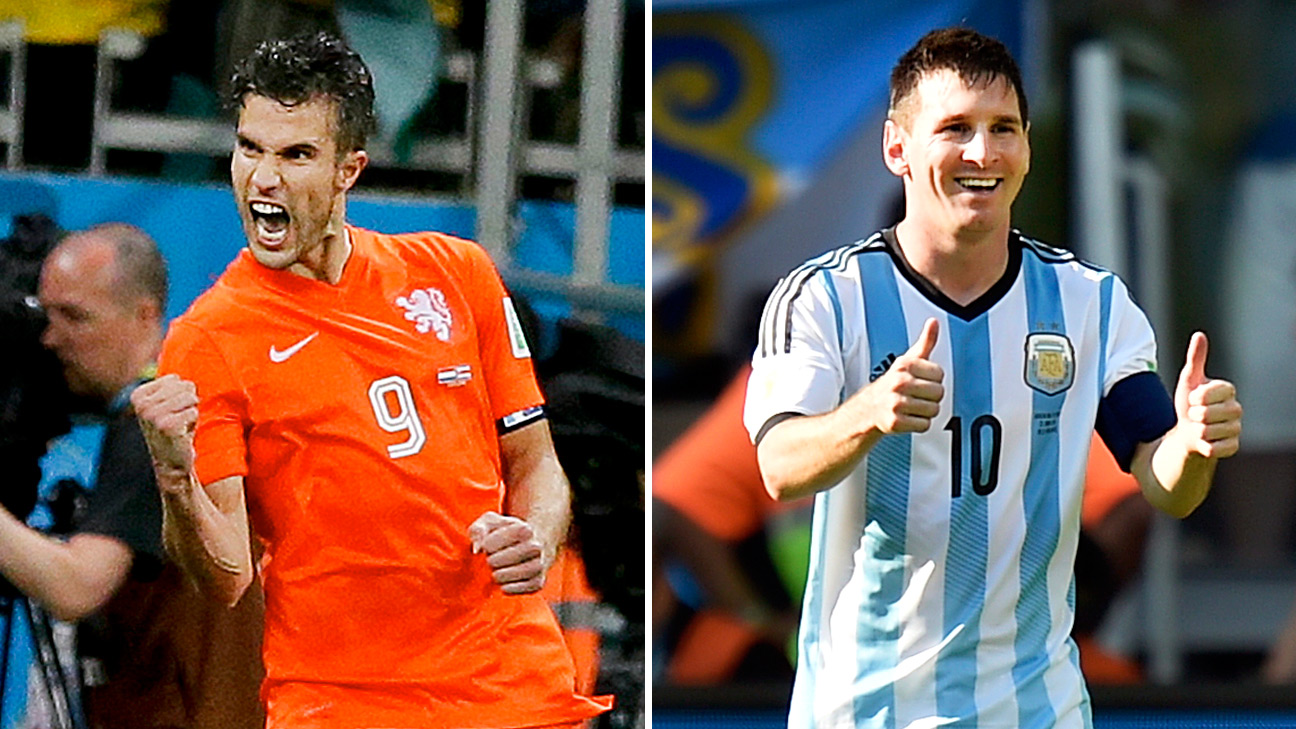 Alejandro Sabella's side are in danger of becoming what Portugal have: a set of very capable players overawed and made timid by the presence of greatness in their midst. The brief bursts of genius that Messi has used to decide games in the tournament to date have shown he only needs a few of those around him to step up. The absence of the injured Angel Di Maria, one of the few who dared to do so, is a big blow.
That, of course, gives a significant glimmer of hope to their last-four opponents, Netherlands. Louis van Gaal is exactly where he wants -- and has always wanted -- to be, at the helm of a talented young squad, receptive to his doctrine and underpinned by experienced world-class firepower in the shape of Arjen Robben and Robin van Persie.
They, like Brazil, have already shown their nerve, with Van Gaal showing his in particular with his introduction of goalkeeper Tim Krul for the penalty shootout against Costa Rica. They are in an unusual position in that their tournament is already an unqualified success, even though they stand one step shy of their final place in 2010.
The feeling around Netherlands now, compared to four years ago, is so different. The presence of seven of last year's excellent Euro under-21 squad in the group means even the younger elements have experience, and they can deal with fear even when it raises its head, as it has in the knockout matches with Mexico and Costa Rica.
At this point, it's all about sang-froid. Knowing how much is expected of them, Germany and Argentina's greatest battle is not to look down from the edge.
Andy Brassell is a freelance European football writer and broadcaster for the BBC, The Independent, ESPN, The Blizzard, Four Four Two, Talksport and others.