Marcotti: Setting the semifinal scene
It took 28 years to see Al Pacino and Robert De Niro star in the same scene. When Pacino, the cop, and De Niro, the gangster, face off in the memorable diner scene in the 1995 classic "Heat," each accepts his role.
"You do what you do. I do what I do."
We had to wait 68 years -- since the 1934 World Cup, the first both entered -- to see the footballing equivalent of these two Hollywood heavyweights square off in a competitive fixture.

Brazil
Germany
Game Details
It was the final of the 2002 World Cup, in which Germany were without the suspended Michael Ballack, and the two-nil scoreline doesn't quite reflect Brazil's superiority.
"Maybe we'll never meet again," De Niro's character tells Pacino's at the end of their diner tete-a-tete. Instantly, you know -- and they know -- that their paths WILL cross again.
In much the same way, you felt after the 2002 final that you probably wouldn't have to wait another 68 years for these two superpowers to collide again. And you were right.
The only shame is that, much like last time, it's not on equal footing.
"We didn't have much quality on that team," Oliver Bierhoff said in an interview with the Italian newspaper Gazzetta dello Sport. Now Germany's general manager, Bierhoff was part of that 2002 squad.
"We got as far as we did because the draw helped us: Paraguay, USA, Korea. Now, however, we face each other as equals."
He's being a bit disingenuous. Brazil -- shorn of their defensive stalwart and captain, Thiago Silva, and of Neymar, who has carried this side offensively -- are not on the same level as Germany.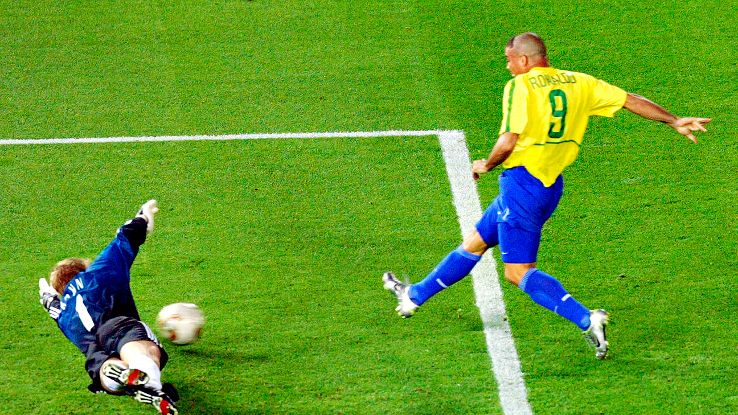 The tables have been reversed, 12 years later.
The two survivors from that game -- Miroslav Klose and Luiz Felipe Scolari -- find themselves in an entirely different landscape. Klose was a 24-year-old centre-forward who scored five headed goals in the tournament for the last successful German side before the Jurgen Klinsmann-Joachim Low revolution. Scolari was a somewhat controversial appointment who nevertheless was savvy enough to ride his superstars to victory.
Back then, the Brazil boss could count on a front three of Rivaldo, Ronaldinho and Ronaldo, the original. Three Ballon d'Or winners and three men who, at one time or another, would hold the platonic title of Greatest Player in the World.
Today, he has one: Neymar, who has a broken vertebra and won't be taking part. Some have suggested that Neymar's absence is an alibi, a ready-made excuse should Scolari fail to deliver Brazil the biggest prize in football's homecoming dance.
But Felipao doesn't seem the type to do alibis. This is the man who traveled to the Land of the Rising Sun and returned with a World Cup, just a few years after being derided as a goonish manager whose teams played thuggish football. His place in Brazilian lore is already secure; he doesn't need the Linus blanket of "what might have been."
Indeed, you feel that this is his time to step up. It's his moment to dip into his manager's tool kit and be a difference-maker with the instruments at his disposal: inspiration, motivation and tactical nous.
In 2002, he didn't simply sit and ride the coattails of his three strikers. He gave them a platform from which to succeed. He introduced a three-man defence to accommodate his veteran attacking wing-backs -- Roberto Carlos and Cafu -- and in the knockout phase, he replaced the elegant but thimble-sized passer Juninho with the rough-and-tumble Kleberson, giving the Selecao size and steel in the middle of the park.
Already, we've seen his penchant for muscle and physicality. Just ask the Colombians. But the question is whether, without Neymar, he'll take it one step further.
What if Neymar's replacement -- rather than an attacking midfielder such as Willian or Bernard -- is another blue-collar grunt, and we end up with a rerun of the Colombia game?
His opposite number, Low, obviously preparing for that eventuality, ran some interference on Monday in the prematch news conference.
"I hope the referee, Mr. [Marco] Rodriguez from Mexico, will clamp down on things," he said. "The physical energy in the match against Colombia went beyond the limits [permitted] in Europe. There were brutal fouls. It was really over the top. You have to protect the players when you're the referee."
Low's words may have been heartfelt, but they were also a classic example of the age-old ploy aimed at influencing the match official to referee a certain way. The idea is that Rodriguez will hear Low's comments and be especially aware of the need to keep control. And since you obviously don't have Scolari on the other side saying, "Gee, I hope the referee loses his cards and my guys are allowed to kick lumps out of the Germans with impunity," it may push Rodriguez to crack the whip, presumably favoring Low's more gifted side.
Of course, Rodriguez is a veteran referee now at his third World Cup who has likely seen and heard it all before. You do get the sense, though, that he's not immune to FIFA edicts.
Between 2006 and 2010, in four World Cup games, he has issued four and a half yellow cards and one red card per match. In his two outings in Brazil, his average has been three yellows and half of a red. It's a substantial decline when you consider one of his games at this World Cup was the ill-tempered, physical affair between Italy and Uruguay, the one marked by the Luis Suarez chomp.
That game saw a single yellow card in the first half -- when Mario Balotelli nearly decapitated Alvaro Pereira -- and then a sudden tightening of standards after the break.
Low may be worrying about the officiating in public, but in private he has another conundrum to resolve. Does he restore Philipp Lahm to midfield and go for a muscular back four, bolstered by Per Mertesacker's height?
That would mean losing brawn in the middle of the park and reintroducing the possession game we saw in the group stage.
Or does Low keep Lahm at right-back (and consequently Jerome Boateng at centre-back) with Bastian Schweinsteiger and Sami Khedira teaming up in midfield?
That would give Germany more defensive oomph (in case it does turn into a slugfest and Rodriguez "loses his cards"), but it would also make them more predictable offensively.
It's classic game theory. Scolari could well park the bus, get physical and rely on set pieces. In which case, if you're Germany, you want all four big centre-backs. Or he could maintain the 4-2-3-1 we saw earlier, in which case Low's possession game might be more effective. The whole thing works in reverse, too, of course.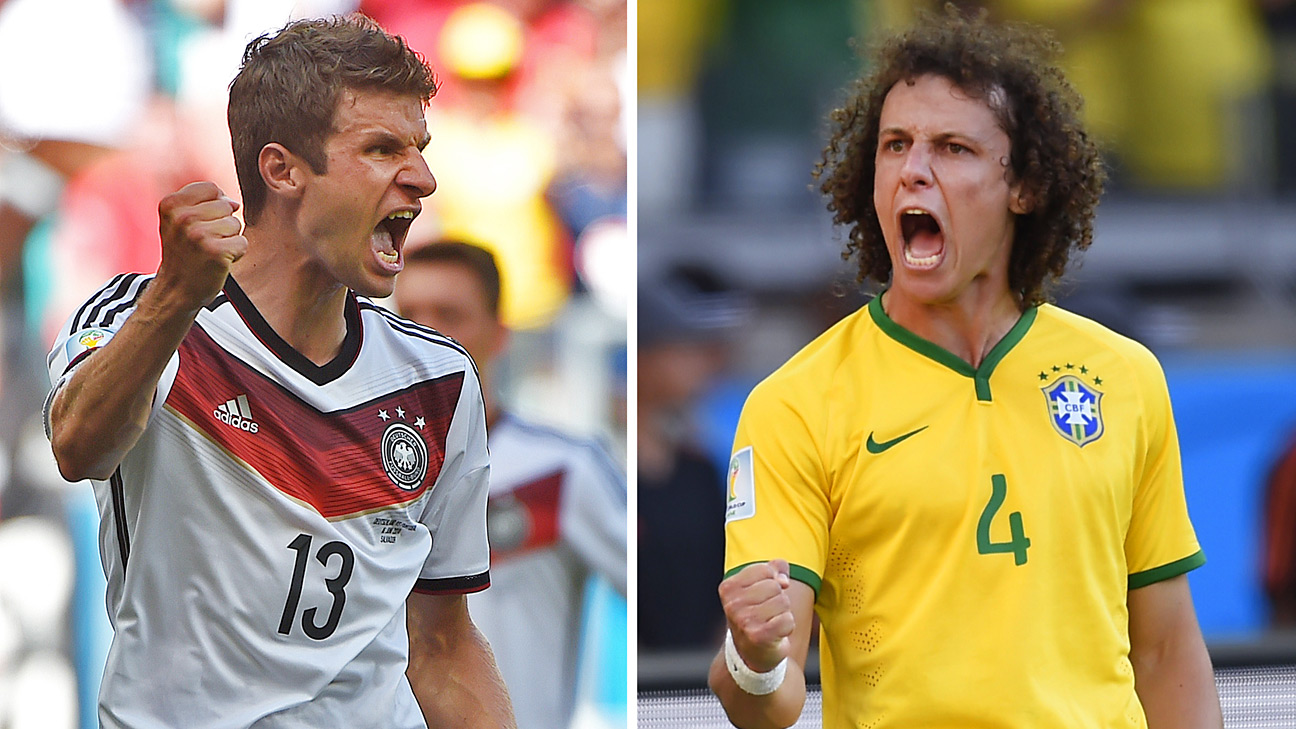 Neymar's absence, as we've said, can't be an excuse. Not to the majority of the nearly 200 million Brazilians who expect a World Cup win on home soil.
It's not a realistic argument, and it's unfair to Scolari and to this team -- lest we forget, other pedigreed big boys, such as Italy in 1990 and Germany in 2006, also failed to win the big one as hosts -- but that's the way it is. With those five stars on your jersey comes a certain responsibility.
Equally -- and say it quietly, because Germany's resurgence over the past decade is undeniable -- there's the uncomfortable fact that if Low's team fail to win this tournament it will be at least 20 years since they last won a major trophy (Euro '96). That would represent the worst run in the country's history and make the remarkable streak of semifinals and finals reached since 2006 (five on the bounce) feel rather more hollow, like the NFL's Buffalo Bills, who lost four straight Super Bowls to start the 1990s.
I'll leave it up to you to determine who is Pacino and who is De Niro (I'm leaning toward Pacino as Brazil and De Niro as Germany, but I flip-flop regularly). In the movie, when they meet again, Pacino shoots De Niro and, briefly, holds his hand as he lies dying.
That's Hollywood. The cops win. Law and order must ultimately be restored.
The nice thing about Tuesday's meeting is that it's entirely unscripted. De Niro -- whichever one of the two teams it is -- could very well get away, slip across the border and enjoy the proceeds of his big score.
Gabriele Marcotti is a senior writer for ESPN FC. Follow him on Twitter @Marcotti.