Costa Rica's World Cup by the numbers
In the mixed zone of the Arena Corinthians, as the Argentina squad struggled to contain their relief following victory over the Swiss, Javier Mascherano struggled to contain his admiration for Costa Rica.
Now that his squad are in the quarterfinals, the Barcelona midfielder was asked about the rest of the tournament and who had impressed him. It said an awful lot about the impact Jorge Luis Pinto's team have made that Mascherano mentioned them without needing to be prompted.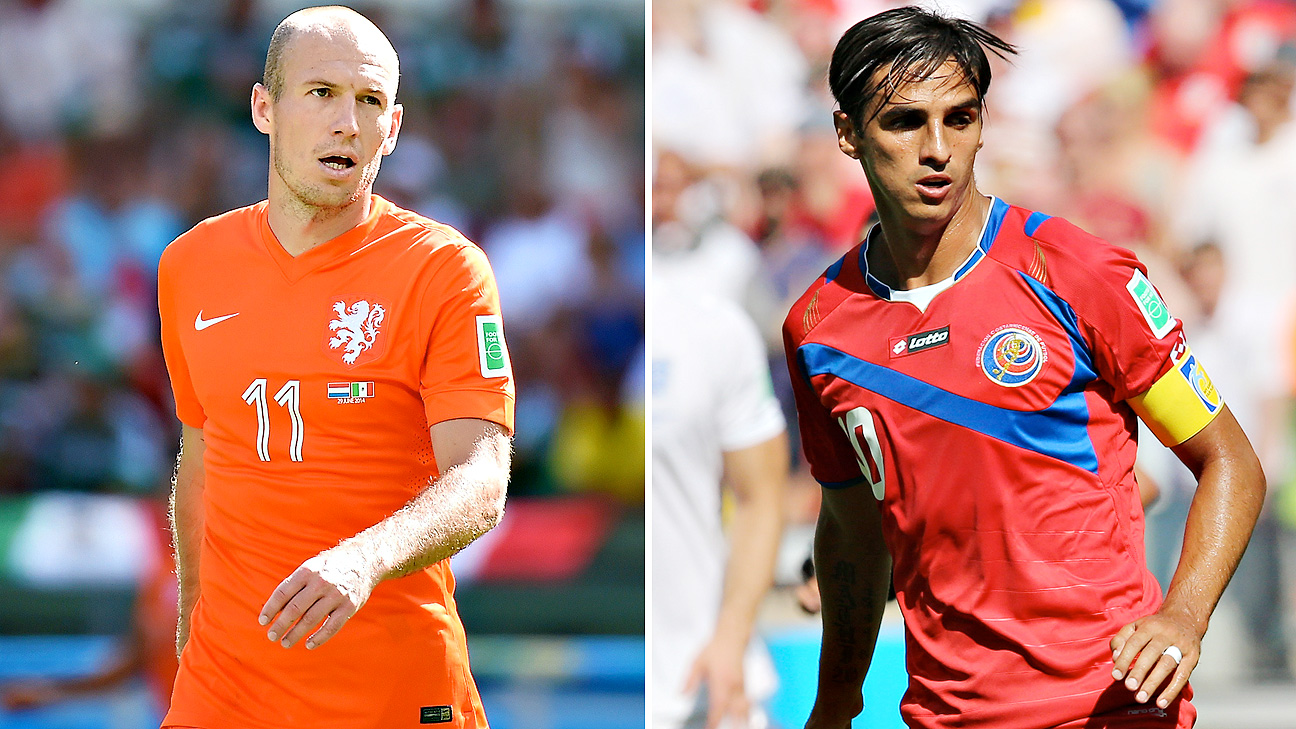 "I don't think it's fair to say anyone's been a surprise, but you have to mention Costa Rica, who are doing something extraordinary ... that's the reward for a brave side. They're a team that likes to play, that I love to watch because they always stick to their style of play. I said it when they won their first game, against Uruguay [3-1]; they're a squad that invite others to copy them."
The fact is that Costa Rica are doing a lot of things that haven't really been seen before, particularly in CONCACAF. As the following stats reveal, the World Cup's surprise quarterfinalists stand out for a lot more than their marvelous performances.
Costa Rica are the eighth-smallest nation to reach the World Cup quarterfinals, based on population the first time a team reached the stage:
1. Northern Ireland 1958 - 1.4 million people
2. Uruguay 1930 - 1.7m
3. Wales 1958 - 2.7m
4. Ireland 1990 - 3.5m
5. Switzerland 1934 - 4.1m
6. Cuba 1938 - 4.1m
7. Croatia 1998 - 4.1m
8. Costa Rica 2014 - 4.8m
More impressively, Costa Rica are the third smallest to reach the quarterfinals in the 16 years since the World Cup expanded to 32 teams:
1. Uruguay 2010 - 3.5 million people
2. Croatia 1998 - 4.2m
3. Costa Rica 2014 - 4.8m
But their accomplishments go further than that:
- Costa Rica are the only side in history to have got through a group featuring three former World Cup winners, let alone finish on top of it.
- No other World Cup quarterfinalist has faced four previous champions on its run to the last eight, given that Costa Rica's second-round opponents, Greece, had won Euro 2004.
- Costa Rica have 11 different domestic leagues represented in their squad, behind only Nigeria with 12 and Ghana with 13.
- Costa Rica are the squad with the second-fewest players in the "big four" European leagues, with only a completely home-based Russia team possessing fewer.
- Costa Rica are just the sixth nation from CONCACAF to ever reach the quarterfinals, and the first since 2002.
- With just two goals conceded in four games, Costa Rica have the second-best defensive record of any CONCACAF team to have appeared in a World Cup, behind only 1986 hosts Mexico. They conceded two goals in five games.
- As it stands, Costa Rica are one of only two CONCACAF nations -- along with, again, Mexico 1986 -- to go through a World Cup unbeaten. That Mexico team were eliminated in the quarterfinals by Germany on penalties.
- As such, Costa Rica have the best points record and best defensive record of CONCACAF teams to have competed in a World Cup outside their own country.
- Costa Rica are so far only the seventh CONCACAF team to win at least 50 percent of their matches at a World Cup.
- With 81, Costa Rica have committed the most fouls of all 32 teams at the World Cup.
Miguel Delaney covers the Premier League and Champions League for ESPN FC. Twitter: @MiguelDelaney.