Refs keeping cards close to their chest
World Cups have often been characterised by impetuous referees eager to make their mark on the game, trying to make sure FIFA's laws are enforced to the letter. This has in turn led to a higher number of red and yellow cards.
But this year it is different. There have been fewer free kicks awarded than in any other World Cup in the modern era, and in turn there have been fewer yellow cards -- less than half as many as the total at the 2006 World Cup in Germany (159 yellows to 326) -- with eight games to be played.
However, that has not stopped many coaches (admittedly those on the losing side) from complaining about the performances of officials -- right from the opener when Brazil were awarded a very dubious penalty against Croatia.
There has been a greater willingness to implement, and an understanding of, the advantage rule which helps referees to keep the game flowing, reducing the number of free kicks. As a general rule, too, fewer cards are shown after advantage has been played.
There is a degree of correlation across the last six World Cups between the number of cards in a game and the goal output. Fewer fouls and cards appear to encourage more positive play and allow the game to flow.
It must be noted that looking at the disciplinary stats prior to 1990 does not really produce a direct comparison, due to the way the game has evolved in both style and officiating.
The World Cups of 1998, 2002 and 2010 each produced around four yellows a game, although it could be said that referees in South Africa were slightly more strict with a yellow card every 8.0 fouls, compared to 8.6 in the other two years.
Germany in 2006 was a different case, with considerably more fouls and cards. Referees were dishing out cards at an all-time high of 5.1 per game, with 28 reds handed out over the tournament's 64 games -- almost making it a dismissal every other game. With 36.7 fouls per game, it could be argued that the stop-start nature was a reason for the low goals count compared to other finals. This tournament saw 147 goals with only the 2010 event, with 145, bringing fewer.
But take a look at the difference this year. With 2.8 yellow cards a game, we have seen the fewest in modern World Cups -- and again virtually half the number of 2006. The last time we saw a lower ratio was 28 years ago at Mexico '86 with 2.7 yellows a game.
With 10 red cards shown and only eight games remaining, it will require something remarkable for it not to be a modern low for fouls, yellows and reds, while 18 goals in those matches would make this the highest-scoring World Cup ever. Fair play and attacking football meeting to make this tournament what it is.
USA '94 does provide an anomaly. Although it's fouls-per-game rate is lower than any other World Cup except 2014, it's yellows per game is the second highest behind 2006. That means 1994 had, by some considerable distance, the lowest fouls-to-yellows ratio and the strictest referees when it came to punishing crimes.
Looking at the number of cards in a game historically over this same period, there is a definite correlation between number of cards and goals. Games with 6-8 red cards typically saw 2.2 goals, whereas games with 0-3 cards have brought 2.7 goals.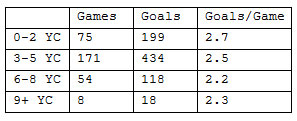 Lastly, a look at the officials. Most have been consistent with the theme of this tournament, though Australian ref Ben Williams stands out among the crowd. He has shown 15 yellow cards in his three games -- no other ref has shown more than 10 -- and he is also the only man to have sent two players off.
The only refs to come close to Williams' record of five yellows a match are Cuneyt Cakır of Turkey and England's Howard Webb with nine bookings in two games. Dutch official Bjorn Kuipers has proved to be the most lenient, booking just five players across three games.
For the quarterfinals, Ravshan Irmatov has been named ref for Netherlands vs. Costa Rica, and he will set a record for the most games refereed at a World Cup. It will be the ninth game for the Uzbekistan official. He is the only one of the four refs to have shown a red card in the tournament, along with eight yellows in his three games.
Carlos Velasco Carballo will take charge of Brazil vs. Colombia. The Spaniard has proved similarly lenient to Kuipers with just four yellows shown when he refereed Uruguay vs. Italy and Bosnia-Herzegovina vs. Iran.
France versus Germany has been given to Argentine Nestor Pitana, who has shown six yellow cards in Russia vs. South Korea and United States vs. Portugal.
Italian Nicola Rizzoli, who takes charge of Argentina vs. Belgium, has also shown six yellows across two games.
Between them, these refs have shown 24 yellow cards, and one red, in 10 matches -- 2.4 yellows a game is way below the average even for this tournament and clearly suggests FIFA's preferred policy.