Top Tenner: World Cup bans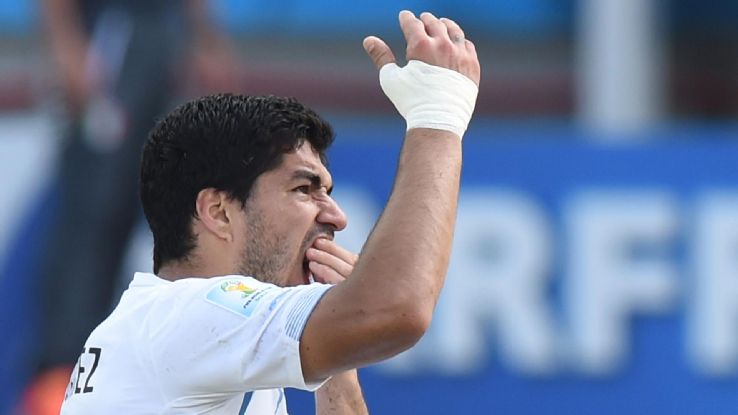 With Luis Suarez potentially facing a fairly lengthy suspension after biting Giorgio Chiellini, we look at some other notable bans from the World Cup through the years:
10. Alessandro Costacurta, 1994
Italy, in truth, stumbled into the final of the 1994 World Cup, scraping through their group on goals scored and being essentially carried on Roberto Baggio's back throughout the knockout rounds. Thus their eventual defeat to the Brazil of Romario, Bebeto and Dunga was perhaps only surprising in that it took penalties to eventually decide it all. It could have been different had Italy been able to pick their first-choice side, but Arrigo Sacchi was without a key member of his defence in Alessandro Costacurta, who picked up his second booking of the tournament in the semifinal against Bulgaria. If Costacurta had been available, would Sacchi have still risked a struggling Franco Baresi, who had missed most of the tournament with an injury picked up in the group stages? Would he have been able to play Paolo Maldini in his more natural left-back role? On such small margins are World Cups decided.
9. The caxirola, 2014
After previous tournaments, watching the first few games of the 2014 World Cup took a bit of getting used to as (A) the games were actually entertaining and (B) we didn't have the constant buzz of the dreaded vuvuzela, droning through our TV sets like some sort of demented hornet as they did in 2010. For that we should perhaps be grateful to FIFA, which banned the caxirola, the latest pointless noisemaker (it has been described as a "noisier maraca," which just sounds hateful) from this tournament and thus saving our ears and preserving our collective sanity. The ban wasn't motivated by a desire to keep things quiet, but rather because the grenade-sized "instruments" would be too easy to throw at the players on the field. But still, a blessed relief.
8. Muhamed Mujic, 1962
The 1962 World Cup is primarily remembered for the Battle of Santiago, but the suspensions that resulted from that game (Italians Mario David and Giorgio Ferrini) had little material impact since Chile's victory in that game and West Germany's win shortly after put Italy out, making the match for which the pair were suspended meaningless. Much more serious was Yugoslavia's Muhamed Mujic, who, perhaps in the spirit of a remarkably violent tournament, broke Russian defender Eduard Dubinsky's leg. It was a challenge so bad that, even though neither the game's referee nor FIFA took any action, the Yugoslav FA banned him for not just the remainder of the World Cup (he was sent home immediately) but for a year after that as well. The tackle had a tragic denouement, because it was partly responsible for Dubinsky developing a sarcoma, something that eventually killed him seven years later.
7. Leonardo, 1994
He looks like such a nice young man, Leonardo. Tab Ramos might have a slightly different opinion on that matter, for in the second-round match of the 1994 World Cup between Brazil and the USA, Leonardo reacted to some light tussling on the part of his American opponent by nailing him with an absolutely textbook elbow to the face. The blow cracked Ramos' cheekbone, and he had to spend a little more than three months in the hospital, but for British viewers at least a little levity was added by Kevin Keegan's commentary. Keegan, motivated either by stubborn refusal to change his original view or a rather sweet desire to see the best in people, refused to see anything too bad about the incident, as can be seen in his exchange with commentator Alan Parry:
Keegan: "I'd love to see that again. ... I didn't think he did that much wrong. He was being held ... he was being fouled first. I mean it's ..."
Parry: "An elbow."
Keegan: "Yeah, but he's being held ... I suppose he had to go."
Leonardo was banned for four games and missed the rest of the tournament, which was the longest World Cup suspension ever issued by FIFA, a record that only lasted a few days ...
6. Claudio Caniggia,1990
History has perhaps been a little unkind to Claudio Caniggia, former Dundee hero and a favourite of Diego Maradona who gained a reputation for only getting in the Argentina side thanks to his rather influential chum. However, Caniggia popped up with some pretty crucial goals at the 1990 World Cup, netting the winner in a 1-0 success over Brazil in the second round, as well as the equaliser against Italy in the semifinal. Unfortunately, in that game Caniggia also earned a yellow card, his second of the tournament, for a deliberate handball, so had to watch the final along with the rest of us, which given the insipid and unpleasant nature of that game, was perhaps a double punishment. Caniggia escaped a second World Cup suspension in 2002 because of Argentina's general incompetence, impressively managing to get himself sent off in their final group game against Sweden (defeat that eliminated them from the competition) despite not actually playing. Some fruity language from the bench, directed at an official, earned him a red card.
5. Mauro Tassotti, 1994
If Luis Suarez's comments after his latest biting of a fellow player (and there's a sentence that we should pause on) are anything to go by, he appears to think he'll be able to get away with it since it wasn't punished on the field. If that's true, then he might want to have a word with Mauro Tassotti, who during Italy's quarterfinal win over Spain in the 1994 World Cup made a significant impression with his elbow on Luis Enrique's nose -- significant to the tune of a pint of blood, reportedly. The incident wasn't seen by the officials (or if they did see it they were pursuing a rather laissez-faire attitude to discipline), but it was spotted by the cameras, which was enough for FIFA to give Tassotti an eight-match ban. He never played for Italy again.
4. Laurent Blanc, 1998
Some bans are entirely the fault of the player in question, but some are, shall we say, encouraged by another. Laurent Blanc is usually painted as the victim of an appalling injustice, and indeed Slaven Bilic's fall to the turf in the 1998 semifinal between France and Croatia was rather elaborate, but the Frenchman really should not have even given his opponent the chance to exaggerate. It was a routine penalty box tussle, with pushing, pulling and goodness knows what else, but Blanc inexplicably produced a slap/shove that was certainly somewhere near Bilic's mouth, prompting the Croatian to fall to the turf clutching his face. Bilic has of course been painted as the man who denied Blanc the chance to play in the World Cup final on home soil, but he is, to say the least, unrepentant, telling Le Parisien in 2011: "As on all corners, I was marking Laurent Blanc. Nothing had happened between us during the whole game. Then, out of nowhere, he hit me. It wasn't like Mike Tyson, but I was struck. I panicked and collapsed. Why did I panic? Because only one thing mattered; not to get a yellow card because I would have been suspended after taking a booking against Romania in the previous round. I'm sorry that Laurent missed the final, genuinely, but the one to blame is him." And you know what? He's right.
3. Michael Ballack, 2002
Different people are equipped to deal with different situations in different ways. The trauma of knowing you're suspended for the World Cup final would be enough to turn many into gibbering wrecks (indeed it did to another man on this list), but for others, it seemed to inspire. Without the contribution of Michael Ballack, one wonders where Germany would have been at the 2002 World Cup -- the man about to sign for Bayern Munich drove them through a tournament few expected them to succeed in -- so when he collected his second booking of the tournament in their semi against South Korea, there barely seemed any point in progressing because Ballack would not be there for the final. However, instead of falling apart, Ballack continued as he had done for the rest of the tournament, playing with a determination that verged on a fervour, eventually scoring the only goal of the game to put his team into the biggest game of their lives, a game in which he knew he wouldn't be able to take part.
2. Paul Gascoigne, 1990
On the other end of that scale is England's Paul Gascoigne, who like Ballack had been his team's leading light throughout the tournament, and like Ballack was playing in a finely poised semifinal and like Ballack produced a careless tackle, punished with a yellow card that would see him banished from the next game. Of course, Gascoigne knew he would be missing the final, and he went to pieces, bursting into tears on the pitch and wandering around for the remainder of the game against West Germany in something of a daze. Indeed, Gascoigne was one of Bobby Robson's nominated penalty takers for the fateful shootout, but was in such a state that it was decreed he was incapable of performing such a function, and Chris Waddle was elected instead. And, erm, well, that didn't go brilliantly.
1. Diego Maradona, 1994
By 1994 Diego Maradona was a fading force. However, after a spell with Sevilla ended unhappily, the great man returned to Argentina, determined to get himself fit for the 1994 World Cup -- hiring a team of fitness specialists including a bodybuilder named Daniel Cerrini and his long-term trainer Dr. Fernando Signorini. Before Argentina's group game against Nigeria, Maradona had been suffering from a cold, and in trying desperately to shift it before the match he took some supplements. That's his story, anyway. Whatever Maradona took, he failed a drug test after that Nigeria game, with illegal levels of performance-enhancer ephedrine in his system and was immediately banned for 15 months. "[FIFA has] cut my legs off," he raged at the time. "This is a real dirty business. I'd like to believe in [Joao] Havelange and [Sepp] Blatter, but after this ... well, I don't want to say anything."