Winning Ugly in 1994
With Brazil's homecoming for the World Cup mirroring that of ESPN FC correspondent Fernando Duarte this summer, we asked him to share some of his strongest memories of the Selecao in an essay series, 'Growing Up Brazil."
The 20th anniversary of the death Ayrton Senna, on May 1, was a momentous occasion of sorts for any Brazilian. But for me it triggered a cascade of memories, including the events of July 17, 1994. In the middle of an emotional havoc caused by alcohol and one of the most excruciatingly nervous football matches anybody around me had probably ever watched, I was desperately trying to find my baseball cap.
Out of a collection of more than 50 caps that drove a succession of patronizing girlfriends to despair, the cap in question was not even the most expensive. Nonetheless, my knockoff version of Senna's iconic blue headpiece with a golden autograph, almost as famous as his yellow helmet, had been quite dear to me -- my own way to grieve. At the time his Williams exploded against the wall at the Tamburello turn in San Marino, Senna was the most serious threat to the prestige of the Seleção in Brazil.
While it had been three years since his F1 world title, Senna seemed to have slotted nicely into the public imagination at a time when football had dealt Brazilians a bad, bad hand. Since Mexico 1970, Brazil had failed to even make a World Cup final, let alone bring home the "tetra," that coveted fourth title.
Formula One had pretty much taken over as "the sport where Brazil would win things." Brazilian drivers had won eight world titles since 1970, but Senna's three titles were the most recent -- and they were charged with emotions that never really seemed to signify the careers of fellow champions Emerson Fittipaldi and Nelson Piquet.
A disastrous campaign in the previous World Cup hardly helped the Seleção's case heading into 1994. At Italia '90, Brazil was not eliminated in the first round as in 1930, '34 or '66, but they were still pathetic on the pitch. Never mind the irony that their defeat at the hand of Diego Maradona's thuggish Argentina in the round of 16 came in Brazil's only convincing performance -- they hit the post four times before Maradona set up Claudio Caniggia for a peach of a counterpunch.
In 1990, their first World Cup after the retirement of the Class of '82, the Seleção could not have looked more different in terms of style. In the hands of Sebastião Lazzaroni, a manager whose appointment is puzzling to this day, they tried and failed miserably to play like Europeans, with a line of three defenders and a sweeper. That Brazil struggled horrendously to beat Sweden, Costa Rica and Scotland by a single goal goes to explain how bad it looked, which is why the public and media were up in arms by the time USA '94 arrived.
Lazzaroni gave way to 1982 legend Falcão, whose tenure lasted only a year before he resigned in protest against continuing interference by Brazilian Football Confederation president Ricardo Teixeira. In came Carlos Alberto Parreira, a respected name in Brazilian football, but his 14-game stint in 1983 ended bitterly with a defeat to Uruguay in the Copa America final.
In '83, it was already clear that Parreira was no heir to former manager Tele Santana's "futebol arte." A decade later, Parreira was even more convinced that Brazil would need more discipline than flair to return to winning ways, and Parreira became even more cautious after Brazil had a horrendous start to the qualifying campaign for the tournament in the United States: a goalless draw with Ecuador and a defeat to Bolivia left Brazil in dire straits in a group they also shared with Venezuela and Uruguay.
To make matters worse, there was the Romario affair. At the time one of the crucial pieces in Johann Cruyff's Barcelona, Romario had been exiled from the national team after throwing a tantrum for being benched ahead of a friendly against Germany in December 1992. He was recalled a year later for Brazil's last match in the qualifiers -- the small matter of a meeting with Uruguay at the Maracana where defeat would mean the first-ever World Cup without the Seleção.
That Romario answered everyone's prayers by having the match of his life with a yellow shirt, scoring both goals in the 2-0 victory, brought only temporary relief.
People were incensed at Parreira's 4-4-2, more specifically the resurrection of Carlos "Dunga," the holding midfielder who was singled out as a symbol for the mediocrity of 1994. Never mind that Dunga was instrumental in Brazil's recovery during that cycle, netting a screamer in a difficult match against Ecuador in São Paulo, where the Seleção played under a soundtrack of boos. The "ugliness" of Parreira and Dunga's Brazil was debated relentlessly in the country. For many people, the country was betraying its traditions in pursuit of results.
As for me, I was 21 and living off the memories of great, winning Brazilian sides. If you did the math right, you'd notice I hadn't even been born yet the last time the Seleção lifted the trophy. In fact, the only time I had seen Brazil win anything in football was the 1989 Copa América, a trophy that until 1997 they'd managed to win only on domestic soil. My friends and I were actually thinking we would go through the best part of our adult lives without the privilege of seeing the Seleção win the World Cup, as we were told Brazil were destined to; unlike England fans, our sense of entitlement is validated by history and true stats.
Parreira's Seleção didn't look pretty, but they were doing the job. My main source of concern was elsewhere.
At a time when the Internet still sounded like something out of a sci-fi movie, the only information we had from the opposition was pretty much off the news wires. Already a journalism student at Rio's Federal University, I had followed details from the qualifiers in Europe as much as I could. While my colleagues were all discussing the lack of elegance of Parreira's 4-4-2, I preferred to be shocked at how France, England and European champions Denmark had all failed to qualify, while Argentina had been made to look ordinary in a 5-0 drubbing at the hands of Colombia in Buenos Aires.
"There will be no better chance to win this tournament," I thought to myself.
Panic struck sooner rather than later: Except for a good 2-0 win against Argentina in March 1994, Brazil played some deflating football. The worst had been a friendly against PSG on April 20, 1994, when Senna's guest appearance for the ceremonial kickoff had been the only good thing. Two weeks later, the driver would die live on TV and darken the mood even more.
My mood was also particularly influenced by the heartbreak of my first proper relationship and the added hurt bonus points of seeing the girl dating one of the neighbours. That had been enough to break my religious commitment of playing the keyboards in my local Catholic parish. The Seleção's fate could actually determine if I believed God existed or if I was simply going through a wave of nostalgia.
Then the World Cup came. The Louzadas were a generous family, almost a clan, since they occupied several houses on the same street in the gated community where my parents and I -- plus brothers Marcelo and Guilherme -- had lived since 1978. This could not be farther removed from perceptions of Rio's Carnival and sandy beaches. We actually lived across the Guanabara Bay in Niteroi -- imagine Oakland in relation to San Francisco.
The Louzadas were a funny bunch, but we all gravitated toward the four-bedroom place owned by the man we called Uncle Julio, who unlike many other parents around would turn a blind eye when we needed a place to cool down after drinking sessions. Plus, he owned a big swimming pool and his barbecue seemed to be burning 24/7. And Uncle Julio had three daughters.
It was only natural that we descended upon the Louzadas' HQ for the 1994 World Cup, ditching our hangout for the competition in Italy four years before. Brazil's 1-0 defeat to Argentina determined that my friend Fabio's house was jinxed, much to his annoyance. So I broke ranks.
USA '94 was the first World Cup after I had gone to university, and I wanted to play the field instead of just hang around the good old neighborhood. However, I drifted back there by the time the Seleção made it past the round of 16 with a hard-fought 1-0 win over the Americans at a time when even the U.S. were still pinching themselves for managing to avoid the embarrassment of exiting in the group stages. At Uncle Julio's, nobody seemed to bat an eyelid when I furiously "abused" the opposition on the TV screen or forced people to follow "magic" rituals -- including sitting in the same places on sofas and chairs -- to avoid changing the Seleção's luck.
That game against the hosts was particularly painful for Niteroi thanks to local hero Leonardo's sending off for his horrendous elbow to Tab Ramos' face. After that, the Seleção survived a quarterfinal against the Dutch in which a 2-0 lead was wiped out by uncharacteristic defensive mistakes (before Branco's superb game-winning strike), and then hounded Sweden in the semifinals for another single-goal victory. While Brazil arrived for the final against Italy having scored the same number of goals (11) as the great 1958 and 1962 teams managed en route to the decider -- albeit with one less match played in the days of only 16 teams contesting the World Cup -- the class of 1994 didn't look that awesome.
My friends and I, all in their 40s now, like to joke that the biggest evidence of our extra resilience against heart attacks is that none of us had cardiac arrest on the afternoon of July 17, 1994. That was the day Brazil played a World Cup decider for the first time in two generations.
For me and my peers, Italy were the baddies after dumping Zico & Co. out of the 1982 World Cup. But at the same time, they boasted a player who could not be more Brazilian: the great Roberto Baggio. But all deference was forgotten when the ball rolled for one of the most boring matches in World Cup history. A goalless draw for 120 minutes; penalty kicks would decide the tournament for the first time.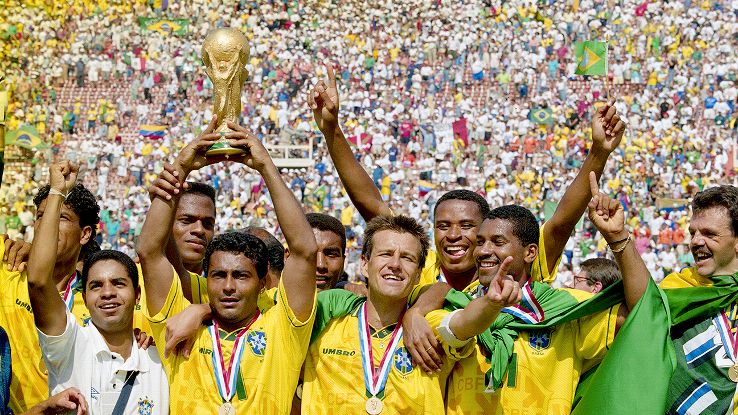 When the PKs started, we were already kneeling on the floor, numbed by tension and the industrial amount of beer that had been flowing. When Baggio prepared to take his kick, Italy's fifth, with the score 3-2 to Brazil, I could barely watch. The ball flew over the bar and the room exploded in a roar that sounded daunting. Before jumping into a pile of mates who were screaming and crying hysterically, I remember tossing my blue Senna cap skyward. It was the last time I saw it.
The following days passed in a blur. The only strong memory is how the victory still found its critics. They argued it represented a compromise that would hurt rather than boost Brazilian football, a claim ludicrously destroyed by the fact that the Seleção would make the final of the next two World Cups and win their fifth title in 2002.
Cut to March 2014. After a day on which both my kids celebrated their birthdays in a mega-BBQ reuniting old acquaintances, we all ended up stopping at whatever house had enough cold beer.
It happened to be Uncle Julio's. The same huge conservatory still stood, now packed instead with toys and equipment that the daughter of the original owners uses to earn a living in babysitting and party rentals. Gone was the huge TV.
The naysayers did have a point when they claimed the 1994 campaign wasn't aesthetically pleasing. Although I could point to Romario's first-time volley against the Netherlands as an exception to the rule, their claim was difficult to counter. Unless one pointed to the obvious: Brazil were champions again. To me, that is what really mattered then.
And it's still all that matters now.