Asia's battle with Africa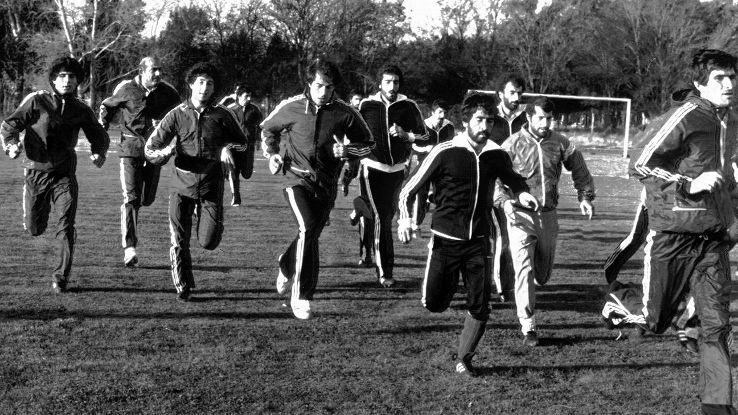 No Asian team has ever won a competitive game in South America, although, in fairness, Iran's participation at the 1978 World Cup was the only chance. A group containing Netherlands, Peru and Scotland was considerably tougher than it would be now. India had the chance 28 years earlier in 1950 but were unable to take their place in Brazil due to financial difficulties, although the legend goes that they withdrew because they were not allowed to play barefoot.
Much has changed since the last time the World Cup was in Brazil -- notably, this time, there are four Asian teams suited, booted and ready to go. But how far? Nobody expects Asian hands on that famous trophy (though Park Ji-sung told the BBC last week that South Korea will win the World Cup ... one day), but it is to be hoped that the continent can show its growing strength. For better or for worse, global opinions will be formed, changed or reinforced for the coming years on the basis of what happens over the next few weeks.
An interesting subplot in Brazil will be the battles on the pitch between Asia and Africa, three games that will go a long way toward determining which confederation has more teams in the knockout stage. Japan's opener is against Ivory Coast, Iran start their fourth World Cup by meeting Nigeria, while South Korea's second game has Algeria as the opposition. If they are not "must-win" games, they certainly qualify for "must not lose."
In terms of getting to the second round, Asia has the slightest of edges. Seven times have African teams done so out of 33 appearances, meaning that out of every 4.71 appearances, one has progressed. Asia reads six out of 28, a slightly superior 4.66. Some would argue that Australia's success in 2006 should be included to take it down to 4.14 -- as the nation was by then a member of the Asian Football Confederation -- but Francesco Totti's late penalty for Italy in Kaiserslautern, Germany, ended a run that started in Oceania.
In terms of results, it is not quite as close. Of the 11 meetings (rare until relatively recently due given the lack of representation from both continents) Asia has lost just two, winning four and drawing five of the others. Such games tend to be tight. In 1994, Saudi Arabia downed Morocco on the way to the second round, while the same team drew 2-2 with South Africa four years later and lost 1-0 to Cameroon in 2002.
At that World Cup, amid joyous scenes in Osaka, Japan defeated Tunisia to book a place in the second round. In 2006, Korea came from behind to beat Togo 2-1 in a tense tie; Saudi Arabia, inspired by old fox and young cub Sami Al-Jaber and Yasser Al-Qahtani, were denied the three points by a last-gasp Tunisia equaliser at the end of an entertaining clash in Munich, Germany, while a talented Iran team ended a disappointing tournament -- for themselves and Asia in general -- by drawing 1-1 with Angola in Leipzig.
Four years later on African soil, Keisuke Honda grabbed the winner against Cameroon and South Korea drew 2-2 with Nigeria in a thrilling match to seal a place in the second round. Australia tied Ghana 1-1 but would have surely fared better had Harry Kewell not given away a penalty and been red-carded early in the game, though North Korea couldn't handle the power of Ivory Coast in Nelspruit, South Africa.
In South Africa, as only one of the African six-pack survived the first round, half of the Asian quartet managed to do so, a healthy survival rate and even the three defeats recorded by rank outsiders North Korea could not detract from a satisfactory overall showing. Take away the two harsh red cards from the first two Aussie games -- the Socceroos finished level on points with Ghana, Africa's only representatives in the knockout stage -- and it could have easily been three out of four. Indeed, it's three out of four in Brazil when it comes to Asian teams that have to deal with African opposition.
Ivory Coast are first up for Japan. The Africans are respected and talented, even if striker Didier Drogba, still a massive star in Asia (although Africa has a major edge when it comes to star power) despite the ill-fated sojourn in Shanghai, is past his peak. If the Samurai Blue are to play to their potential and have the tournament that many think they are capable of -- getting to the last eight -- then the Elephants present a perfect test. The likes of Yaya Toure can certainly damage a suspect back line, but the Japanese midfield will have to keep the ball away from the big guns.
Then comes Iran versus Nigeria, one of the most fascinating games of the entire first round. Team Melli signed off from their last appearance at a World Cup with a 1-1 draw against Angola, but the Super Eagles have much more of a World Cup pedigree. With Argentina coming next for the Persians -- a game that has already been written off by much of the media -- the opener really is crucial.
The pressure is on not to lose against the Africans, so expect a cagey performance from a team well drilled and organised by Carlos Queiroz. A goalless draw would not go down badly at all as Iran sits back, invites Nigeria forward and looks to frustrate and hit on the counterattack at pace. It will not be a game for the faint-hearted on either side.
South Korea also take on Algeria. The Taeguk Warriors have more World Cup experience but then struggle to match their North African opposition when it comes to players in the big leagues. Algeria are dangerous, looking good in the buildup and, from Korea's point of view, hopefully confident. The 2002 semifinalists will prefer to play a team that comes forward at every opportunity, leaving space for fast forwards to exploit. Much depends on what happens against Russia in the first match, but whatever that result, Korea will need something from the Fennecs.
For South Korea, Japan and Iran, then, it is obviously not about Asia beating Africa but getting the points for the push to the second round. However, if, on the way, they can lift the standing of Asian football and perhaps show that the world's biggest continent is the world's third football power, then so much the better.