Japan escape scare vs. Zambia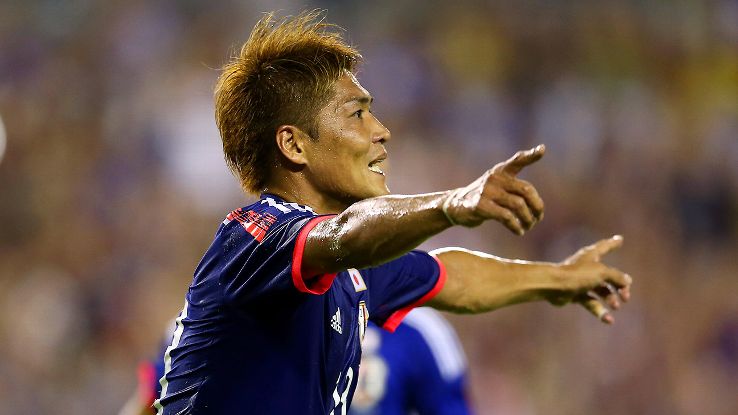 When Japan came out at the start of their friendly against Zambia on Friday night (Saturday morning in Japan), it was hard to say which dropped more suddenly -- my heart or my jaw. Both hit the floor with a thud as I read the starting lineups listed on the screen -- unwilling to believe my eyes without written confirmation.
Apart from the presence of Shusaku Nishikawa in net, and Yoichiro Kakitani at the top of the formation, this lineup was virtually identical to the one that took part in last year's Confederations Cup matches. If Sarah Michelle Gellar ever wants to do another sequel to "I Know What You Did Last Summer," I think I have the perfect script. Although this horror flick had a happy ending, it is hard to avoid the ominous premonition that things will not turn out as well if Japan decides to reprise the performance against Ivory Coast.
There were two reasons for my dismay. Most people who follow my reporting on the Samurai Blue are already familiar with their names, and I hate to be so personal as to continue naming and shaming them after each match. Nevertheless, the fact remains that I predicted, over two years ago, exactly what would happen if Alberto Zaccheroni fields Yasuhito Endo and Yasuyuki Konno in the same starting line-up against quality opposition. This match unfolded precisely as predicted, and precisely in the same manner as every other contest that those two have started since I made that prediction. Even when you know the basic plot of the movie, it still isn't easy to watch.
Japan
Zambia
Game Details
No doubt this was how Cassandra felt as she watched the Greek army sack Troy. No matter how many times the prediction is made, nobody on the JFA payroll wants to hear it -- least of all Zaccheroni himself. Even TV commentators who see the problem will not openly criticise, lest they upset the precious Japanese "wa." The only possible consolation is the hope that this latest debacle might finally force Zaccheroni to abandon his commitment to Endo and Konno, as he should have two years ago when their age and waning quality first became obvious. But make no mistake -- if Konno plays in this World Cup, Japan will lose. If Endo starts a World Cup match, Japan will lose. This has been proven time and again, since The Fates have woven it into the fabric of destiny. But Hector's arrogance and Priam's pride prevent them from listening.
The opening goal came just nine minutes after kickoff, as a Zambian midfielder broke through the right channel and fired a low cross that Christopher Katongo slammed home with the left boot. It almost looked like a precise replay of Mexico's opening goal in the Confederations Cup last summer, even down to the color of the uniforms (though Katongo makes for a bigger target than Javier Hernandez). Everyone seemed to know it was coming -- the Samurai Blue's reserve goalkeeper didn't even look annoyed as he picked the ball out of the net.
If the use of outdated players was not bad enough, the early goal conceded forced Japan to play a different style to try to change the flow, lobbing balls over the Zambia back line. In the 15th minute, Okazaki chased after such a ball and collided head-to-head with the Zambia goalkeeper, putting a big gash in his forehead in the process. Fortunately, the injury did not seem too serious, though Okazaki may have to keep a bandage on his forehead for a few days. If Zac had deliberately set out to disrupt the team's positive mood and diminish their chances of success in the World Cup, he could not have contrived a better plan.
Though Zambia's opening goal came through the right (Japan's left) channel, it took them a while to realise that this was no fluke. For the 10 minutes following their opening goal, they tried to get down the left flank, but Atsuto Uchida turned several of these efforts away without much difficulty. Then, a quick centering pass again caught Endo flat-footed and though Yoshida reacted in time to block the shot, it produced a corner kick that Zambia converted. The set play used a good misdirection with the ball sent short and then rolled out to Nathan Sinkala outside the box. His shot from the middle of the penalty arc found the left corner, boosting Zambia's advantage to 2-0.
Japan caught a break just before halftime when Okazaki and Kagawa combined on a sweeping overlap and Kagawa's cross was handled by a Zambian player. Honda sank the PK -- an important goal for his confidence, one hopes -- and the arrears were reduced to 2-1. Following Japan's goal, the attacking unit rediscovered its initiative and created some good chances as halftime approached. But Kakitani failed to find the mark with two late chances and a dribbling run into the box by Okazaki was turned away by some frantic defending.
At the break, Zaccheroni went to his bench and replaced the largely ineffectual Kakitani with Yoshito Okubo. But Konno and Endo were left in place to serve as dribbling pylons for the Zambian strikers. The opening 10 minutes of the second half were simply dire, and Japan deserved to go another goal behind when Endo lost his man on a corner kick and allowed Katongo another free header inside the six yard box. Thankfully, he sent his shot wide, sparing Japan further embarrassment.
It was only in the 60th minute that Zac finally removed Konno and brought on Masato Morishige, while also replacing Shinji Okazaki with Yuya Osako, moving Okubo into the second line and putting Osako at the top of the formation. The change in atmosphere was akin to opening all the windows of a smoke-filled room. Japan's defence tightened up and began winning 50/50 balls with consistency. On offense, meanwhile, the difference was even more dramatic. In the 73rd minute, Japan equalised on a curling pass/shot by Shinji Kagawa, from the edge of the box as he dribbled into the left channel. Just two minutes later, Morishige joined the attack and took an overlapping exchange through the right channel all the way to the end line, before dummying his defender and passing in front of goal for a powerful Honda finish.
Once Japan had the lead, Zambia started to see more of the ball as they pressed forward on attack an Japan seemed to adopt a posture aimed at just preserving the result. This would be a mistake, as Zambia finally equalised in the last minute of regulation time, on a long-distance drive by Lubambo Musonda that caught Nishikawa off his line, clearing his fingertips and dropping just under the crossbar. However, the Samurai Blue were not to be denied. Just a minute later, a long looping pass from Toshihiro Aoyama sent Okubo off on a dash into the box. The Kawasaki Frontale ace pulled the ball down with a beautiful first touch, then drove a shot into the roof of the net to give Japan an emotionally uplifting, but deeply flawed victory. Zac cannot continue to allow opponents to score easy goals, by relying on unproductive players who should have been marginalised long ago.
If he does so in the World Cup itself, there will not be as many chances to insert substitutes, and the Fates may not be so kind.