Brazil's World Cup predictions
After four years of waiting, the time has come. Another World Cup is here, and our bloggers across all 32 competing countries have each predicted the fate that awaits their team. The country's Outlook gives a general view of its situation ahead of the tournament, while Pitfalls takes a look at any potential problems. Each blogger also will predict the top scorer and breakout star and suggest how far that nation can go.
OUTLOOK
Without wishing to tempt fate, all seems to be in perfect order in the Brazil camp ahead of the big kickoff. The side is settled, the players came through the friendlies against Panama and Serbia without a hitch, and there are signs that the Seleção can tap back into the public goodwill and momentum they built up last summer on the way to Confederations Cup glory.
Coach Luiz Felipe Scolari sounded a warning about complacency in the early days of Brazil's pre-World Cup training camp in the mountains of Teresópolis, but for the most part his charges look fresh and eager to get started. With Neymar in fine form despite a testing first season at Barcelona, the Seleção will take some stopping.

PITFALLS
The only minor concern is over the form of Oscar, who looks a touch jaded after another draining season in England. With limited creativity in the centre of the Brazil midfield -- Paulinho and Luiz Gustavo both have their assets, but neither is an especially inventive passer -- the youngster plays a key role in Felipão's system, swapping positions with Neymar and complementing the more straightforward threats of Fred and Hulk.
Happily for Scolari, another Chelsea player could be finding form at just the right time. If Oscar fails to shine, do not be surprised if Willian crashes the starting XI on the back of an impressive display off the bench against Panama last week.
STAR SCORER
A coin toss between Neymar and Fred. The former is the team's talisman, able to shift the mood of the crowd with a single trick or flick. He is likely to take penalties and a good share of Brazil's free kicks, meaning he will get plenty of opportunities to add to his impressive tally of 31 goals for his country. He is also unlikely to be rested, which could be a factor.
Fred has markedly less star power than his attacking partner but makes up for it with pure instinct. He has a nose for the goal and will lurk in the penalty area as his more flamboyant colleagues carve out the chances -- an approach that paid dividends at the Confederations Cup. Strong in the air and with both feet, he stands to benefit from a lack of real competition up front.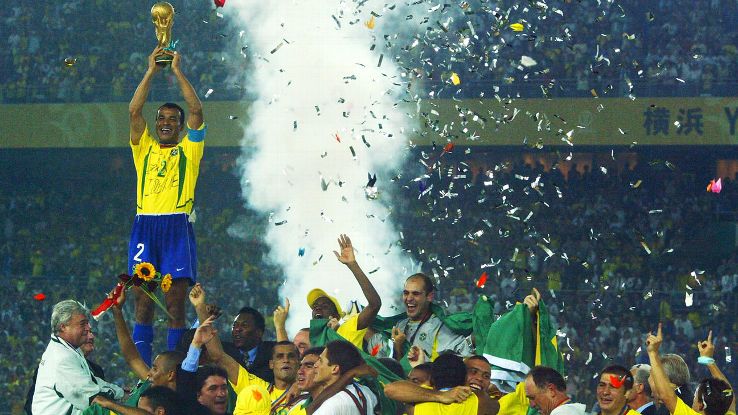 WILD CARD
There is an argument to be made that Brazil's second-most potent attacking weapon (after Neymar) is a defender. Despite having been ousted from the Real Madrid side for a good chunk of the season, Marcelo is of vital importance to Scolari's system. With both Neymar and Hulk preferring to cut inside, the left-back is charged with stretching the play and marauds forward in the great Brazilian tradition. His goal in the Champions League final showed just how effective Marcelo can be when opponents are tired late in games. His barreling, bounding runs will be a feature of Brazil's play this summer.
PREDICTION: Semifinals -- at least.
Expectations are predictably sky-high, which brings with them a certain level of pressure. For many fans, second place would be no better than crashing out in the group stage, meaning Scolari will have to protect his players from the spotlight when things get crazy. Luckily for Brazil, this is a man who already has tasted World Cup success and is adept at galvanising team spirit even in the face of adversity.
It would be a surprise if Brazil didn't at least make the last four. A place in the final also looks more likely than not. If and when they get there, much will depend on whether the raucous home crowd can drown out the echoes of the Maracanazo. For better or worse, history awaits.