Can Ribery recover in time to lead France?
Franck Ribery is off today, like yesterday, and like all his teammates.
Indeed, Didier Deschamps gave his players a two-day break after Sunday's 1-1 draw against Paraguay in Nice. However, for the Bayern Munich winger it seems that he has been off for a much longer time. He has been incapable of playing or even training because of lower back pain; he has had those problems for weeks now.
In hindsight he probably should not have played in the German Cup final against Dortmund on May 17. He was on the bench but Philipp Lahm got injured after 30 minutes and so on came the Frenchman, though he was clearly not fit and also had to be substituted after only 78 minutes on the pitch. His appearance that night probably made things worse, and since then he had only trained 45 minutes with France more than a week ago.
Things are not looking good at all. Every time he tries to accelerate or touch the ball with intensity, he experiences a lot of pain. And that is just on his own. We're not even talking about facing an opposition or playing in a World Cup.
Ribery, 31, is very worried right now; so too are Deschamps and the rest of France. Within the comfort of his entourage, the former Marseille star isn't hiding his scepticism. For him, it's more likely that he will miss the World Cup. Even if all the scans and tests he has done -- the latest ones were done on Saturday morning at the Pitie Salpetriere Hospital in Paris with Professor Gerard Saillant, one of the best surgeons in the world -- are positive, he can't get over the pain.
If you watched the game against Paraguay on Sunday, you probably saw him on the bench. Not only did he look miserable, but he also looked so hurt. After the match, he left the France dressing room and met up with his wife, Wahiba. He hadn't seen her since arriving at Clairefontaine two weeks earlier. After a quick chat, they left the stadium together, and she looked as worried as her husband. They decided to stay on the Riviera to spend the two days off, but not to go to the beach -- one of the France team physios is staying with them to make sure Ribery continues his treatment.
But the clock is ticking and time is running out.
Deschamps included him in his official 23-man squad last night and the idea is to try to get him fit for the last friendly, against Jamaica, on Sunday in Lille. The French squad will then fly to Brazil the next day.
However, if Ribery can't train before Friday, Deschamps won't risk him against the Caribbean side but could still put him on the plane. Once in Brazil, the medical staff would monitor the evolution of his injury and then a decision would have to be made. Deschamps would have until June 14, 24 hours before France's first game of the competition against Honduras, to make a final call as to whether or not to keep him in the squad.
At the 2008 European championship, Raymond Domenech decided to take Patrick Vieira in the 23 despite his hamstring problem, in the hope that he would get fit. It was a complete disaster, as he was never able to even train, France were therefore reduced to 22 players. The knock-on effect was Vieira's mood; unable to play the senior role that he should have played, Les Bleus were humiliated 4-1 by the Netherlands and 2-0 by Italy after not having had a shot on target in a 0-0 draw with Romania in their opening game.
Deschamps wants to avoid a similar scenario despite the fact that Ribery is a key element in the squad, both on and off the pitch.
On the pitch, he is (along with Karim Benzema) France's only world-class player. He carried the team through World Cup qualifying, and when he's 100 percent, Ribery is capable of beating any defender and creating danger any time he touches the ball. Opposition players are fearful of him, as illustrated against Ukraine in the decisive playoff second leg.
Off the pitch, he is France's most experienced player (81 caps and two World Cups already), the one who makes sure the mood is good in the camp, and as Deschamps' link with the rest of the squad, he is the one whom younger players respect and get inspiration from.
A World Cup with or without him is a completely different story. To replace him, the manager could go for Lyon forward Alexandre Lacazette or Remy Cabella, the Montpellier playmaker. They are two good young players but even those two combined don't equal what Ribery brings to the squad. Losing him would be a massive blow for the French.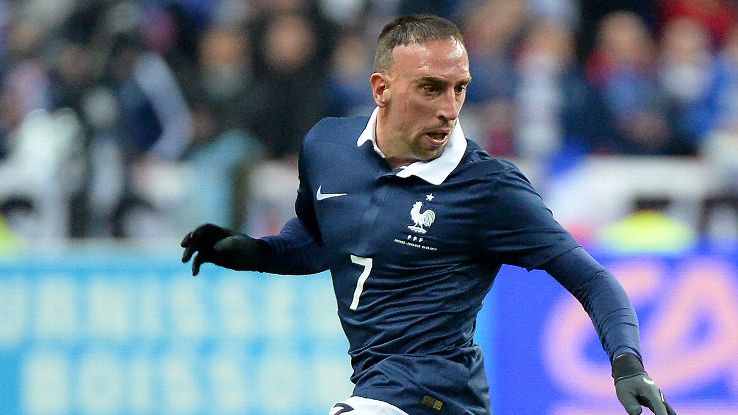 But would it be a surprise for him to stay behind? 2014 has been a nightmare year for him so far. After the disappointment of not winning the Ballon d'Or (he finished third behind Ronaldo and Messi) in January, it seems that mentally and physically, he did let go. He got injured a lot, didn't do well when he played and lost confidence.
Usually, Ribery is a fighter. He has faced adversity his entire life, from being a kid with a massive scar across his face in a tough area of Boulogne to being rejected from Lille's academy as a teenager and even having to rebuild his reputation (and himself) after the disaster that was the 2010 World Cup. This time, however, he looks beaten.
So there might not be a third World Cup, and his last taste of the competition would be South Africa. People would always remember that infamous strike more than, for example, his wonderful performance against Spain in the World Cup 2006 at the age of 23.
And even if Ribery does manage to get fit, what kind of state will he be in? He only played 78 minutes in the month of May, has hardly trained or even run in the past three weeks. Even if he didn't feel any pain in his back anymore, he would be far from fit. Ribery at 60 percent is no use. He needs to be fully fit to be effective, and let's be honest, it looks totally unlikely, aside from a miracle.
During his two days off, he should actually have gone to Lourdes and wished for a speedy recovery, because without divine intervention, Ribery looks doomed and may well end up watching the World Cup at home on TV.