Chivas can make good on lost 2018 by setting up Club World Cup date with Real Madrid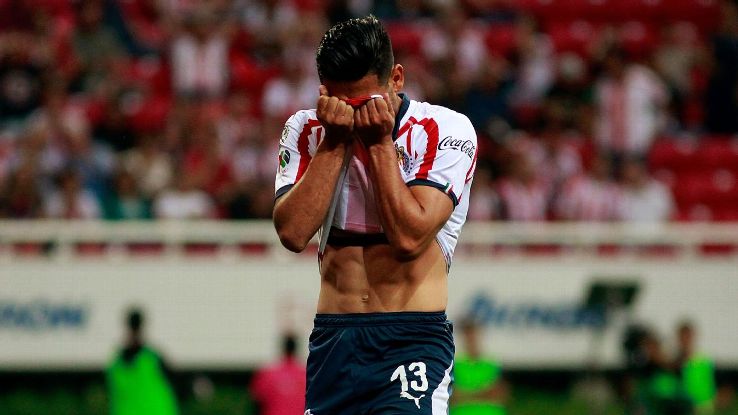 After winning the 2018 CONCACAF Champions League in April, things have gone downhill for Chivas.
Despite the unexpected success on the international stage, Los Rojiblancos were struggling at home in Liga MX. Less than a week after lifting the CCL trophy, Chivas stumbled to a 2-0 loss in their final match of the 2018 Clausura, thereby securing 17th place in the league table.
Painful changes soon followed over the summer.
Matias Almeyda, a much-loved manager who had at one point revived the Guadalajara club, parted ways with the team. Rodolfo Pizarro, the beating heart and engine of the side, left for Monterrey. More movement and transfers followed, leaving Chivas with an underwhelming squad. Although slight progress was made in the ensuing Apertura, there was still something left to be desired by the all-Mexican side that finished in an unexciting 11th place.
Chivas are living in a disappointing period, but there is still a chance for hope in the near future. After making the trip to the United Arab Emirates last weekend, Los Rojiblancos are now preparing for their debut in the Club World Cup.
Chivas will kick off the tournament with a quarterfinal battle against Japan's Kashima Antlers on Saturday.
"It's important to concentrate throughout the whole 90 minutes," stated Chivas goalkeeper Raul Gudino earlier this week to FIFA.com. "That's the crucial part, knowing that the match lasts those 94 or 95 minutes and that you always have to give it your all, put a lot of intensity and passion into it and contest every ball. Chivas are a young side but we've got experience too, which you don't always see. We want to kick on and make history."
Making history will be much easier said than done. As opposed to Chivas, several members of Kashima's roster have already taken part in the competition after qualifying for the 2016 edition. Keep in mind, the Japanese squad also finished as a runner-up in that year's Club World Cup.
Nonetheless, Gudino and his squad appear confident ahead of Saturday's quarterfinal. In fact, the goalkeeper is already looking ahead to a potential semifinal battle against Real Madrid.
"The chance to take on players like that [in Real Madrid] and find out how good we are would be fantastic, and not just for me but for everyone," Gudino said. "But at the end of the day, they're the same as us: they're human just like us. They're not from a different planet."
At the very least, for fans of Chivas, an invitation to that semifinal should be the minimum goal. Despite the impressive run of Kashima in this year's AFC Champions League and in the 2016 Club World Cup, the squad doesn't have enough world-class talent that could truly intimidate Chivas. Regardless of how the game is played out, a loss for the Mexican team on Saturday would undoubtedly be seen as a failure. If Los Rojiblancos fall this weekend, it would only pile on to the negativity that has surrounded the club in recent months.
But what if they make it to the semis?
The bad news is that it would take a miracle to defeat Madrid. While hopeful optimists would point out the fact that the Spanish giants lost 3-0 to CSKA Moscow on Wednesday, more-rational pessimists would also recognize the clear disparity in skill level between the two.
As for the good news, even if Chivas were to lose against Real Madrid, they would still have a chance to take part in the third-place match. A clash against a team like River Plate, Esperance de Tunis or Al-Ain would be much more manageable. Third place in the Club World Cup, amid the recent troubles of the team, would do plenty to help improve the morale of the club and its fans who are desperate for good news.
Of course, Chivas still have to win on Saturday in order to take that step forward.