Leighton Baines: Everton 'not managing the game well enough'
Leighton Baines says Everton would be in contention to finish in the top four if they were better at managing games.
Everton led Chelsea 2-0 on Saturday but allowed the Blues to equalise, and even after retaking the lead 3-2, John Terry was able to steal a point with a controversial 98th-minute equaliser.
Roberto Martinez's men have dropped 11 points from winning positions in the Premier League this season and sit 10 points back of fourth-placed Tottenham.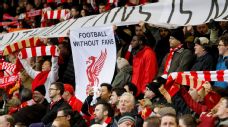 Baines said Everton have shown the quality of a top-four side but simply need to finish games to avoid further disappointment.
"We've only got ourselves to blame for not managing the game well enough really," said Baines.
"We went in front again, 3-2, and threw it away. The goal was offside but we have to manage games better.
"If we're better at doing that we're right in the mix for the Champions League but, over the course of the season, you end up where you deserve to be.
"There are positives in how well we played to get 2-0 up. To go to Stamford Bridge and score three goals is great but we weren't hanging on.
"We just didn't do well enough for a short spell that the champions are always going to have at home. We're disappointed in the manner we've come away with a point.
"We just hope we can improve because it's an open league. We've got some good games coming up, the Capital One Cup game as well.
"We want to finish the season as strong as we can and see where that leaves us."