Champions League qualification more important than silverware - Martinez
Everton manager Roberto Martinez has admitted that Champions League qualification, not winning the Capital One Cup, is what will keep his stable of young stars at Goodison Park.
The likes of Romelu Lukaku, John Stones and Ross Barkley have all been the subject of transfer interest in past windows, speculation that will no doubt intensify the longer Martinez can't offer his players top-tier European football.
"I don't think winning a cup will keep the young players, I think qualifying for the Champions League could help to keep young players," Martinez told the Guardian.
"The reality is that we have taken a very different approach to what we are as a team than we took at this club three years ago.
"Three years ago it was a very experienced team who knew how to win games but had some sort of ceiling. Now we have gone very young with immense potential to go beyond that ceiling, and there has been investment in that potential so we will get the rewards from it.
"I wouldn't say I don't want to win silverware, because that is what this club is about and our aim is to have that drive and ambition to do that, but the aim is to get into the top four and that is what we have set out to achieve.
"How long that is going to take I don't know, but I don't think winning a cup will help us to keep players. What will make it easier in the modern game is to fight for the top four positions in the league."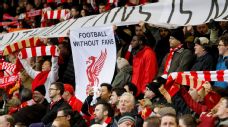 In particular, Stones appears most likely to leave Everton if Champions League football cannot be achieved. The 21-year-old was subject to four bids from reigning Premier League champions Chelsea during the summer transfer window, bids that were not welcomed and rebuffed by the Goodison Park hierarchy.
Martinez is wary, however, that there will come a time when the defender will want to perform on a bigger stage.
"Actions speak louder than words," Martinez said. "We had a player that any other club would have sold last summer but we didn't. We could not have been more clear and resolute in our project. There are right moments and wrong moments to lose a player.
"I'm saying to every single Evertonian to trust we will make the right decision on football terms, it is not going to be on financial terms. It is not going to be about balancing the books. That would be very wrong, dangerous or negative.
"But, in the same way in the modern game, young players need to be in the position that they want to stay in the club. It is the only way you can have a winning team if the players want to perform.
"To keep them wanting to play for our football club is to achieve and to grow and to play in the best competitions. That doesn't mean we are going to sell them if we don't get in the Champions League, but you wouldn't want to keep a player that doesn't want to represent our shirt either. You have to be realistic.
"The decisions will be for the good of Everton. Last summer nobody could leave and the fans know how resolute we were on that."
Everton take on Manchester City on Wednesday in the first leg of the Capital One Cup semifinal.