Zlatan Ibrahimovic expects France fans to cheer for him more than own nation
Paris Saint-Germain striker Zlatan Ibrahimovic has told BeIN Sports he believes that the French public will support him even more than their own team when he lines up for Sweden at Euro 2016.
Ibrahimovic, 34, will lead Sweden out in France at this summer's tournament after helping them to a playoff win over Denmark in November.
The Sweden captain said people who felt the Danes were a better team were left eating "every word they have been saying" and he is now looking forward to taking on Republic of Ireland, Italy and Belgium in the group stage of the competition.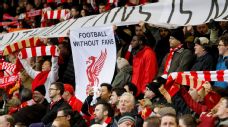 The record goal scorer for both his club and his country, Ibrahimovic is confident he will benefit from local backing when Sweden take on Republic of Ireland in their first game at the Stade de France in Paris on June 13.
"We are happy to be there, especially to play it in France," he said. "I'm pretty sure the French people will cheer more for me than for their own national team.
"So I have two crowds behind me -- I have the French people and I have the Swedish people. So that will be an extra reinforcement for us."
Ibrahimovic also reflected on his four years in Paris so far, saying that things have changed considerably since his first season when he felt his teammates accepted defeat too readily.
"I found it not normal because when I lose a game it's not acceptable," he said. "When I lose a game I become, let's say, a monster. I don't accept the result.
"That thing, I don't see today. When we lose, everybody becomes a monster like I was the first year."
Ibrahimovic also indicated that he has not been impressed by the attitude of some Ligue 1 players but that runaway leaguer leaders PSG had a habit of changing perceptions.
"The funny thing is there are many individual players thinking they are already there -- that they are already the superstar, they are already the complete player," he said.
"Until they play against us. Then they really know where they are."