Alexandre Lacazette faces long road to make it into France's Euro 2016 squad
When it comes to Alexandre Lacazette and Olympique Lyonnais, it's always been about destiny. From the moment that he first broke into the first-team squad in 2010, pitching up at the Emirates Cup to play twice in two days directly from Caen -- where he'd scored the winning goal for France in the European U-19 Championship final the day before -- it always felt as if this local boy's desire could surmount any obstacle, however unlikely.
This time, fans are starting to wonder if that inexorable rise can continue. Not for the first time this season, Lacazette and his Lyon team cut frustrated figures in Sunday night's 1-1 draw with Marseille, which kept OL stuck in ninth place and the striker's goal total in single figures after drawing another blank. Exactly a year ago today, he scored his 21st Ligue 1 goal of the season; his tally so far this season is just seven.
There's a level of justification in looking back to that day and seeing it as a turning point. A couple of minutes after scoring, Lacazette pulled up lame, clutching the back of his right thigh. That hamstring tear knocked much of the stuffing out of his season -- even though he finished the campaign with a thoroughly laudable total of 27 goals, his fade in form certainly knocked Lyon's title push out of kilter.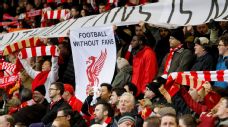 This season's dip has come at the worst possible time for Lacazette, with Euro 2016 on the horizon and with it the chance of a footballing lifetime to shine in a home tournament. If he was in the form of last season, the 24-year-old would be universally seen as the natural beneficiary of the legal troubles that are likely to stop Karim Benzema, Lacazette's predecessor and homegrown guardian of the Lyon No. 10 shirt, from taking part. Yet all of a sudden, the young forward seems to be on shaky ground.
Given his individual profile, Olivier Giroud was always a shoo-in for Didier Deschamps' squad, but the rapid emergence of Anthony Martial, Kingsley Coman's continued development at Bayern Munich, Antoine Griezmann's growth into a genuine world-class talent and even Andre-Pierre Gignac's unlikely surge back to prominence at Tigres are all factors that have squeezed the space available for strikers. Put bluntly, Lacazette really needs to get a wriggle on if Euro 2016 isn't to slip through his fingers.
That said, there were few crumbs of comfort in his performance against Marseille. Even if his relationship with previous coach Hubert Fournier had turned a little frosty, the installation of Bruno Genesio (a Centre Tola Vologe product like the striker) has done Lacazette few favours. Grasping for some sort stability after a couple of rough months, Genesio has turned back toward the traditional Lyon 4-3-3, and Lacazette often looks like a fish out of water in the centre of it. Only when 20-year-old Aldo Kalulu was introduced for midfielder Clement Grenier with 25 minutes to go and OL switched to 4-4-2 did Lacazette become properly reinvigorated. It makes one wonder exactly where he would fit in the Premier League, as has been mooted for him next season.
Even in the latter formation, there's only one partner who really does the job for Lacazette. He misses the injured Nabil Fekir, his main foil from last season and the man whom club legend Bernard Lacombe refers to as "our Messi." Lyon looked at least one striker light last season until Fekir moved up to the second striker spot, creating a totally different kind of 4-4-2. It was the masterstroke of Fournier's reign; he reasoned correctly that Fekir's playmaking abilities and technical complicity meant that the closer to Lacazette he placed him, the better. The move took OL to the brink of the title as the pair scored 40 league goals and set up 16 between them.
The moment that Fekir's knee gave way just minutes into his full France debut in Portugal back in September, Lyon's (and Lacazette's) season rocked on its axis. Mathieu Valbuena's arrival offered the possibility of filling the club's playmaking needs, but there was never any possibility of him replacing Fekir in the deeper striker's role; he just doesn't have the 22-year-old's skill in front of goal. Crucially, he lacks the same one- and two-touch intuition with Lacazette, too. Valbuena likes to dribble and dictate -- Lyon's rhythm has sometimes got stuck under his feet.
The partner whom Lacazette has played with for most of this season, Claudio Beauvue, couldn't be any more different in style from the elusive Fekir either. The Guadeloupe-born striker, snapped on holiday with Lacazette in preseason, never managed to turn their off-pitch friendship into synergy on it. Known for being a player who craves direct service and who struggled with Lyon's pass and move game, Beauvue has already left to join Celta Vigo.
Paradise holidays aside, the summer had been a tough one for Lacazette. President Jean-Michel Aulas tried to hurry his star man into signing a new deal by publicly revealing he had offered him €4 million per year to stay. It was a tactic that Lacazette and his entourage didn't appreciate, and though he signed a deal to 2019 in August, there had been considerable fracture to their relationship by then. Lacazette told L'Equipe in September that he had been "hurt and disappointed" by Aulas' behaviour.
Having grown up a firm goal kick from Stade Gerland in the quartier of Mermoz, Lacazette hasn't lost that union with the fans. It was noticeable that even amid his own struggles on Sunday night, he waved his arms skyward and exhorted the supporters to lift the noise level. He cares deeply about the club that made him.
There's no doubting either that Lacazette has guts, and that he's a big-game player. Even in his comparative funk, he hit a hat trick in the last Gerland derby against Saint Etienne before scoring the first-ever goal in the club's stunning new Stade des Lumieres against Troyes a few weeks back -- just as Aulas predicted he would. There is a mutual Lyon and Lacazette need for similar acts of daring, now more than ever, as Champions League football and Euro 2016 fade into the distance.
Andy Brassell is a freelance European football writer and broadcaster for the BBC, The Independent, ESPN, The Blizzard, Four Four Two, Talksport and others.