Germany's Thomas Muller hails 'super' Scotland atmosphere
Thomas Muller has praised the atmosphere at Hampden Park and said that he prepared for Germany's Euro 2016 qualifier against Scotland by watching the crowd sing their national anthem "Flower of Scotland" on YouTube.
Muller, 25, took his Nationalmannschaft tally to 30 goals in 65 games with a first-half brace while also setting up Ilkay Gundogan with a no-look pass in the second half as Germany won 3-2.
The victory at Hampden Park took Germany a major step closer to qualifying for next summer's European Championship in France.

Scotland
Germany
Game Details
The world champions have now won five consecutive qualification games and top group D with 19 points, two ahead of Poland and a further two ahead of Republic of Ireland, who currently sit on the playoff place.
Speaking to German network RTL after the match, Muller said he had been thrilled about the prospect of playing against Scotland at Hampden Park, and had not been disappointed.
"I was searching on YouTube with Bastian Schweinsteiger before the match. And we looked at Scotland's national anthem sung by the crowd at Hampden Park quite a few times," Muller said.
"The atmosphere was super. The Scots live football in a completely different way."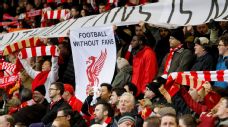 Germany centre-back Mats Hummels was also impressed by the Scotland fans, writing on Twitter: "Second consecutive win and the Scottish anthem gave me the shivers. What an atmosphere. That's why I love football."
Muller, who this season has scored five goals in three Bundesliga games for Bayern Munich, also said that he has been on a good run of form recently.
"I feel fine, the balls fall to my feet, and I make the right decision," Muller said, with the forward also praised by national team coach Joachim Low for "having a nose" and getting into the right positions.