Greece v Czech Republic
Czechs are "nothing to fear"
Greece defender Kyriakos Papadopoulos expects a positive result in Wroclaw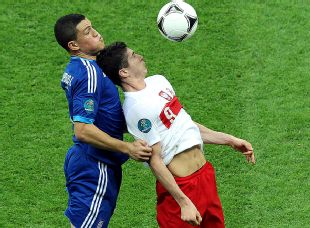 Greece defender Kyriakos Papadopoulos insists Greece have nothing to fear when they face the Czech Republic in their second Group A match in Wroclaw on Tuesday.
- Greece blog: A satisfying dilemma
The Greeks battled to a 1-1 draw with Euro 2012 co-hosts Poland in their first match, despite being reduced to ten men after Sokratis Papastathopoulos was harshly shown a red card after 43 minutes.
Papastathopoulos' subsequent suspension means Papadopoulos, 20, is almost certain to face Czech Republic, who lost 4-1 to Russia in their opening game of Group A.
The Schalke defender was thrown into the fray against Poland following an injury to centre-back Avraam Papadopoulos and played his part as the Greeks fought back from a goal down.
"I tried to do my best and to help as much as I could. We managed to get a draw, which is a pretty good result, because we could have lost," Papadopoulos told UEFA.com.
"The match wasn't going well. We were kind of sluggish for the first 20 minutes. We talked with our coach at the break and he told us that even with ten players we could still change the result. From that point on we dominated."
And although Papadopoulos is looking for a repeat of that second-half performance when Greece face the Czechs, he also urged caution.
"We mustn't lose. A draw would be okay. Of course, winning would be much better but the most important thing in tournaments like these is to avoid losing. If we are ready and play from the first minute we have nothing to be afraid of."
Meanwhile, Czech striker Milan Baros says that his side must get a win against the Greeks following their opening defeat to Russia.
"We lost 4-1 but we didn't play that badly," Baros said. "Everything was equal but we lost goals. But we have to forget about that. Now we have they key game in front of us. We have to take three points and try to get back to this group and try to finish at least second."