Portugal news
Ronaldo: I'll take spot kicks
Real Madrid star backs himself from 12 yards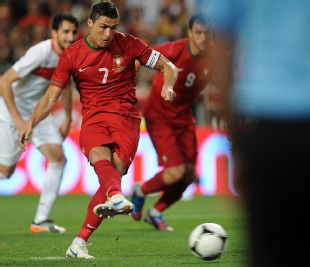 Cristiano Ronaldo insists he'll take on the responsibility of scoring from 12 yards should Portugal earn a penalty in their tricky opening Group B encounter with Germany on Saturday.
The Real Madrid forward was in prolific form for his club during their La Liga winning campaign, scoring 46 goals in 38 games - 12 of them from the spot.
But the 27-year-old missed from the spot during Portugal's embarrassing 3-1 defeat to Turkey during a Euro 2012 warm up match.
Despite that miss, Ronaldo says he'll be stepping up should his side be awrded a spot kick.
"I took penalties very well during the season." Ronaldo told reporters. "You have to give credit to the goalkeepers who defended my penalties.
"Tomorrow, if there is a penalty, I will be the one to take it. I will try to do my best."
Portugal will almost certainly have to better the results of Netherlands and Germany if they are to progress from Group B, but Ronaldo is confident they can live with two of the continent's best sides.
"We are here to compete against one of the strongest teams of the tournament," he added. "We want to compete and enjoy this. I am confident that we will play a great game.
"I do not feel any anxiety and I do not see it in our players. Our team is fine and prepared. Germany are strong contenders for the Euro title. They have shown that they are an excellent side, with great players. Germany are not solely based on individual talent.
"In such a short tournament, the team which is physically best and tactically strongest will win. I hope that Portugal will be that team. I hope that we will make a great campaign. We will try to go as far as possible."