Netherlands news
Sneijder aims for Euro 2012 final
Dutch midfield star aiming high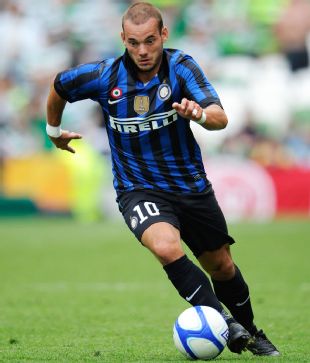 Netherlands are determined to make up for the disappointment of losing the 2010 World Cup final by winning Euro 2012, midfielder Wesley Sneijder says.
The Dutch must take on Germany, Portugal and Denmark in Group B, but Sneijder is confident that they can progress to the final.
The Inter star told De Telegraaf the changes made by Netherlands coach Bart van Marwijk to the side's style of play since taking over had "proven to be quite successful as we reached the final at the World Cup".
"We are now aiming to reach at least the final at Euro 2012," he said. "We want to do even better, though, and win the European title."
Sneijder also hit out at Marco van Basten for his criticism of Van Marwijk's style, which the former striker described as too defensive.
"His attitude toward Van Marwijk and the team was a bit strange," he said. "It was not the right thing to do. Of course he has the right to voice his opinion, but I'd have expected better of him."