Focus on England
Realism must govern Roy's England
Richard Jolly explains why expectations should be significantly lower for the Three Lions at Euro 2012 than at previous major finals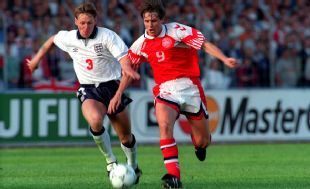 The English tradition at times like these is to look back to 1966, to try and identify common denominators and favourable omens; anything that offers the promise of a second success on the international stage. Not now. Rather than English football's favourite brand of nostalgia, a search is on for new parallels with the past. Denmark's past, to be precise.
Richard Moller Nielsen's team of 1992 were the unlikeliest of European champions: the side parachuted into the competition at the last minute, at Yugoslavia's expense, and went on to win. As England's build-up, in its own way, has been as chaotic, it can provide proof that preparation is not necessary to prosper.
And yet that feels like clutching at straws. For three of the four months before Euro 2012, England did not have a manager, let alone a squad, a system or a style of play. Belated as the appointment of Roy Hodgson to succeed Fabio Capello was, the plans were furthered disrupted when three of the new manager's preferred party, John Ruddy, Gareth Barry and Frank Lampard, withdrew injured. Hodgson is a decent man in a difficult job, the absentees rendering his task harder. One of the three world-class English attacking talents, Jack Wilshere, misses the tournament; a second, Wayne Rooney, sits out the first two group games because of suspension; so the third, Steven Gerrard, assumes pivotal importance.
The consolation is that there may be a welcome injection of realism. This is an England squad with one striker who struggled to get in the Tottenham team (Jermain Defoe) and another who was an expensive underachiever for three-quarters of the campaign (Andy Carroll); with a winger who, while fit, played one minute for his club in the last six weeks of the season (James Milner) and another who neither scored nor created a league goal (Stewart Downing) plus a central midfielder who, if everyone else was fit and available, might not rank in the 10 best options in the position (Jordan Henderson); with one teenager who has only made six Premier League starts (Alex Oxlade-Chamberlain) and another whose only first-team club football has been in League Two (Jack Butland).
England may possess the Champions League winners, in Chelsea, and arguably the world's most high-profile division, but this is not a squad to petrify Spain, Netherlands and Germany. It is highly possible that none of the three favourites will need to face the Three Lions.
France, Sweden and Ukraine, who are guaranteed to take on England, can expect a workmanlike side. By preference a meticulous planner, Hodgson has been trying to drill a defence and instil organisation, no simple task in a short time and his task complicated by the loss of two senior central midfielders. The choices of Milner and Downing to run the flanks in his debut win over Norway indicated an emphasis on tactical discipline over invention, but a fondness for 4-4-2 invites questions if England will be undermanned in the middle of midfield and if, yet again, they will struggle to retain possession.
It has been a familiar theme over a series of tournaments. The novelty factor is supplied by the newer additions to the group or those who suddenly find themselves assuming a pivotal role. Ashley Young has been England's form attacker over the last 12 months and, in Rooney's absence, might command a place in two positions. Carroll, distrusted by Capello, appears to have a fan in Hodgson, as does Milner, whose understated, unselfish approach seems to mirror the manager's. The challenge for each, and several others, is to perform better for country than club.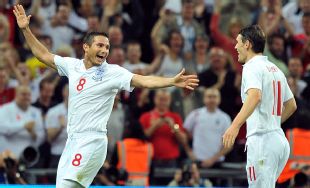 It is something more heralded talents have long failed to do. It has been said before, but this may be a final hurrah for the remnants of the 'golden generation' – a tag that, as far as international football is concerned, qualifies as false advertising. For Ashley Cole, John Terry and Gerrard, it is a final European Championship and possibly a last international tournament. For Lampard, 34 in June, that opportunity has gone.
The curtain has already been drawn over the England career of another of their number. Rio Ferdinand's exclusion was for footballing reasons, according to Hodgson, an explanation that did not convince everyone as Terry awaits a court case for allegedly racially abusing the Manchester United defender's brother. It is a reminder of the endless capacity for controversy that can hamper England.
But shorn of some of their most decorated players, with a squad that has been thrown together and given little time to adjust to their manager's thinking, expectations have been downgraded. England expects less than before. While theirs may be the second weakest group, a quarter-final place could feel like progress.
There are fewer predictions that 46 years of hurt will be brought to a dramatic, cathartic end. Thanks to the wonders of Photoshop, expect to see pictures of Terry lifting the Euro 2012 trophy in a month's time. It is rather less likely that the new captain Gerrard will actually do it
Follow Richard Jolly on Twitter - @RichJolly