The Spanish carousel achieves immortality
A. 'My first job, I was in-house at a fur company, with this old pro copywriter. Greek, named Teddy. And Teddy told me the most important idea in advertising is "new". Creates an itch. You simply put your product in there as a kind of... calamine lotion.'
Don Draper during his Carousel pitch for Kodak executives, last episode of Mad Men's Season 1.
It's hard to say that the approach to football of the current Spanish side is new, as we've seen plenty of sides playing a possession game since the English invented the sport – even though they themselves have never really thought of this possibility in over a century. But indeed this Spanish method felt like new back in 2007, when a certain Luis Aragonés decided that his squad, a collection of players from Valencia, Villarreal, Real Madrid and Barcelona, should play keep ball and find their two strikers as often as possible.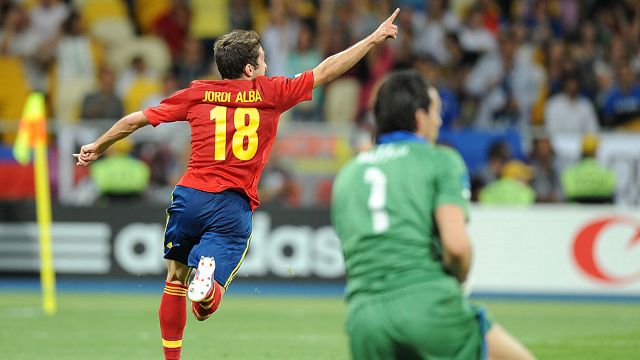 Against all governing trends, tiny midfielders such as Silva, Xavi, Iniesta and Marcos Senna managed that team on the pitch and controlled the pace of the game. They proved that technical skills and a shared vision of how to play could beat more physical sides such as Germany, up to then – and at some points of Euro 2012 as well – believed to be the future of football. In that sense, this team was/is indeed new, and far more than an itch.
That is just what we witnessed on Sunday night, a dominating display of possession football with the specific flavour from chef Vicente del Bosque, a patient wizard of knockout tournaments. His recipe of ball possession, seasoned with getting opponents tired and a pinch of waiting for the chance to open up the pitch with your bench, may have disappointed those who expected huge scores from Spain, but has built a level of confidence within the team that has no precedents in Spanish football history. A close friend of mine, travelling with the Spanish FA, told me on Saturday night that Spain would win, because "the players look so confident and focused that it's unbelievable. They only speak of winning". Hats off to the Marquis of Del Bosque.
Spain also need to thank Cesare Prandelli, who thought he had an accomplished 4-4-2 side after just four tournament matches, capable of competing face to face with the Spaniards. Spain have been playing ball possession since Aragonés decided to switch gears five years ago, so they found themselves passing at will in Kiev, making the most of their midfield advantage with their false nine, Cesc Fábregas, always giving them an extra pass, this time forwards rather than sideways. An Italian 3-5-2, just like Prandelli had used in their first encounter of the tournament, would have made things much more complicated for the Spaniards, but now that belongs to the useless 'what if' category.
On Sunday we watched a pivotal point in football history because of two reasons: first, a side that mostly lack the physically gifted specimens that nowadays seem to monopolise the covers of football and even fashion magazines, won the tournament outright and broke a series of records, conceding only one goal in six matches and dominating most encounters, including the final; second, their ball possession approach has become so intimidating / envied that a) most teams switched the way they usually play to compete against Spain – Italy, Croatia and France especially; and b) more importantly, Italy decided to play ball for the first time in over fifty years of catenaccio!
Spain's approach is, to that extent, new and reconciles us with football the way it was played when we were kids, in the sense that going for the match and wanting to score one more goal feels fun, right and rewarding.
It's undeniable that this group of Spaniards have grown into competitive beasts, and now know how to manage match results in a way they never did before against teams that close their ranks and occupy their defensive spaces well; but when their opposition give the minimum opening, Spain create and take their chances like clockwork, with ruthless precision. On Sunday night, Italy thought they could deal with this method, but quickly learned that Spain's 'new' was no calamine lotion.
B. 'But he also talked about a deeper bond with the product: nostalgia. It's delicate... but potent. Teddy told me that in Greek, "nostalgia" literally means, "the pain from an old wound". It's a twinge in your heart, far more powerful than memory alone. This device isn't a spaceship. It's a time machine. It goes backwards, forwards. It takes us to a place where we ache to go again. It's not called the Wheel. It's called a Carousel. It lets us travel the way a child travels. Around and around, and back home again... to a place where we know we are loved.'
Don Draper in his Carousel pitch for Kodak executives, last episode of Mad Men's Season 1.
And nothing better than a Greek concept to extract consequences from this Spain v Italy refereed by a Portuguese, thus completing my dreamed PIGS final.
This almost perfect match, unprecedented by any standards – Spain have beat none other than Brazil by winning a major tournament final by a four-goal difference – can't hide several issues the Spaniards have suffered during the tournament.
Most teams already know how to play against this Spanish team and know well the way the carousel works. Most of the media that now hail Spain as the next big thing or even as the best team in football history, were just four or five days ago talking about boredom or below-par Spanish displays, given that the Spaniards couldn't kill off matches as easily as they did only one year ago. Their opponents had found the remedy against Spain's successful formula.
And not only have most rivals learned the lesson – and Prandelli has probably done so the hard way – but also some of the Spanish references on the pitch are aging fast. Spain have managed to win this title without David Villa (30) and Carles Puyol (34), both of them instrumental for this side and quite likely out of the team for the 2014 WC. Xavi Hernández, in a poor tournament hidden by a splendorous couple of assists in the final match, is 32 and looks exhausted with each passing 60+ match season. The embarrassment of riches in midfield can't hide the fact that we lack an organiser of his stature, or a finisher of Villa's quality upfront.
The additions of great players, such as Jordi Alba, shouldn't fool anyone: the spine of this team – Casillas, Puyol, Xavi and Villa – need real replacements, and those haven't showed up as yet. Can Ramos occupy Puyol's space, on and off the pitch? Could Cesc become our new Xavi, or perhaps Villa? Hard to say at this point, but the feeling, just like Iker Casillas said on Friday night, is that this group have reached 'their last year or so of maximum production'.
Spain have earned the world's respect to be considered candidates for any future title, but one can't shake off the feeling that this outrageous dominance at Euro 2012 will in time become their swan song, the showcase of their success and the inflection point downwards. Del Bosque defends that this is the result of 20 years of work at all levels of Spanish football, but even that isn't enough to guarantee these four years of continuous success. At some point, the magical spell is bound to finish, in our case whenever some of these top players decide that it's time to go, and that time is getting imminent.
We Spaniards shall look at the goals and title celebrations from these last three tournaments like the golden memories of a wonderful spell, the way Don Draper stares at the pictures of his own marriage and family remembering a beautiful past now gone. However, the success, the glory and the feeling of vicarious accomplishment will stay with us for life.
C. 'Good luck with your next meeting'
Duck Phillips, closing the sales pitch.
Thanks to you all for another wonderful tournament. It's been a huge pleasure, as usual. See you next season!

Conversations