Glenn Hoddle column
Pragmatism is Roy's only option
In his latest exclusive column for ESPN, Glenn Hoddle says England's injury problems have left Roy Hodgson with limited tactical options at Euro 2012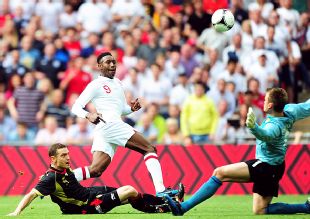 Pre-tournament friendlies are usually a useful tool in gauging how a team plans to play at the finals themselves but I don't think we really learnt anything that we didn't know already, tactically speaking, from England's recent matches against Norway and Belgium.
No-one has expected Roy Hodgson to play an open, expansive game and I've always thought that it's going to be 1-0s at Euro 2012 if we are going to win games. That seems to be the way things are working out at the moment and the condition of the squad with all of the injuries means this is the only way England can play. I think Roy would have wanted to play this way even if we had the full squad anyway but the withdrawals have forced the issue and an alternative approach isn't really viable now.
England have shown that they should be difficult to break down and it will be about whether we can score goals on the counter-attack, which we showed we can do against Belgium; Danny Welbeck had one touch and took it - that's what you hope from your strikers when you play that style of football. It was the same way Chelsea played when winning the Champions League and England also beat Spain doing it last year. Personally I don't like it, but it is the best thing for this squad at this moment in time and going into the tournament, it's a good tactic to use.
The key to counter-attacking football is winning the ball in the middle of the park, and in the Belgium match it didn't happen enough, only once for the goal. On that occasion, Steven Gerrard pressed it well and if you can work the ball in that middle third you can catch teams out. Waiting to win the ball in your own defensive third can be a problem because you are either clearing it away and it's coming straight back at you, or you clear it to your striker and there's a big distance between your midfield and him. It's about winning the ball it in the middle third and pressing together on the counter.
England can expect to be tested in the tournament more than in that last friendly because Belgium didn't really have a cutting edge and whether we can perfect that style and create enough opportunities for the strikers at Euro 2012 remains to be seen – that's the real question against a better quality of opposition. It's a tactic that obviously works nicely if you're winning, but people will question it when results aren't going well and Roy's going to have to deal with that if it happens.
I'm interested to see the Plan B for when we go 1-0 down and need to start opening up the game. There are some potentially good substitutions to be made, Andy Carroll can change the direction of the game, they could go more direct and play off him, while the likes of Jermain Defoe and Theo Walcott can change the game with their pace. We've also got two full-backs in Glen Johnson and Ashley Cole who, if Roy needs to play a more attacking game, are as good as any in their position in the world when it comes to getting forward. There is some flexibility but it will only come when we've got to fight back into a game.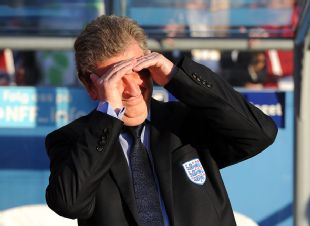 England's biggest problem in the past couple of weeks has unquestionably been the injuries to key players. Sometimes you can lose squad players but you look at Gary Cahill, Frank Lampard and Gareth Barry and they are three who would likely have started. Cahill's absence will be the biggest blow, particularly with the inexperienced international players like Phil Jones or Joleon Lescott stepping in instead.
I remember having injury concerns of my own before the World Cup in 1998 - Paul Gascoigne didn't go only because he was injured and he had been for a long time, while I lost Ian Wright to a recurrent hamstring problem and also Jamie Redknapp, who was someone I would have taken. They were three quality players that I couldn't call upon but the difference then was that I had some really good depth - the likes of Les Ferdinand and Paul Merson were around to come in. Roy's lost that a bit, though there were obviously some questions raised about why Martin Kelly replaced Gary Cahill rather than Rio Ferdinand or Micah Richards. In midfield, I personally would have made a call to Paul Scholes after Barry and Lampard withdrew, but Roy's made his decisions now and we've got to back him - hopefully they've been the right choices.
Another major decision to make is about who starts up front in that first game against France and I fully expect it to be Danny Welbeck after his goal against the Belgians. If it had been Cristiano Ronaldo or Lionel Messi we'd have all been saying 'what a player, what a finish' and I'm sure his confidence will be sky high now. He had one chance and he put it away, which is exactly the sort of ruthlessness you want from your striker in a counter-attacking side. You need a bit of pace to get in behind and Welbeck has that, but he can also hold the ball up and gives people time to get support up to him.
He has done very well for Manchester United and we've seen young English strikers take their chance at major finals before - Michael Owen stepped up at the 1998 World Cup and, of course, Wayne Rooney did the same at Euro 2004. However, Welbeck's got a bit further to go with his fitness and will probably need more time before he is really able to stamp his authority on international games.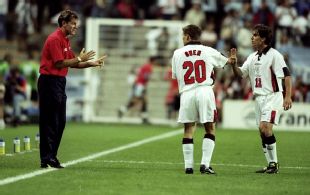 Welbeck was not the only one against Belgium to show he deserved a place in Roy's starting XI for the Euros - Alex Oxlade-Chamberlain could well have played his way into the France game after an assured display. I don't see what the other options are and if Stewart Downing was going to play he probably would have featured in some form against Belgium. When Rooney returns, we will probably see Ashley Young shifted to that left-sided role and it's a position I prefer him in - he looked a little bit lost at times playing that role in behind Welbeck last Saturday.
The anticipation is building now for the opening match against France on Monday; Laurent Blanc has done a fantastic job in picking them up from the bottom of the barrel after the 2010 World Cup and his team are a real offensive force, with some exciting, young, attacking players. He's worked really hard with them and they've gone 21 games without losing now, which is quite an achievement. France are a very good side and if any England supporters think we will have lots of possession in this game they're sadly mistaken - it's going to be like watching Chelsea against Barcelona and Bayern Munich all over again. That is the way Roy's side are set up, though, so a repeat of the draws at the Nou Camp and Allianz Arena would certainly represent an acceptable start.