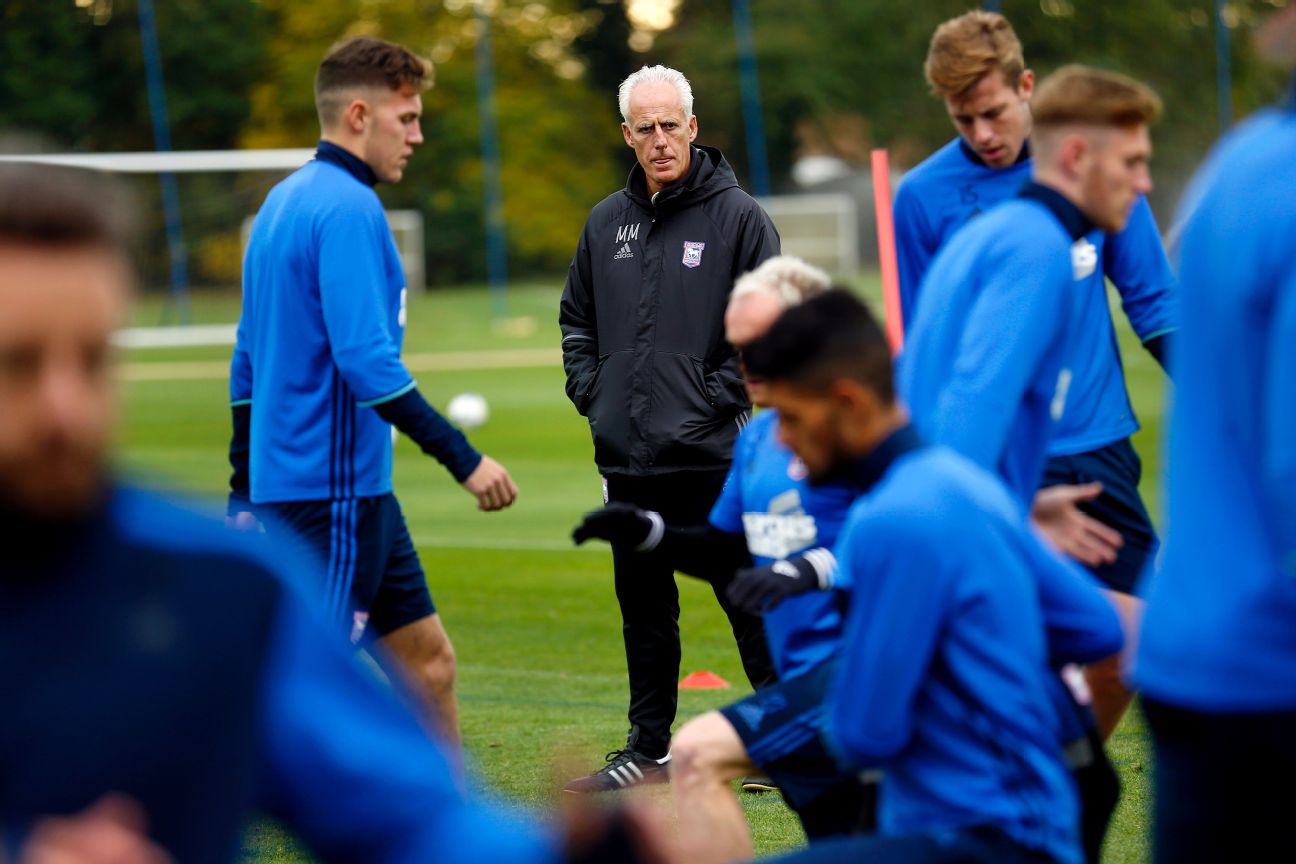 72 Hours Until Kickoff
ESPN FC spent three days with Ipswich Town of the English Championship, one of the toughest leagues in football and just one notch below the Premier League, as they prepared for a crucial clash with Rotherham last October.
As October draws to a close, there is trouble brewing in Ipswich. Three consecutive top-10 finishes under Mick McCarthy had raised hopes that the 2016-17 season might end with promotion back to the Premier League after a 13-year exile. But it hasn't quite worked out like that.
Ipswich have won only four games all season and look more likely to be embroiled in a relegation battle than a promotion chase. To make matters worse, the football has been uninspiring. In their past seven games, they've failed to score on six occasions. If they don't beat Rotherham, a club sat at the bottom of the table with only one win all season, McCarthy could be in real trouble.
Recognising the importance of the match, McCarthy gave everyone Monday off. On Tuesday, he was in early with the coaching staff to review the tape of the Newcastle game ahead of training. Wednesday saw the entire squad interact with supporters at a golf day, something that McCarthy hopes will keep spirits high.
Now it's Thursday. The players are fresh and ready to prepare. Now it's time to get serious.
---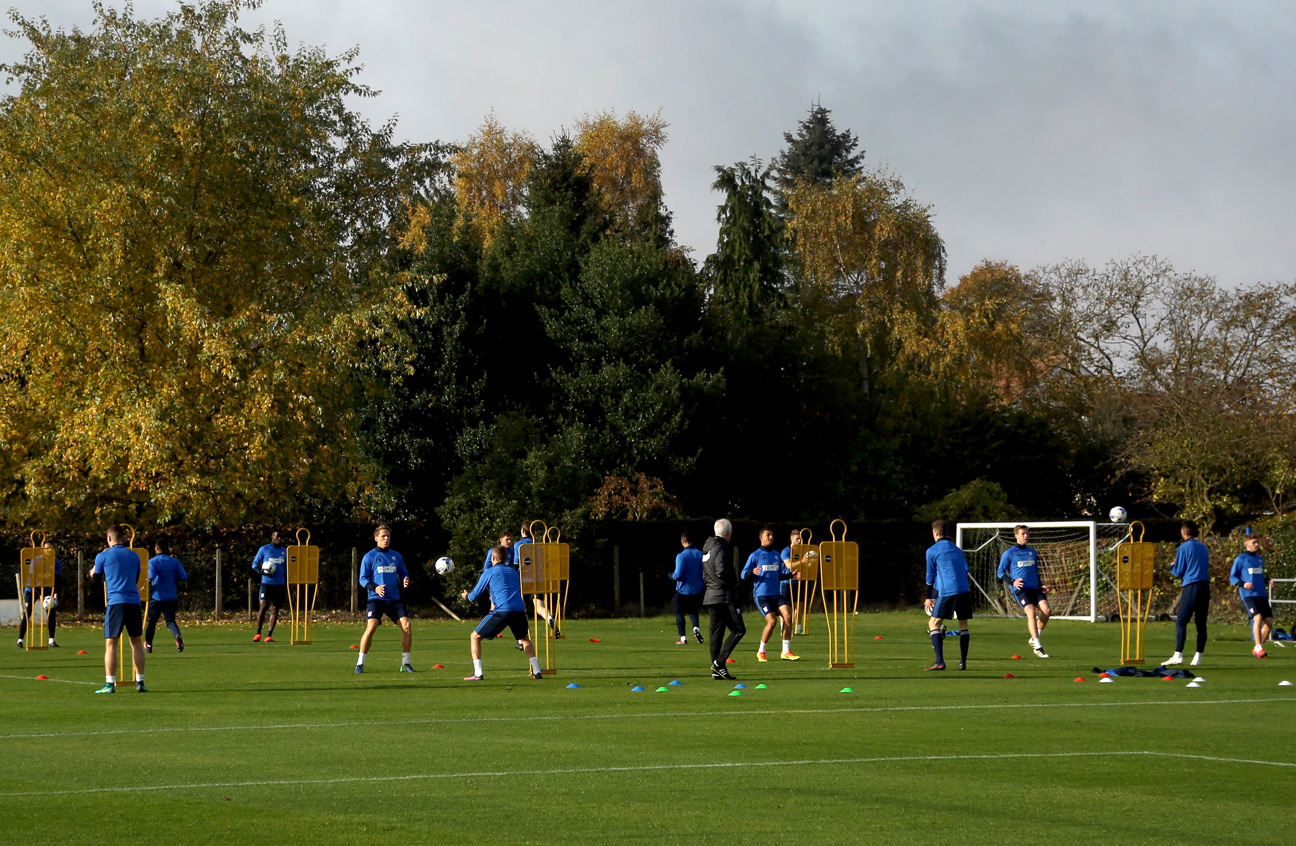 Ipswich's training ground is a 15-minute car journey from the city centre. On one side of a long country road is the complex itself with dressing rooms, a canteen, offices and the youth facilities. On the other are the training grounds with pitches carefully marked out to specific measurements. The outfield players will train together at one end, the goalkeepers, with their own specialised coaches, will train at the other end.
While fitness coach Andy Liddell (not pictured) gets the players warmed up, McCarthy puts his cones out on the main training field for the forthcoming sessions. Then he returns to the players to observe them as they go through drills, occasionally shouting words of encouragement to individuals as they work. But today, only the first 15 minutes of training are open to the media. After that, everything is conducted in private. The Rotherham match is too important for leaks.
"10.30 a.m. we start training. Me and TC [assistant manager Terry Connor] always have a coaching meeting every morning. An informal chat. We speak to [Andy] Liddell, our fitness coach who does all the warm ups and strength and conditioning, we speak to our goalkeeping coach, I put the cones out. I wouldn't expect anyone else to do that. It's my job!" don't have formal meetings, no. - Mick McCarthy, Ipswich Town manager
"At the end of the day we have a lot of games where it's Tuesday, Saturday, Tuesday, Saturday, it makes it literally very difficult to do any sort of tactical or game preparation because you have to recover. The games are so relentless." - Luke Chambers, Ipswich Town club captain
---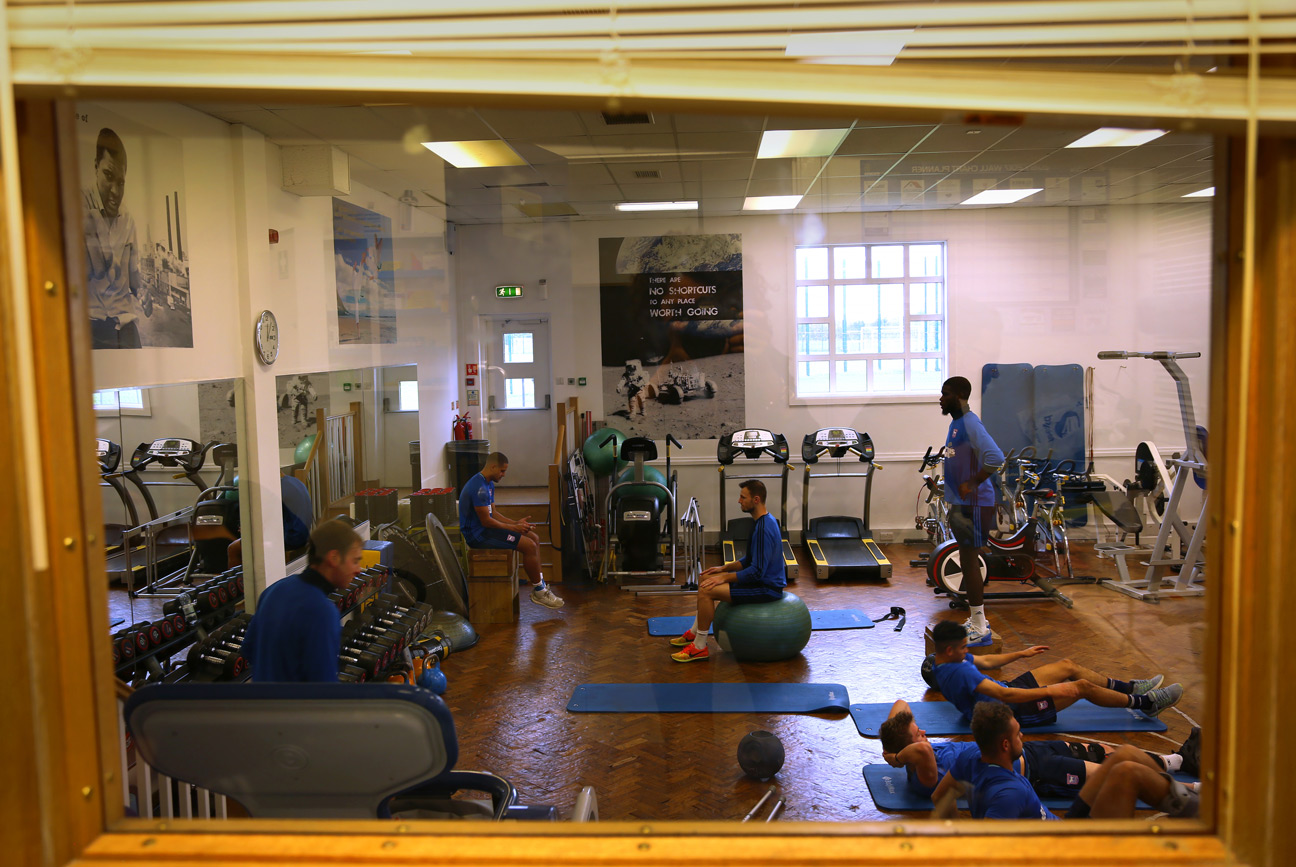 For players a little closer to fitness, working days mean a trip to the gymnasium. Ipswich's facilities are modest but well-kept. The coaching staff ensure that motivational posters -- check out the Muhammad Ali poster -- give the players something to think about while they work on their recovery. "There are no shortcuts to any place worth going," is a particularly pertinent piece of advice from a sign on the wall. "It's a 24/7 job," says head physio Matt Byard. "It's an enormous responsibility we have working with these players. It's an accountability that's not to be taken for granted. It's a full-time job in every sense."
"If we do a gym session we'll do it on a Tuesday if we don't have a midweek game. It's difficult to have a big session on Thursday and then not be feeling up for [the game] on Saturday." - Luke Chambers, club captain
"If the players using the gym need to be spoken to, I will. We have a lot of players who are 25 or older. They know their bodies. If I tell them to do something and they don't want to do it, then why push the point? Once they get over 25, they've played football for a long time -- they don't need fitness coaches telling them what to do, so I let them get on with it." - Andy Liddell, fitness coach
---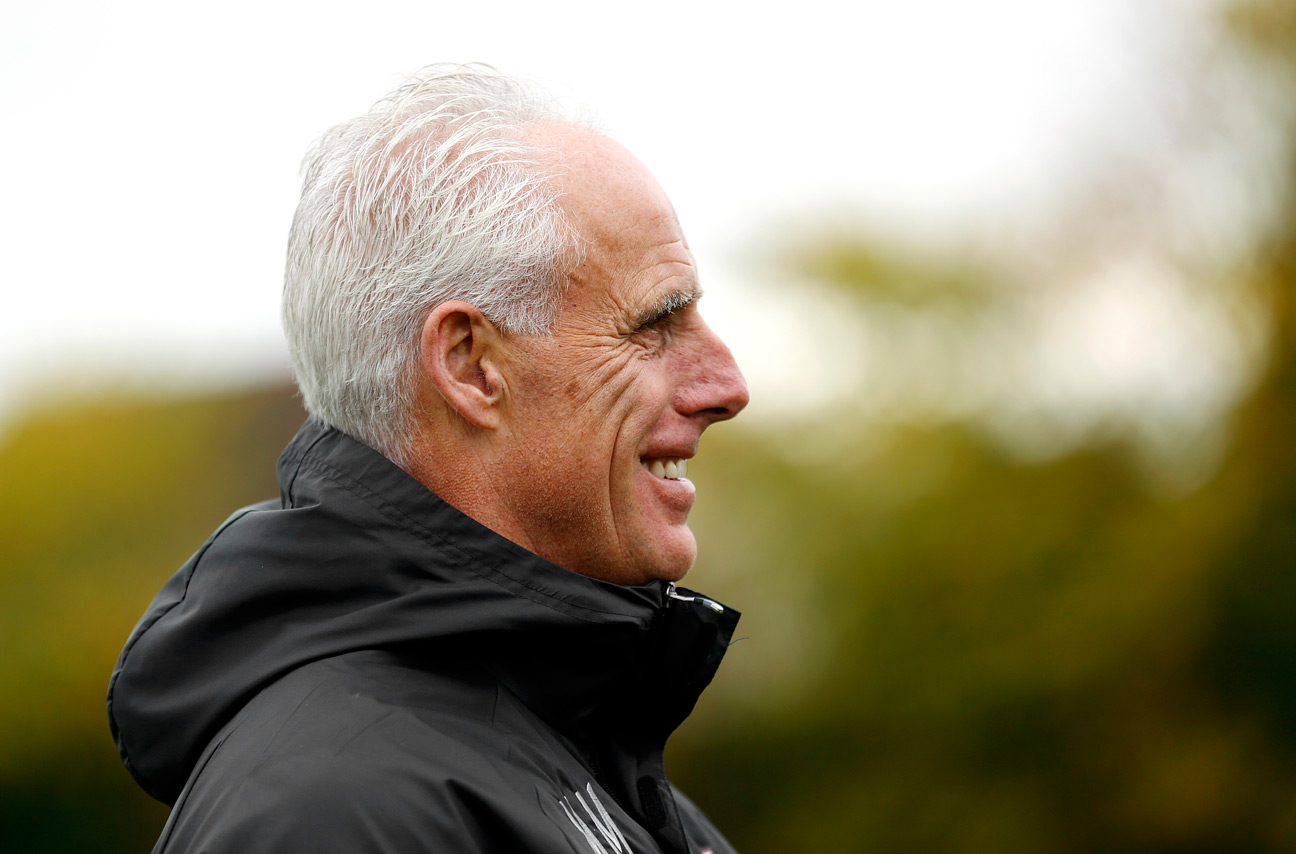 Despite the results, the mood in training is good, the players joke around with each other before the session, but work hard when it begins. Unlike some managers who prefer to leave training sessions to their coaching staff, McCarthy is hands-on and observes his players closely as they work. He believes that the change in the personalities of the players is "one of the biggest things that's evolved with football. I was in an era where if you lost, you felt hopeless. We were all F's and C's and B's and any other word the manager could come up with to describe you. Managers could do it; they could get in your face and they could be screaming at you. It doesn't happen now."
"Unless he's got a one-to-one meeting, his door's always open to you. Whereas I have had some managers around whom on a Monday morning you'd literally be on eggshells." - Fran Barnard, Mick McCarthy's personal assistant
"It's good to have a manager who is stable, yeah. I think that's why we've been successful. The lads have never really had to deal with screaming and shouting, ups and downs, highs and lows too often. So it's definitely helped. The lads always seem to respond now and are ready to give everything to the cause." - Luke Chambers, Ipswich Town club captain
---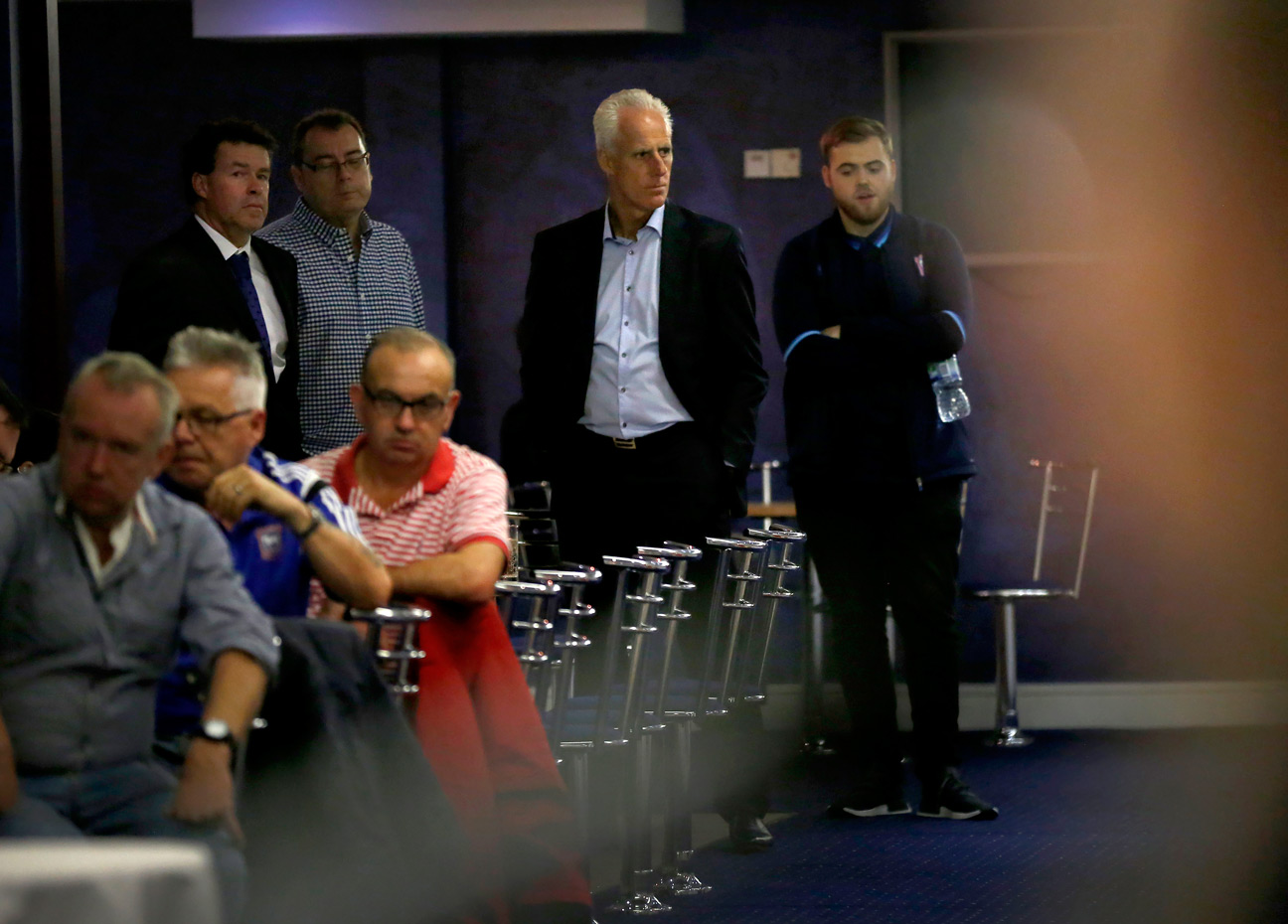 Ipswich Town is one of a few clubs that holds an annual general meeting for their supporters, giving the die-hard fans a chance to communicate their anxieties directly the manager and the club hierarchy. How are the finances? What will be done about these bad results? Can we trust you to turn things around?
Given the bad run of form, an increasingly vocal section of supporters has already turned against him, and on Thursday night, they get their chance to make their feelings clear. In the days building up to the event, the local newspapers' comment boxes have been filling up with furious diatribes against McCarthy. This is their chance to make their points in person. But McCarthy has been a football manager for nearly 25 years. As he waits to take the stage, he doesn't betray a single sign of nerves. He calmly listens to his inquisitors' points, disarming them by using their first names when he answers.
In the end, the night is far calmer than anyone expected.
"I don't think there are hardly any other clubs where the manager will come and do the AGM, especially when the club's going through a bit of a bad time. And he does it every year." - Liz Edwards, chairwoman of the Ipswich Town FC Supporters' Club
"I have no anxiety about the meeting. He's big enough and ugly enough to do these kind of things! Mick is brutally honest. And I think that's one of his other qualities -- he does say things as they are, and people might not like that sometimes, but you don't really maybe have so much to worry about." - Fran Barnard, Mick McCarthy's personal assistant
---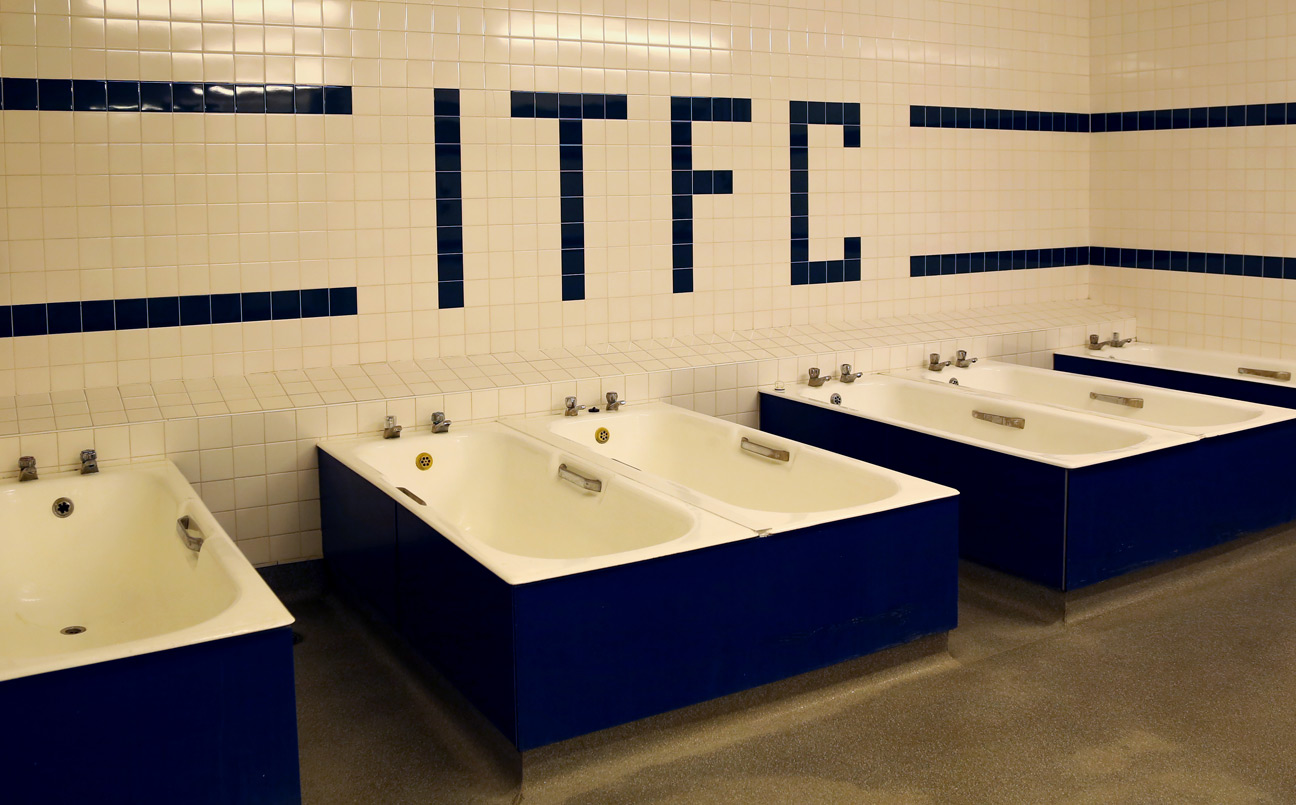 Ipswich may have fallen on less glorious times now, but there was a time when they were one of England's most successful clubs. They won the league under Sir Alf Ramsey in 1962, and under Bobby Robson they won the FA Cup in 1978 and the UEFA Cup in 1981. But while managers and players change, there is much about Portman Road that remains the same, including these bathtubs.
Once upon a time, the likes of Terry Butcher, Paul Mariner and Kevin Beattie used to bathe in this room. Now they serve the away dressing room. The home dressing room, a much larger and more modern area, is further down the corridor, behind heavy blue doors that slam shut an hour and a half before the game -- a no-go area to anyone outside essential first team personnel.
"Yeah, there is a lot to remember [in the dressing room before a game]. You have to make sure you've got everyone's boots -- and that includes studs and molds, their shinpads, their flip-flops, their gloves, the right pair of [pants] for them, making sure their names are spelled right." - James Pullen, Ipswich Town kitman
---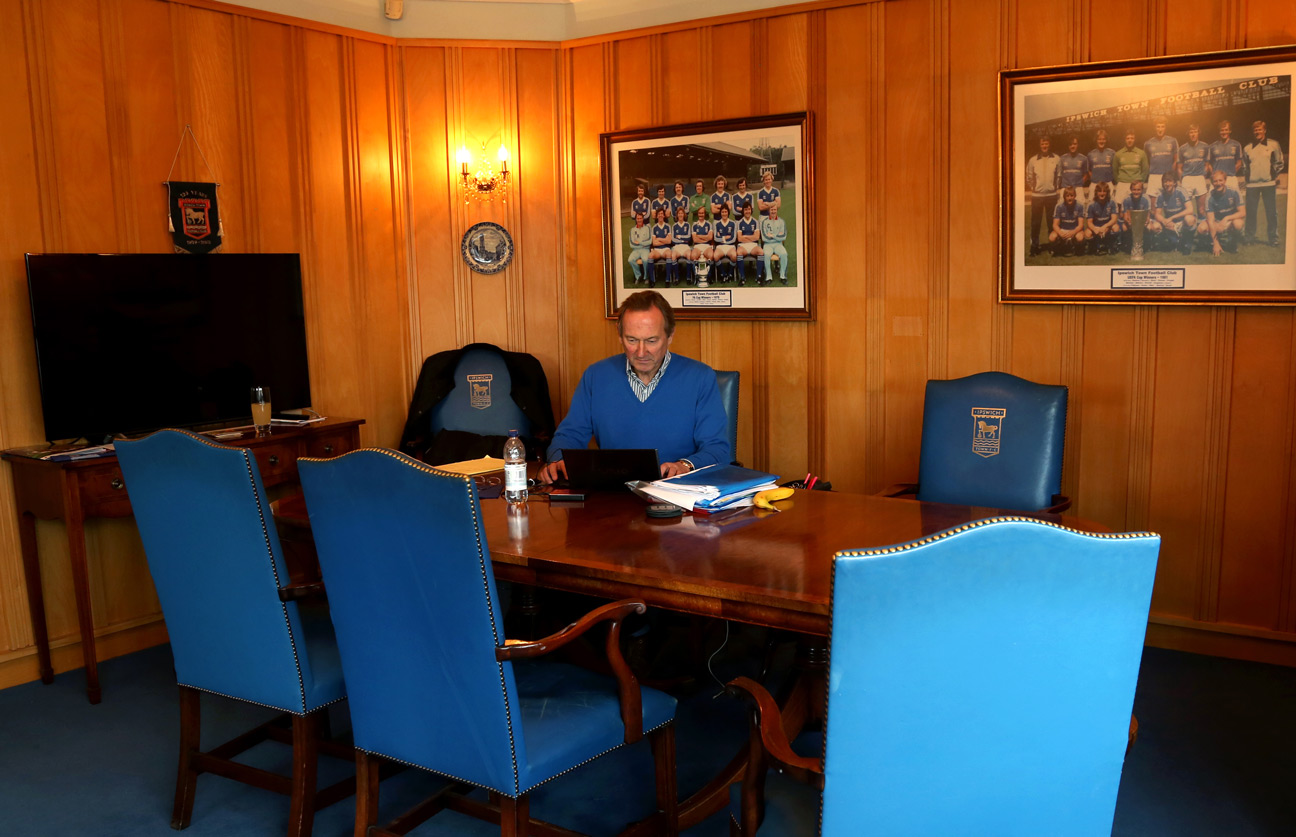 Managing director Ian Milne carries out much of his work in the chairman's office, which is just as untouched by the ravages of time. On beautifully upholstered chairs in front of wood panelled walls, he executes his duties in the same room where legendary chairman and manager duo John Cobbold and Bobby Robson would once have shared post-match drinks. Cobbold was one of the most eccentric characters in English football.
Once, when asked by journalists if poor form meant there was a crisis at Ipswich, he snorted with derision. "Crisis?" he said. "There is no crisis at Ipswich Town until the white wine runs out in the boardroom."
It's a view that is echoed, in terms of a refusal to panic at least, by Milne. He's keen to stress that McCarthy's future is quite secure, and that Ipswich is not the sort of club that sacks managers easily. But he does acknowledge that results need to change, starting with the game against Rotherham.
"We are honest with our fans. You have to be honest with your fans or else you'll get found out. But I think it's also, with fans, to tell them some honest facts. And the issues we have very quickly is that the moment that the Premier League -- and it's not a knock against them -- is that the PL is getting more money and it's moving more away from the Championship and other divisions." - Ian Milne, managing director
---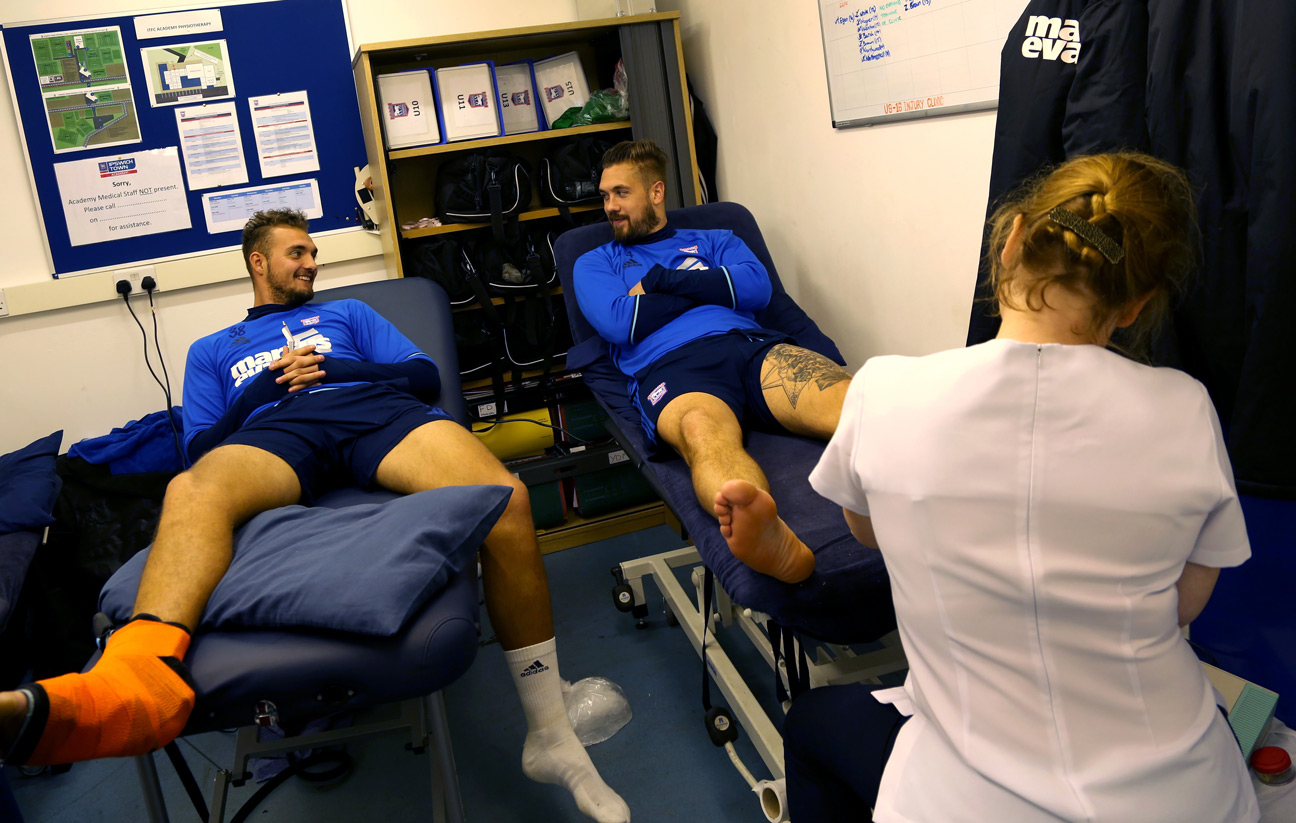 Some players, like Michael Crowe (L) and Luke Chambers (R) are nursing injuries. Chambers will start the game on Saturday, but not before more treatment. Even for players with no chance of playing on Saturday, there's no time off. As their recovery continues, they'll receive specialised care and they'll be carefully returned to fitness under the watchful eye of the medical team. There are no fringe benefits to being injured either. While the players' lounge has table tennis and a Playstation, injured players are banned from using them.
"It's a bit of an old-fashioned theory," says McCarthy. "You're supposed to be unhappy (when you're injured), and you want to be out on the training ground. You shouldn't be sat in here all nice and cosy, playing table tennis and watching telly and being on social media and all that!"
"Injuries are one of those things you take on the chin. I wouldn't say I'm injury-prone; I'm just prone to bad tackles. It's the way I play. Good players run with the ball." - Jonathan Williams, midfielder
"You do look after [the players] like they're children a lot of the time. And they talk to you like they're children as well, which is quite annoying. But you've got to give as good as you get back from them, but they enjoy that. If you're a bit of a doormat, they'll walk all over you, which you can't allow in this job." - James Pullen, kitman
---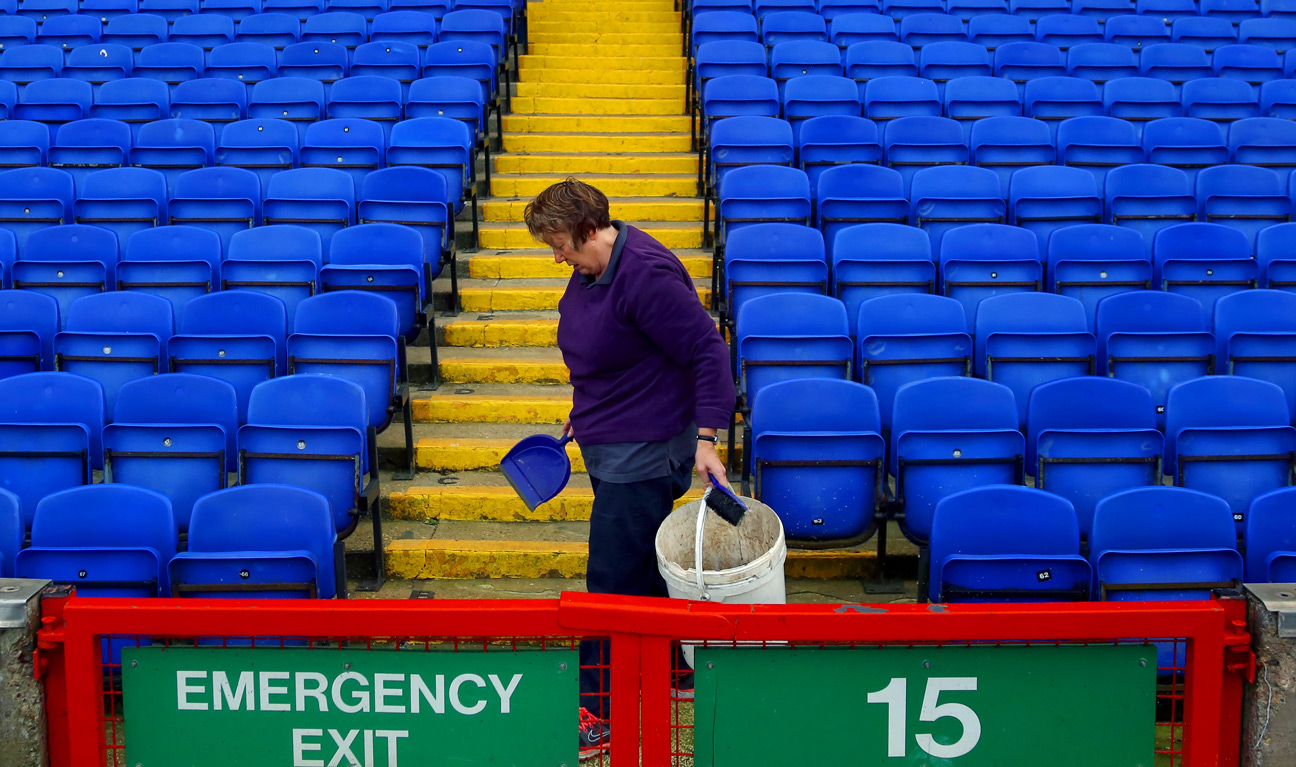 As match day approaches, the pregame checks begin. Every seat is examined, every turnstile is turned, every toilet roll dispenser is filled. Greg Pillinger, the stadium manager, is responsible for every part of Portman Road, and he's there right up until the last light is switched off on Saturday night. He works closely with Mick Warden, the club's head of safety and security. With so many people gathering in such a public place, there can be no compromise on safety. Sniffer dogs prowl the stadium along with stadium security staff (pictured); if there's so much as a dropped sandwich wrapper underneath a seat, it will be found.
"We have a security search team come on duty. Four people trained in search techniques will go around the stadium, predominantly looking for suspect packages and taking the padlocks off the exit gates." - Mick Warden, safety and security officer
---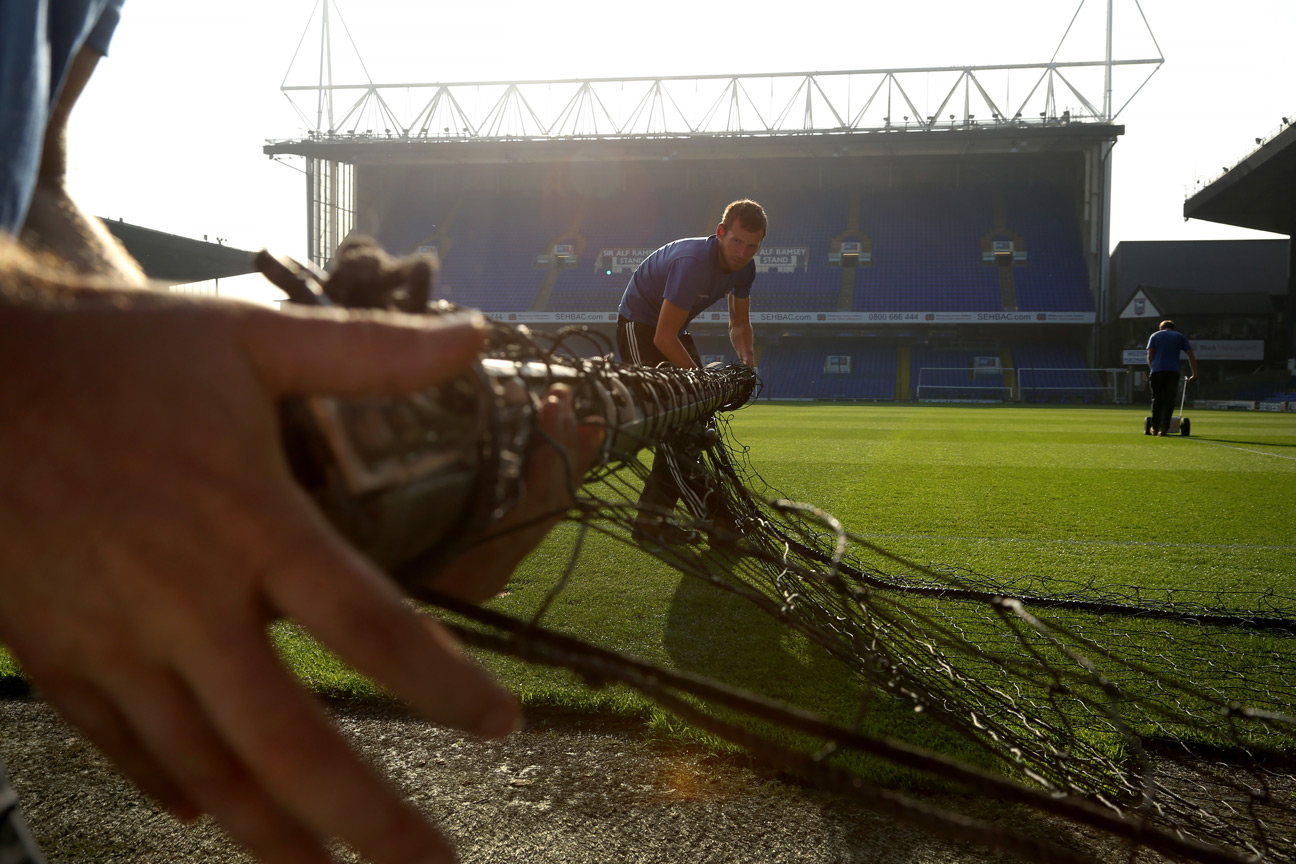 Days before the game, the groundskeepers will work tirelessly to ensure that the Portman Road playing surface is as good as possible. Head groundsman Ben Connell has nine staff working under him as well as an administrative assistant. They all know that manager Mick McCarthy's ability to do his job properly depends on their ability to do their own. The grass is mown regularly to ensure that the ball moves without deviation. Artificial lights will give a boost to areas of the pitch that don't receive enough sunlight. In order to free up access for the lawnmowers, the goals will be taken out between matches. But it's Saturday morning and kick off is approaching. It's time for the goal posts to be raised into position.
"Saturday morning will probably be a single width-ways cut for the cameras. Then we'll drop the goals in. We have to put banners out and stop netting out for warm-ups along the back because of course the balls are flying into the crowd before the game. Then sort of leading up to the game, we'll do a prematch water on the pitch. So we'll have all the pop-up sprinklers going around the outside and then water through the middle. Then certainly when it's dryer, we'll then have a water before they come and train, and then we'll get the hoses out again before kick-off, and then we'll water again at half-time."- Ben Connell, Ipswich Town head groundsman
---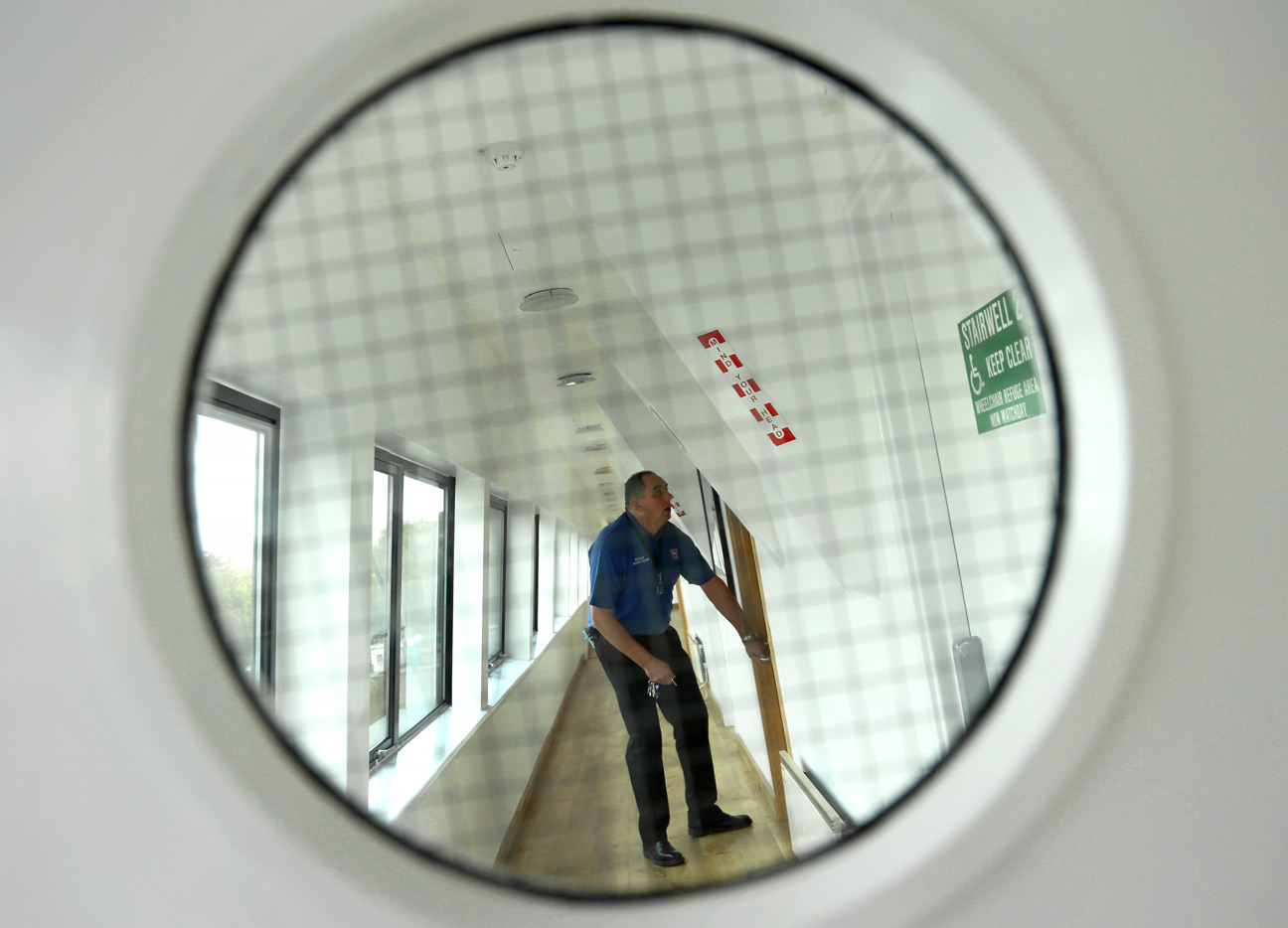 Many of the club's operations are carried out in offices built into the stadium itself. Long corridors with tight staircases link dozens of rooms, all hidden behind heavy wooden doors. And every one of them has to be checked by the security team ahead of a game. Taller members of staff, like stadium facilities staffer Rodney Lankester, need to tread carefully. Because of the structure of the stadium, specifically the angle of the walls that support the rows of inclined seats, there are plenty of opportunities to bang your head.
"On Friday, we check all our safety systems. We check the PA system. We check the radio messages and logs. We check the search wands, turnstiles -- make sure everything's charged. We do turnstile tests to make sure they're recording properly." - Mick Warden, safety and security officer
---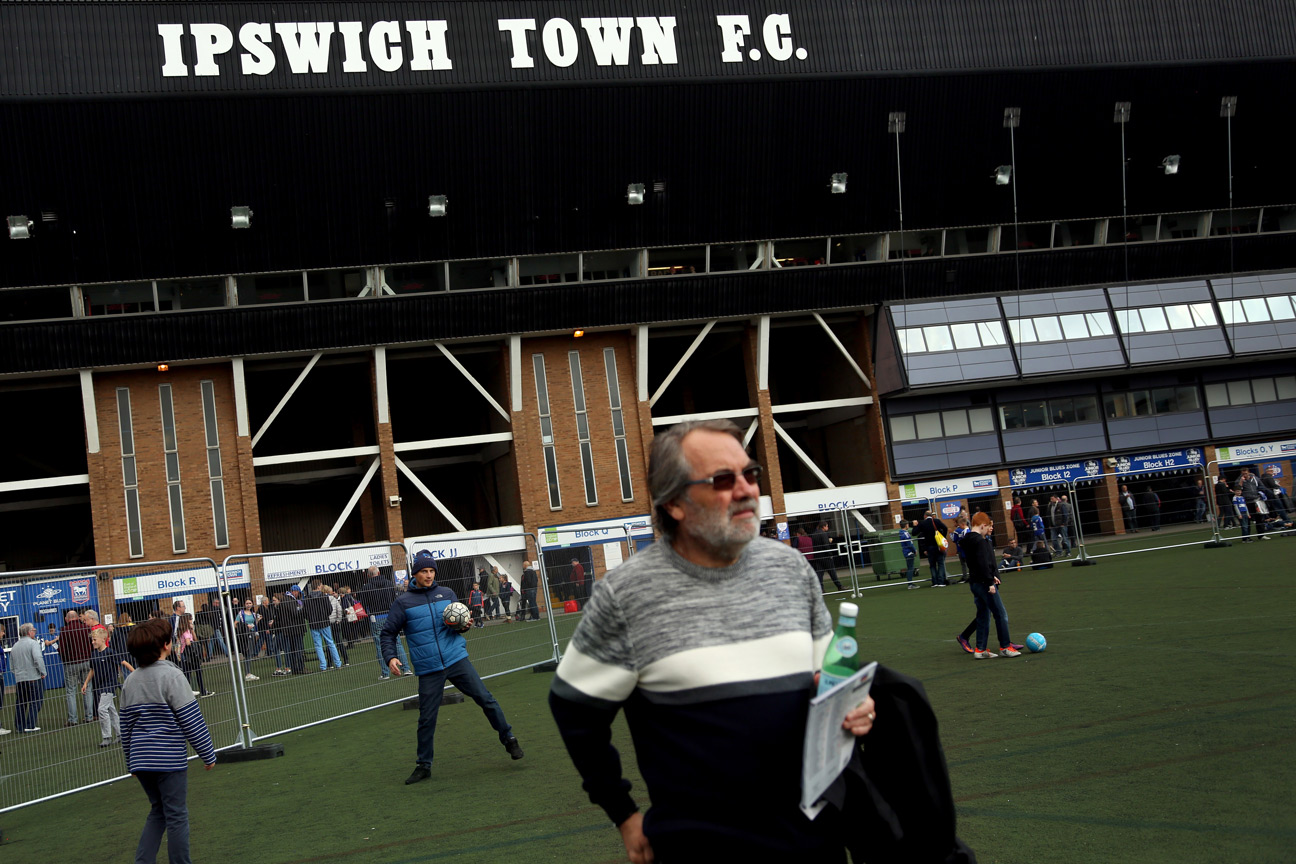 Ipswich Town have worked hard to make sure that the matchday experience isn't confined to the inside of the stadium. Outside Portman Road there is an artificial pitch for youngsters to play on; there is a bar in a marquee and local bands showcase their material in front of the supporters. This part of the stadium has changed considerably over the years. Before Ipswich had their own separate training ground, the first team used to train where the AstroTurf now sits, under the same signage, but on a very different surface. In those days, it could be more of a quagmire.
"Our fan zone brings in 1,100-1,200 fans. I get local bands and singers to perform in there. Part of my role is working with promoters to get musical acts in here. Elton John will be playing here on Jun. 17, 2017. In the past we've had Pink, Rod Stewart, Neil Diamond, REM, the Red Hot Chili Peppers..." - Rosie Richardson, head of marketing
"Ipswich Town is so many people's "second club." The reputation is built on three things: The Cobbold family and how they ran the club. Sir Alf Ramsey getting this team to win the Championship in 1961-62 at the first year of trying. And then add Bobby Robson to the mix." - Simon Milton, ITFC academy sponsor
---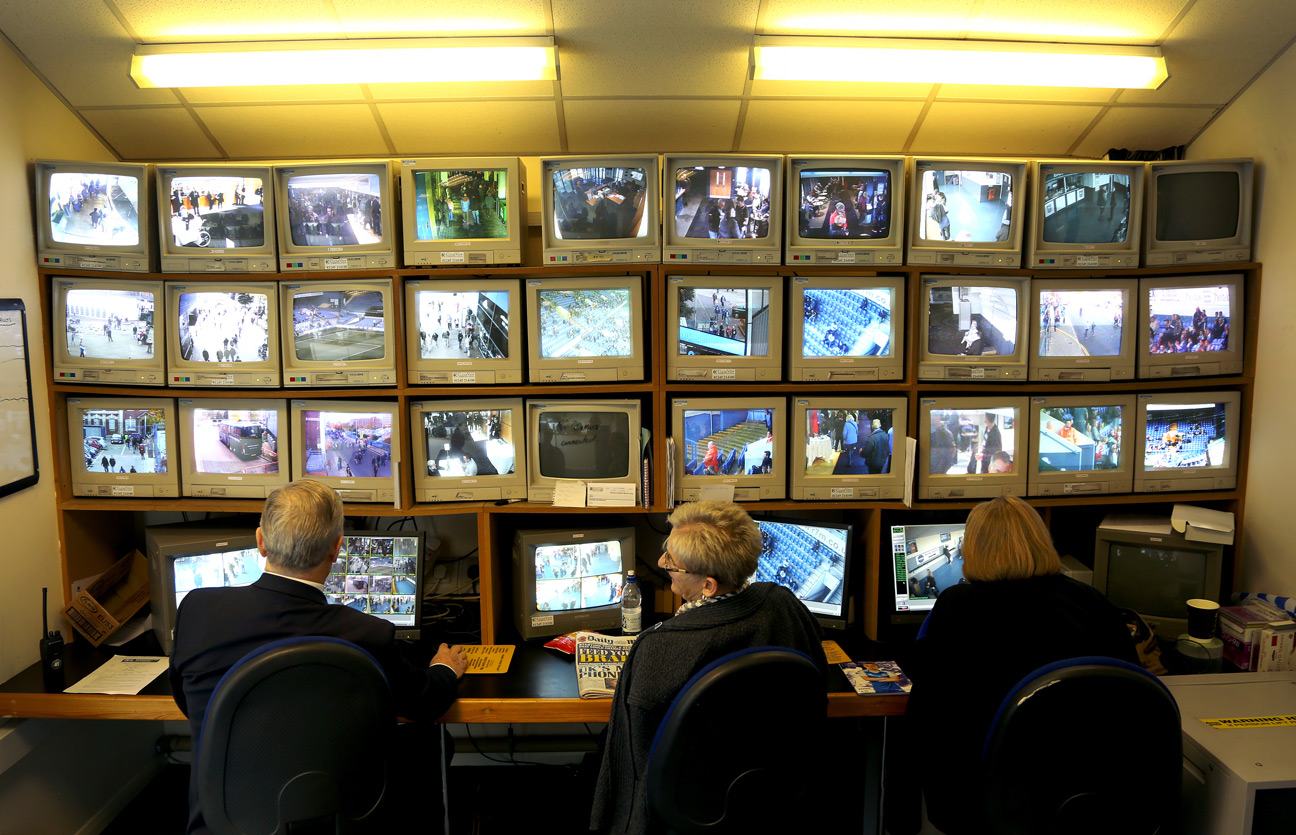 As kick off approaches, Ipswich Town's security staff will monitor everything with the help of CCTV cameras positioned all over Portman Road. The careful positioning of the cameras means that any incidents inside the stadium can be spotted quickly, with accurate information passed to the stewarding team within seconds. There's no anonymity in the stands now. Trouble can be tracked directly to a single seat. The security net isn't limited to inside the stadium either. Earlier in the season, a suspicious man on a bicycle with wires poking out of a rucksack was spotted outside, monitored and then intercepted. He proved not to be a threat, but no chances were taken.
"On the whole, our supporters are extremely well-behaved, both home and away. But they do have their moments. We can't afford to be complacent." - Mick Warden, safety and security officer
---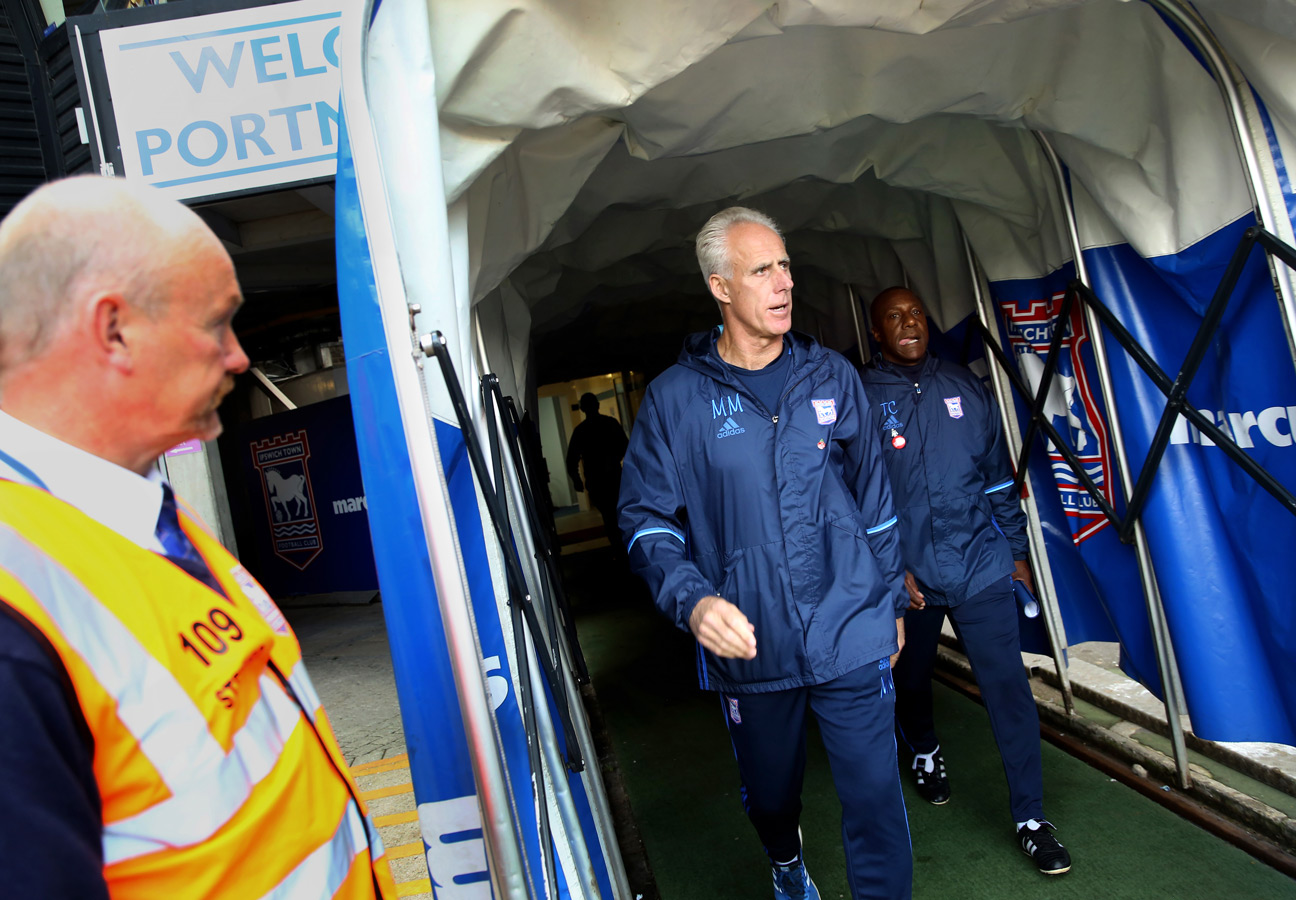 After all the preparation, there's very little else that a football manager can do but lead the players out and hope that all the work pays off. In the dressing room, assistant manager Terry Connor will work his way around the room, reminding individual players of issues such as their responsibilities at set pieces, but McCarthy prefers to be as hands-off at this time as possible.
"Players get sick of hearing that stuff. Sometimes they'll disappear and have a cup of tea. Because I've been there as a player. The more everybody's talking to you, the more I just really wanted to shout, 'Shut up, leave me alone and let me get ready. Let me concentrate.' And then it's time to get out there and play."
Despite the poor results, McCarthy is afforded a warm reception by the Ipswich fans. He waves at the supporters, walks to the dugout and prepares for the whistle.
"It's just about being straight with people, being honest with them... if somebody don't like me, there's nothing I can do." - Mick McCarthy, manager
"If people are being horrible about [McCarthy], yeah, it does affect me, in all honesty. I go to all home games, and I don't like sitting there and then, you know, people are shouting because I know his wife and his kids might be in the crowd. I think 'God, if I hate hearing that, how must his family feel?'" - Fran Barnard, Mick McCarthy's personal assistant
---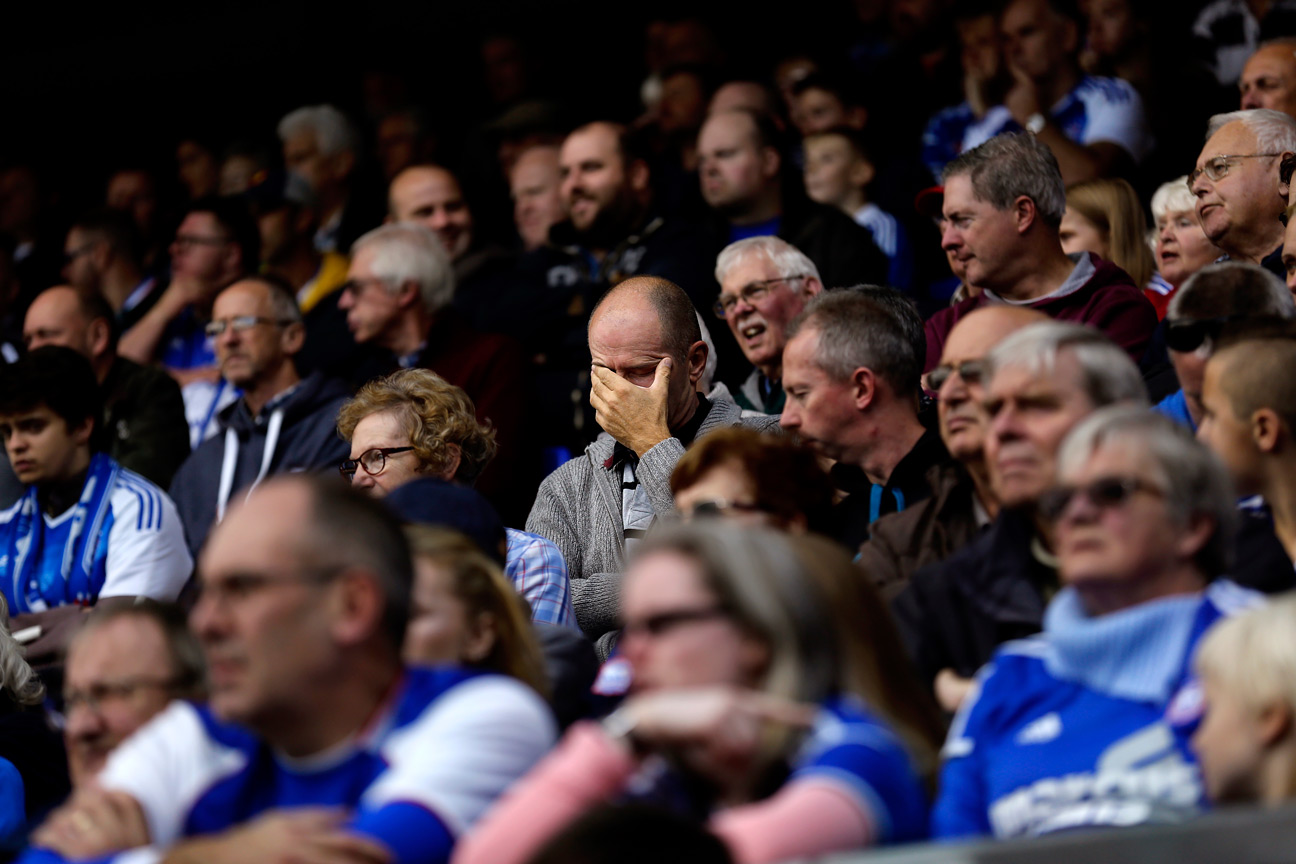 After all the buildup and the palpable nerves in the stadium, Ipswich make the perfect start to the game. Tom Lawrence whips in a low free kick from the right and Freddie Sears turns it in. The crowd roar, with relief as much as anything else. Finally, they're back on track. But their joy is premature. Barely four minutes later, they fail to clear their lines at a corner and Rotherham equalise through Danny Ward. It's 1-1 at half time and Ipswich need to get their act together. They come out for the second half, faces fixed with renewed determination.
Two minutes after the break, Rotherham are 2-1 up. It's Ward again, this time from a long throw. A home game against a team slumped at the bottom of the table that has lost its past seven games and that has only won once all season is as winnable as it gets. But as the clock ticks down, Ipswich are losing. At moments like this, all you can do is close your eyes and hope.
"Mick McCarthy your football is s---, Mick McCarthy your football is s---." - Fan chant at FT
"Let me tell you: footballers are sensitive. They are sensitive to people criticizing them at their job." - Mick McCarthy, Ipswich Town manager
---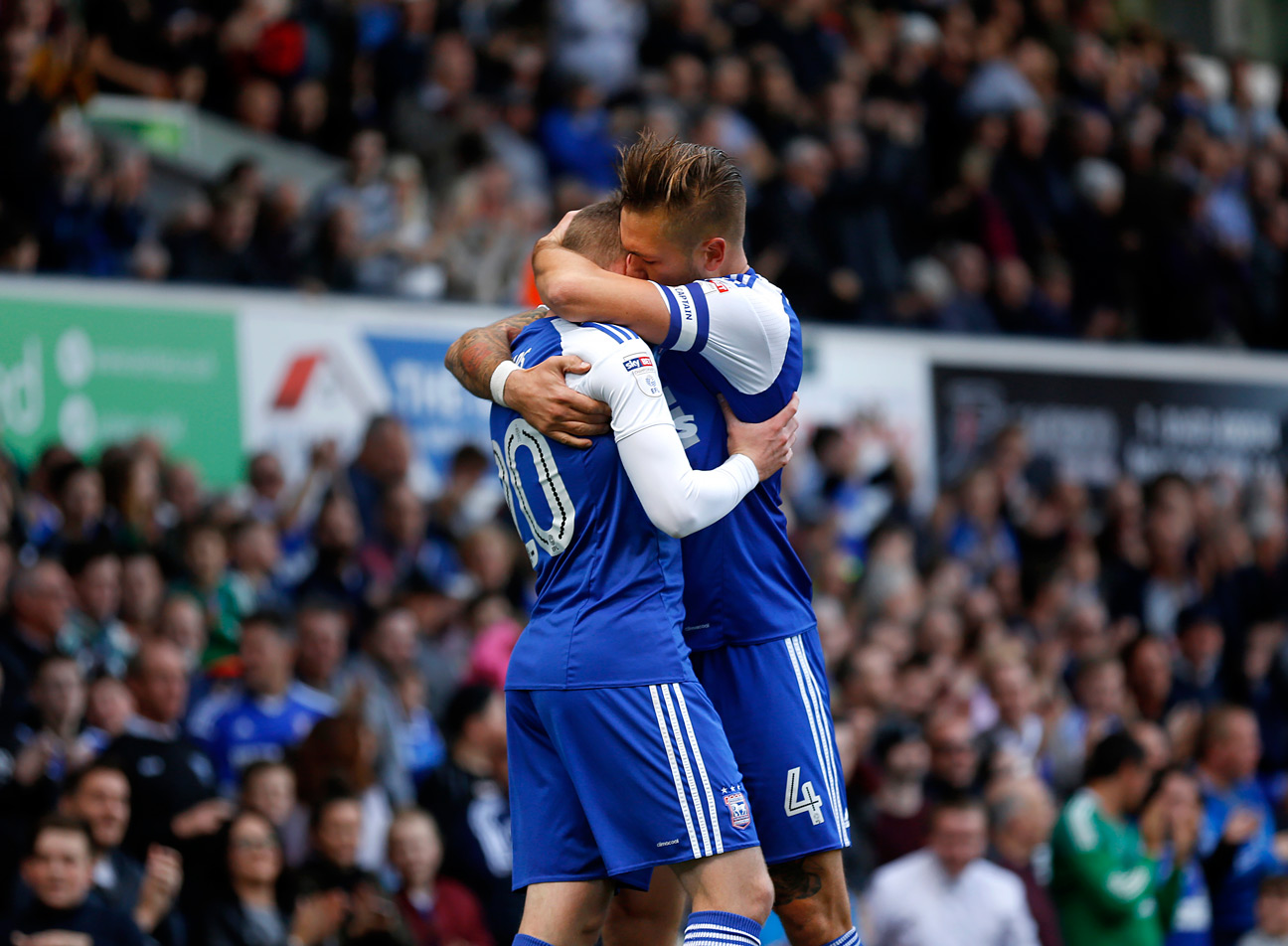 With barely seconds left to play, the ball falls to striker David McGoldrick, and he lashes it powerfully into the bottom corner to rescue a point. It is a cruel blow to Rotherham, so close to a first win under manager Kenny Jackett, but that's not Ipswich's concern. Club captain Luke Chambers and the rest of the team rush to celebrate with McGoldrick, who has only just returned after months out with an ankle injury. This was his first start since the opening day of the season. His comeback could not have been better timed. Chambers also embraces Sears, above, for his contribution. But the equaliser doesn't diminish the anger of the Ipswich fans. When the final whistle blows seconds later, Portman Road erupts with fury and McCarthy is booed off the field.
"We know there's been quite a lot of negativity. We want everyone to enjoy coming, and we know that people have got to pay quite a bit of money to come and watch us. At the end of the day if we're not winning games, they're not going to be too happy, and they're not going to want to come too often.
We players do discuss it. We'll talk about it and just try and laugh it off because at the end of the day we're all trying to do the best job we can. We want to win just as much as the supporters. That will never be an issue.
It's our job to deal with negativity. It's not always going to be rosy. Everyone knows we've got the support of each other and that's the main thing when we cross the white line onto the pitch." - Luke Chambers, club captain