Pulisic Watch: How U.S. star is doing at Chelsea, game by game
Welcome to the Christian Pulisic Watch, as the U.S. international starts the next phase of his career after his $73 million move to Chelsea from Borussia Dortmund. ESPN FC will be tracking the American's progress here all season.
Jump to: Man United | Liverpool | Leicester
- Borden: Pulisic isn't your wonderboy anymore
- ESPN Premier League fantasy: Sign up now!
Stats: Started and played 84 minutes before being substituted for Willian. He didn't score but he picked up an assist and created three chances. He made 84.2% of his passes and 86.4% in the final third.
How he performed out of 10: 7. Playing on the right wing after Pedro's injury in the warm-up, Pulisic set up a goal and won for the first time as a Chelsea player. He picked up a 17th-minute assist as he drifted inside to slot the ball to Mason Mount, who cut back across his man and finished well. In the second half he wasted a chance to put his name on the score sheet by blasting into the side netting when through on the goalkeeper. Overall, he was a good attacking threat and though he disappeared a bit in the second half, he still carved out chances.
Highlights: Provided the overlap ball to Cesar Azpilicueta to cross for Tammy Abraham's opener and was full of running to close down the defenders in the early stages. A good one-two with Mateo Kovacic almost opened up some space for a second goal before the Croatian's cross came to nothing, but then he bagged an assist of his own as he found space to feed Mount for the second goal.
Just before half-time, Pulisic did well to take down a long ball and turn brilliantly in the box, but his shot was blocked. Minutes later, good control saw him set up Ross Barkley for a shot that flew over. A run down the right late in the second half set up the England midfielder again only for his shot to be charged down, before Pulisic's excellent low cross was kept out on 80 minutes.
Lowlights: He let Emiliano Buendia glide past him too easily for Todd Cantwell to score, and Chelsea lacked width on the right as Pulisic kept drifting inside, though he showed how dangerous he is there by assisting Mount from a central position. On 22 minutes, he found space in the box only to lose his footing and fall over comically, much to the joy of the Norwich fans.
One minute into the second half, Pulisic was set free down the right but seemed to panic when faced with the goalkeeper and shot into the side netting. He took a while to get his confidence back after that and it was understandable that he was subbed off. He has yet to finish a game he has started.
Next Saturday, the Blues will take on Sheffield United at Stamford Bridge.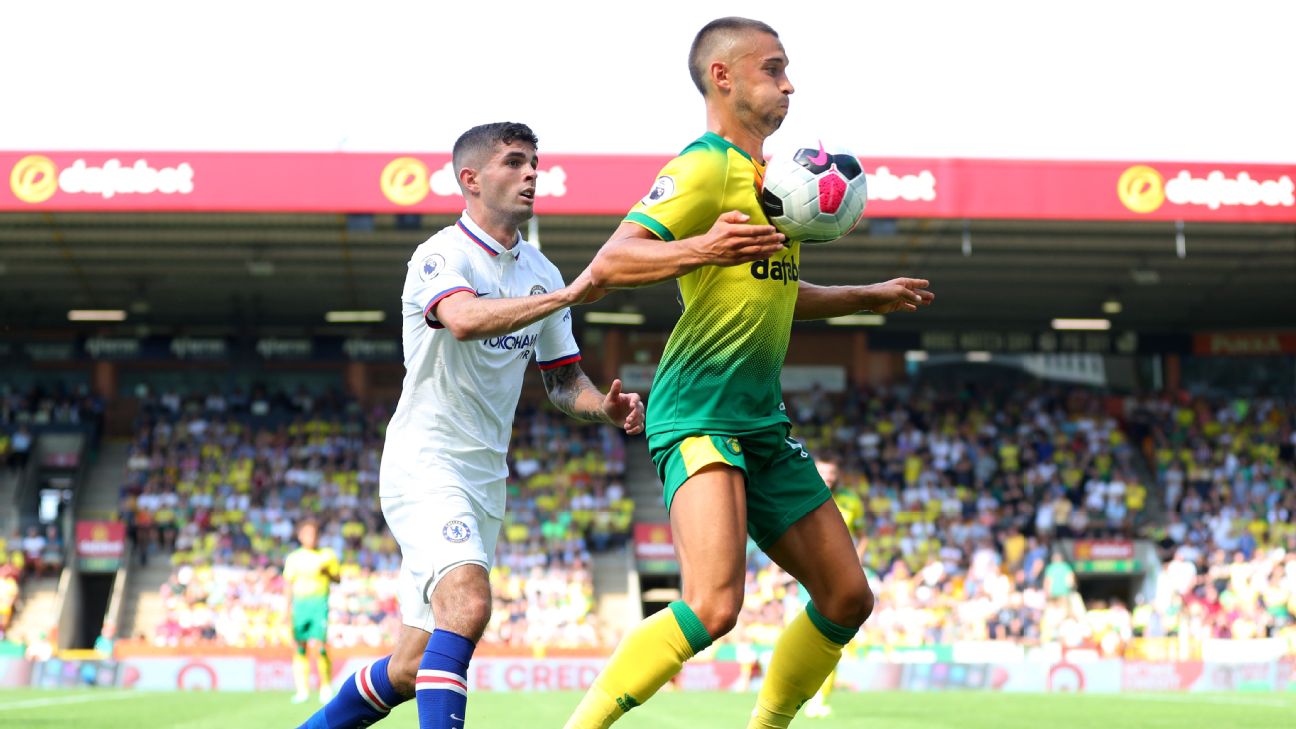 Stats: Started and played 71 minutes before making way for Willian. Zero goals or assists. 18 of 21 passes completed.
How he performed out of 10: 5. Overall, this was a pretty anonymous performance for the American. Pulisic was plenty involved in the game's first 15 minutes, when Chelsea were rampant and Mason Mount scored in the seventh minute. But his contribution consisted mostly of keeping the attack ticking over. When Leicester finally settled into the match, Pulisic had little to no impact, especially in the final third. That trend continued into the second half, and he was substituted in the 70th minute. That isn't all down to him mind you. The play of the entire team fell off, but it wasn't the kind of performance that will send the hearts of Chelsea fans (and U.S. supporters too) fluttering. With Willian returning to full fitness, it will be interesting to see if Pulisic's minutes are impacted.
Highlights: Pulisic had some bright moments early. He nearly latched on to a rebound from Mason Mount's shot in the second minute, only for his attempt to be spoiled by Ricardo Pereira. His flick-on from the ensuing corner was enticing, but there was no one at the far post. The American was involved in the buildup to a 26th minute opportunity when he played Emerson down the left wing. The Italy international's cross was back-heeled by Olivier Giroud to N'Golo Kante, but the shot was wide. The fact that those count as highlights is illustrative of the kind of day Pulisic had.
- Chelsea player ratings: Azpilicueta a 5/10 as Blues drop points
Lowlights: There were no glaring errors by Pulisic, but little in the way of standout moments either. Some of this was down to the fact that Chelsea's attack was tilted a bit more to Pedro's side during the early exchanges. Pulisic and Pedro switched sides at one point in the first half, but there was no uptick in form for Pulisic. He was soon back on the left wing. While Pulisic's passing was sharp (18/21), he was dispossessed a team-high six times.
Stats: Started and played 74 minutes: zero goals, one assist, 74.1% pass completion percentage (20-27), two chances created, two shots, no shots on goal, 50 touches and three successful take-ons.
Christian Pulisic got his first start for Chelsea in the UEFA Super Cup, making him the second American -- after Jovan Kirovski with Borussia Dormtund in 1997 -- to play in the match.
- Ratings: Pulisic earns 7/10 on first Chelsea start
- Chelsea flout transfer ban by unveiling 'Jorginho'
How he performed (out of 10): 6 -- This was a performance to build on for the American, and his assist will begin to ease at least some of concerns about how long it will take him to settle into the side, or his ability to compete at the Premier League level. There will be disappointment that his goal was disallowed, but without question he showed his quality.
Clearly, Pulisic's best spell came in the last 20 minutes of the first half. In the second half he remained active, having had a few shots blocked by the Liverpool defense, but he wasn't quite as impactful as he was in the opening 45 minutes. Liverpool were in the ascendency to begin the second half and his passing began to erode a bit. That said, this match was a step forward for Pulisic, despite the end result.
"There's more to come from Pulisic. We must remember his age, he's only 20," Chelsea manager Frank Lampard said after the match. "It took him a bit to get into the game but when he got into it we saw what a player her is and that's a good sign for the club."
Highlights: Pulisic hadn't been that impactful over the game's first 25 minutes, but he was instrumental in Chelsea's 36th-minute tally. N'Golo Kante found the American in a central position, allowing Pulisic to run at the Liverpool defense. With defenders closing in, he slid a deft pass while falling to the ground to put Olivier Giroud in on goal, and the Frenchman converted with a cool finish.
Just minutes later Pulisic thought he had his first competitive goal for the Blues, twisting his way past Joe Gomez and Joel Matip to find the net, only for it be ruled out by a narrow offside decision.
Lowlights: Pulisic did start the match slow, but that is nitpicking to a degree. Liverpool is among the most formidable of opponents, and Chelsea didn't have much of the ball early. He was among those culpable for allowing Sadio Mane a free header from a corner in the 30th minute, but ultimately wasn't punished.
Stats: Played 36 minutes as a substitute, zero goals: zero assists, 100% pass completion percentage (12-12), one chance created, no shots, no shots on goal, one chance created. 23 touches, three successful take-ons.
How he performed (out of 10): 5 -- All told, Pulisic was by no means overwhelmed as he entered from the substitutes' bench, but the fact remains that he wasn't that impactful, and the chance he created came long after the game had been decided. That said, Pulisic walked into a team that fell apart defensively after he entered the match, so Lampard will have far bigger concerns about his side than Pulisic's performance.
Highlight: Normally, making your debut with your new club would rank as a highlight, but a 4-0 away defeat tempers this considerably. Pulisic did have one sequence where he shook loose from Aaron Wan-Bissaka only to be fouled by Paul Pogba after he released the ball. Pulisic's best moment came in second-half stoppage time when he set up Emerson Palmieri for an attempt at goal that forced a sharp save from United goalkeeper David De Gea.
Lowlight: The team performance was one to forget given the scoreline, with Chelsea's defense looking highly suspect. For Pulisic, he started the game on the bench, which counts as a disappointment given the anticipation attached to his debut. Frank Lampard, who was making a league debut of his own as the club's manager after starring for the Blues as a player, preferred Ross Barkley and Pedro in the wide positions that Pulisic would have been expected to occupy.
Lampard told NBC Sports afterwards that, "I just felt coming to Old Trafford, the type of game it was, I knew we needed bodies in midfield because it's a busy area for them ... So Ross coming in off the line, bringing a bit of stability in midfield and around midfield would be good for us."
After entering the match in the 58th minute, Pulisic did have a few chances to run at the defense but wasn't able to threaten the United goal off the dribble. He also had a chance to pick out fellow substitute Olivier Giroud with a cross in second-half stoppage time, but couldn't connect.