Suarez loves Liverpool, says Rodgers
Liverpool manager Brendan Rodgers says star striker Luis Suarez has found his home at Liverpool, adding: "He loves the city and the supporters."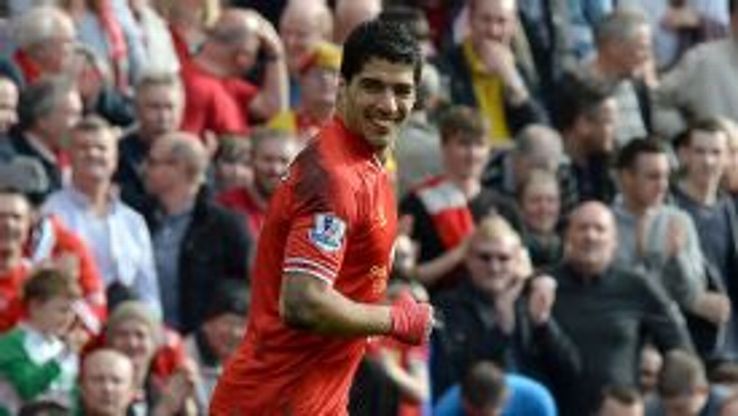 • Kelly: Lesson for Rodgers
• Jolly: Three contenders again
• Blues derail Liverpool bid
Suarez, named PFA Player of the Year on Sunday, has inspired Liverpool's challenge for the Premier League title, with reports in British newspapers on Tuesday suggesting that his prolific form is attracting renewed interest from Real Madrid.
But Rodgers said he was confident that Liverpool would not have to work to persuade the Uruguay international to stay for a second successive summer.
He said in The Sun: "Luis understands he may not get the same love he does at Liverpool from anywhere else.
"From the first year, he knew I would shape the team around his qualities. He loves the city and the supporters. Also, guys like Steven Gerrard talked to him, telling him there was an opportunity to be a legend at the club."
Suarez has scored 30 Premier League goals this season despite missing the first six games due to the suspension imposed after he bit Chelsea's Branislav Ivanovic last season.
Those goals have helped ensure that Liverpool will be playing Champions League football again next season, and Rodgers said: "For players like that, it's important that they can play at the big level. I've thought that a player of Luis Suarez's ability has to be playing at this level.
"His loyalty in staying at Liverpool, to continue to fight for the club to get us there, is remarkable. Hopefully he gets the rewards for that with those big European nights next season."
The Liverpool boss hailed the striker's PFA triumph, saying: "I think there's been a remarkable turnaround for a player who has been vilified. Some may say he brought it on himself, but it's great to see someone change and to be stood up there winning the PFA award. He's a real humble guy."
He said the striker's wife Sofia was "a great woman and offers him great stability in his life."
"She loves Liverpool, she loves the camaraderie with the other players' wives. So she's a real pillar in his life," he explained.
"They've been together for a long time. Luis travelled across the world to find her again. It's an incredible story. She left Uruguay and went to Barcelona with her parents. He wanted to move to Europe so he would have the chance to meet up with her again.
"When he went to Holland, he was only 17 and had gone to Groningen. He asked the coach for a few days off. On those days off, he travelled to Barcelona to go and get her, to bring her back, and they've been together ever since."