Stoke: No talks about Asmir Begovic
Mark Hughes is not surprised Stoke goalkeeper Asmir Begovic is being linked with Real Madrid, but the Potters boss stressed there has been no contact between the clubs and that he is not welcoming interest in him.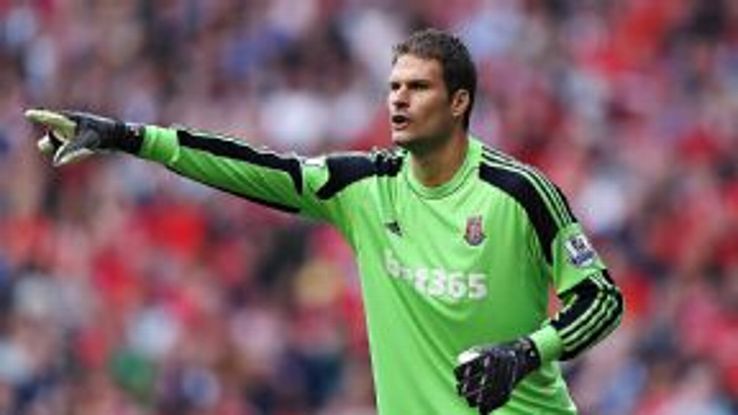 With talk this week of Real contemplating a bid for the 26-year-old, Begovic said that while he's "very happy" at Stoke, he is "proud to read that sort of stuff" and feels it is "extraordinary to be linked with a club like that".
Hughes, meanwhile, said on Friday: "I'm not sure where the story originates from, but certainly there has been no contact between the clubs.
"But it wouldn't surprise me if there was a modicum of truth in it -- that top teams are looking at Asmir -- because he is an outstanding goalkeeper.
"We are certainly not encouraging it. Asmir is a huge part of what we are trying to do here."
Asked if he thought Stoke might face a battle to keep Begovic this summer, Hughes said: "Who knows?
"We are very fortunate that he is here and contracted to us. In that regard we have a position of strength.
"But he is an ambitious player and I'm sure he wants at some point to test himself at the highest level possible, in the Champions League."
A player that certainly appears set to leave Stoke this summer is winger Matthew Etherington, signed in 2009 from West Ham, their visitors in the Premier League on Saturday.
Etherington, who is out of contract at the end of the season and has expressed his certainty he will depart, has played a limited role this term.
The 32-year-old has had a run of substitute appearances lately, though, and Hughes has emphasised nothing has been finally decided in terms of Etherington's situation yet.
Hughes said: "It has been frustrating that he hasn't been as fit as often as I would have liked -- he has had issues with his back, and that has caused him other problems.
"But he is fit now and that is why he has been more involved in recent weeks.
"So you never say never, and we are pleased he is an option at the moment."