Lambert hits back at 'bullying' claims
Paul Lambert has increased the pressure on Arsene Wenger by refuting allegations that his side kicked their way to victory over Arsenal at the Emirates on Saturday.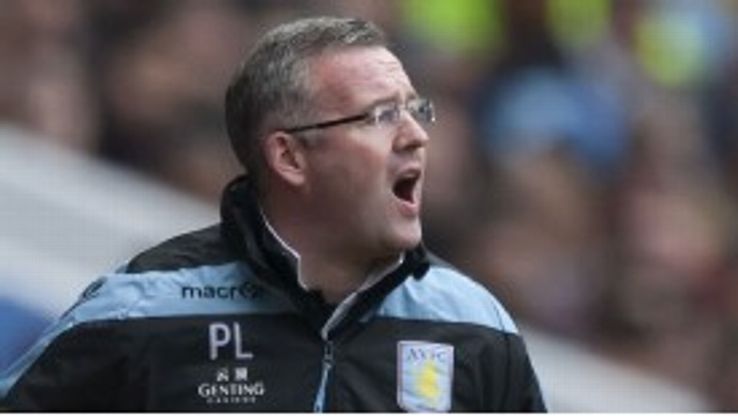 Wenger tried to deflect criticism of his failure to spend and improve his squad in the wake of the 3-1 defeat by questioning Villa's over physical approach to the game.
• Hughes: Villa-Chelsea preview
•Petrov steps down
The attack on Villa has left manager Lambert with a sour taste as he prepares to take on Chelsea at Stamford Bridge tomorrow night and the Scot has totally rejected the Frenchman's claims.
"Bullying? Have you seen my midfield. They're about five feet, four inches tall. They're footballers," said Lambert.
"I don't have a dirty player in my side and we have never bullied anyone. We played hard but fair. We never got a chance to kick anyone. I don't have the players to play that way anyway. I thought we were excellent and a threat on the counter-attack. I don't buy into that.
"Football is a physical game. You have to be prepared to put tackles in and be prepared to get hurt. But it was never over-the-top. We pressed when we could. If anyone says it was bullying then they are seeing a different game what what I'm seeing."
Despite his willingness to challenge Wenger, Lambert has refused to enter into a feud with Darren Bent, after the striker's caustic comments over his final year with Villa, since joining Fulham on loan for the season.
Bent claims he was completely ostracised by Lambert and last season was "horrible". The 29-year-old has revealed he was omitted from first-team training and had his locker cleaned out as he became a first-team outcast.
Asked about Bent's comments, Lambert refused to respond to Bent, saying: "Talk about the game. Talk about Chelsea. I'm concentrating on my team and this club."
Villa's win at Arsenal on Saturday was only their first in 11 visits to London and they still have painful memories of their 8-0 defeat at Stamford Bridge last season, but Lambert is hopeful of handing Jose Mourinho his first ever home league defeat as Chelsea manager.
"Chelsea have a new manager, new players. For the first 40 minutes against Hull, they were brilliant. They have a genuine threat. It's a hard ask. But the players are ready. The confidence is high. We'll give it a good go," said Lambert.