Manchester derby offers a nightmare scenario for United: beat City and hand Liverpool the Premier League?
The 178th Manchester derby between United and City, on Wednesday at Old Trafford, will be crucial in deciding the outcome of this season's Premier League title race, but the result of this game will mean as much in Liverpool as it does in Manchester.
With United languishing in sixth position, it is all about whether City can claim the win that will put them on course for the title or if the home side can get the draw or victory that would tilt the balance in Liverpool's favour.
But with United able to decide the fate of their two biggest rivals, this derby is different from any other.
So why does this game matter so much?
This game was originally scheduled for mid-March, but the involvement of both clubs in the FA Cup quarterfinals forced it to be rescheduled for this crucial stage of the league season.
The added dimension is that United know that a win or draw will put traditional rivals Liverpool in pole position to win their first league title for 29 years. Nobody at Old Trafford wants to see Liverpool as champions, but if City win, they will have the title within their grasp instead. This game really is the nightmare scenario for United, who also need to win to boost their chances of finishing in the top four and qualifying for the Champions League.
What's the big deal about United winning to help Liverpool win the title?
Historically, United and Liverpool are, by some distance, the biggest and most successful clubs in England. United have won 20 titles, Liverpool have won 18. Their rivalry is more than a century old and has often been marred by bitterness and hostility on and off the pitch. Liverpool dominated during the 1970s and 1980s before Sir Alex Ferguson's United became the superpower during the 1990s and 2000s, with United winning 13 titles between 1993 and 2013 to eclipse Liverpool's previous record of 18 titles.
They are two of the biggest clubs in the world, each with a huge global fan base, and their rivalry is as deep-rooted as they come.
Why don't United fans view City as bigger rivals than Liverpool?
The rivalry between United and City has intensified since Sheikh Mansour bin Zayed al Nahyan began to plough his vast fortune into City in 2008 -- prompting Sir Alex Ferguson to describe them as "noisy neighbours" in 2009 -- but United have traditionally regarded their rivalries with Liverpool, Arsenal and Leeds United as bigger and more important.
-- Premier League sprint to the finish -- How Man City changed football forever
Aside from a brief spell of success in the 1960s, City rarely challenged until the arrival of Sheikh Mansour, so United supporters have barely regarded them as true rivals. That has now changed but Liverpool are the only club who can come close to matching United's all-time trophy haul and history matters more than the success of their neighbours -- at least for now.
Are United capable of beating City?
On current form, United are huge outsiders even at home. City have won their past 10 Premier League games and on their past two league visits to Old Trafford, while United go into the match having lost six of their past eight games in all competitions. Pep Guardiola's City are the definition of relentless consistency and United, who lost 4-0 at Everton on Sunday, are the polar opposite. But United fought back from 2-0 down at half-time to win 3-2 at City last season and only last month stunned Paris Saint-Germain with a 3-1 Champions League victory at the Parc des Princes.
United have the players to beat City, but recent performances suggest that they won't.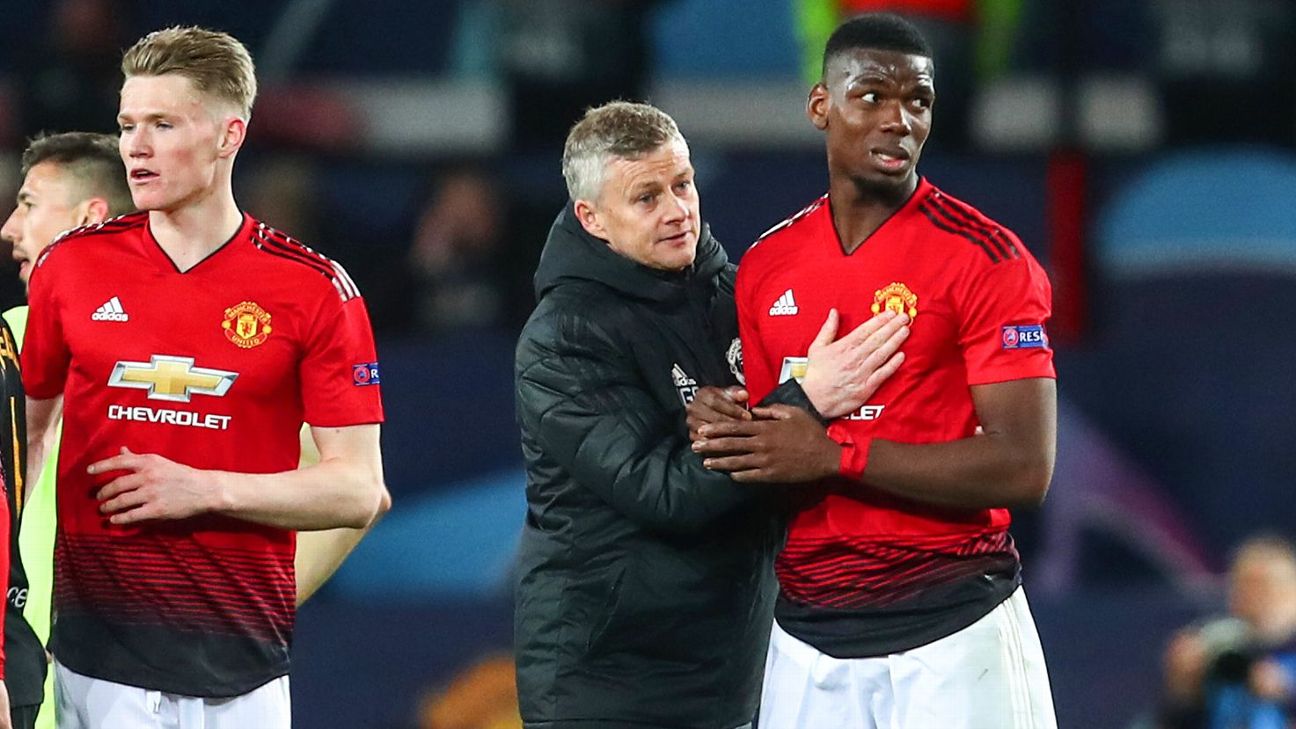 Has this scenario ever happened before?
In 1995, Liverpool found themselves in a similar situation that United face against City. Liverpool knew that a win against Blackburn Rovers, managed by Anfield legend Kenny Dalglish, on the final day of the season would help United win the title and deny Dalglish a historic success with his new club. Liverpool ended up scoring a last-minute goal to win 2-1 but United failed to take advantage, with Ferguson's men only able to draw 1-1 at West Ham.
Had United won their game, Liverpool's win would have been crucial in handing them the title.
United were hammered 4-0 at Everton on Sunday. How will they respond?
First of all, manager Ole Gunnar Solskjaer has his own problems to deal with. United need a win to keep alive any realistic hopes of qualifying for the Champions League with a top-four finish, so the Norwegian cannot afford to make wholesale changes and turn to inexperienced youngsters. Rather than making wholesale changes, he's likely to rely on his players wanting to restore personal pride by producing a winning performance against City.
-- Pogba: Man United were 'disrespectful' vs. Everton
-- Guardiola: United trip no longer 'scary'
There's also the issue of upholding United's name and the integrity of the Premier League by pushing City all the way for the points, regardless of what it may mean for Liverpool.
Is the title all over for Liverpool if City win?
No, but Jurgen Klopp's team know that this game is their best hope of City dropping points. United have lost just once at home in the league this season -- against Tottenham last August -- so this is a tough fixture for City. If City come through this one with a win, Liverpool will need them to drop points against Burnley (a), Leicester (h) or Brighton (a) to have any hope of ending their 29-year title drought.
The race will still be on if City win, but Guardiola's men will be in the final straight with the finishing line in sight.
Who are the key men for both teams?
David de Gea and Paul Pogba have both been well below their best in recent weeks, but if they rediscover their form against City, United can win the game. Yet if they perform as poorly as they have been doing, City will cruise to victory.
For City, the form of Raheem Sterling, Sergio Aguero and Bernardo Silva has been crucial during their 10-game winning run in the league and United need to stop all three to take anything from the game.
What's going to happen?
Despite United's woeful performance at Everton, the clash against City really is too close to call because Solskjaer's men will be expected to show their true colours. In many ways, United's hammering at the weekend was a bad result for City because the pressure is on them to bounce back on Wednesday.
City have the greater depth and quality but United are a wounded animal on their own turf, so expect fireworks and a night of unbearable tension in Liverpool.