Chelsea's latest defeat a microcosm of their season, a massive blow to their top-four hopes
LIVERPOOL, England -- One step forward, two steps back. If Chelsea and Maurizio Sarri had felt the worst of a turbulent season was behind them, then the Blues' 2-0 loss to Everton was a sobering reminder that the toughest reckoning may yet be to come. Chelsea, who for a time seemed to have been cleansed by the experience of their Carabao Cup final defeat to Manchester City, have stalled again at the worst possible moment. A place in the top four now lies squarely out of their hands and, in the eyes of the club's hierarchy at least, the logic of retaining their head coach for next season will look increasingly spurious.
This was their game in hand over Arsenal, Manchester United and Tottenham, and an opportunity they should have grasped. Everton had not beaten a top-six side in the 26 months leading up to this rainswept afternoon on Merseyside; they had lost four of their last six games and, as Chelsea picked them apart for spells of a dominant first half, there was a clear sense it would only take a goal for the Goodison Park crowd to turn. But by the end the home fans were bouncing, their chants laced with particular schadenfreude towards returning old boy Ross Barkley, while Chelsea were left counting the cost of timeworn failings yet again.
"In the second half we didn't play," Sarri bemoaned afterwards. It is hardly the first occasion. At Wolves in December they were a goal up and comfortably in control; they then conceded twice and, for the first time, major doubts began to seep in. They were the better side for 45 minutes at Bournemouth the following month but, after conceding once, were blown away and lost 4-0. It is an issue Sarri has so far failed to correct, although identifying it has been rather simpler.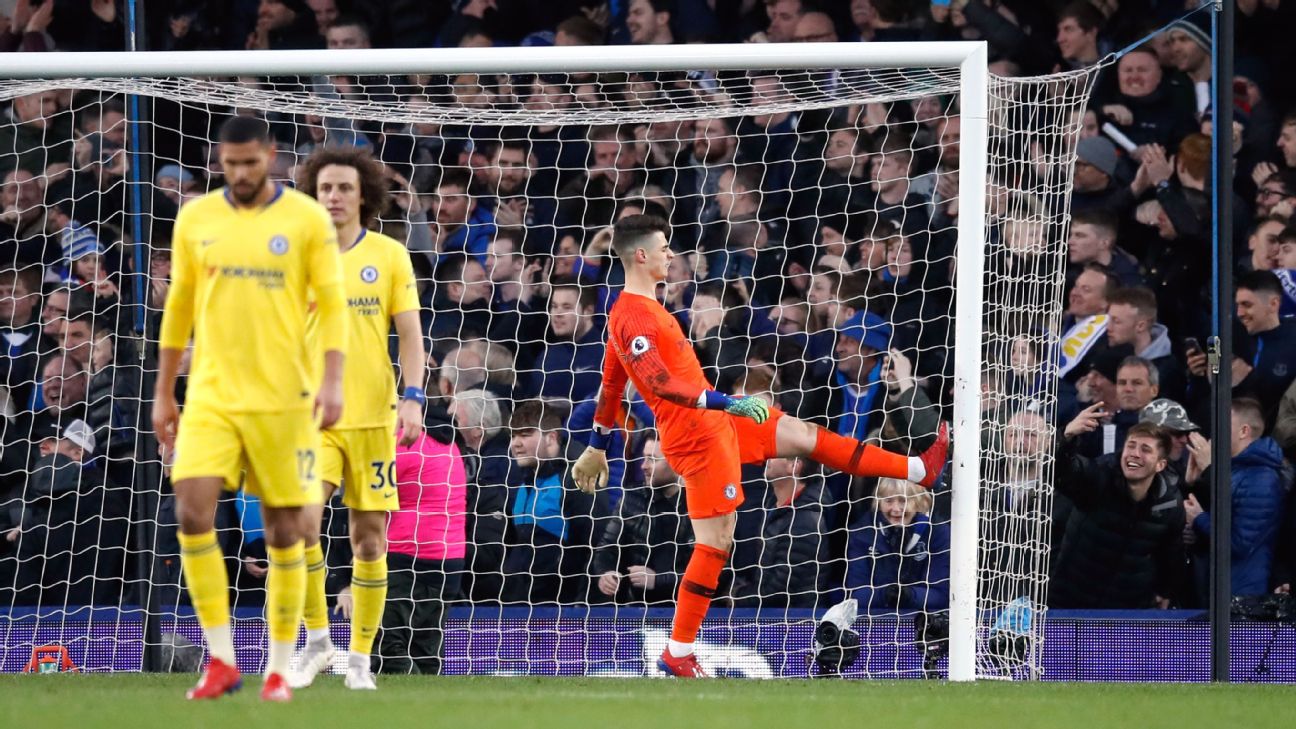 "The problem was mental," he said. "The situation is clear," he said. "It's impossible that it is a physical problem." It was a throwback to the 2-0 defeat at Arsenal on Jan. 19, after which Sarri complained his players were "extremely difficult to motivate" and that they had lost due to their "mental approach".
The concern, then, is that their recent improvement was merely a sticking plaster -- perhaps on the back of a natural reaction to the 6-0 embarrassment at Manchester City in the league and the drama around Kepa Arrizabalaga's non-substitution at Wembley. Sarri could hardly believe the difference between Chelsea's halves here. "We played probably [our] best 45 minutes of the season," he said of their performance in the first stanza. That may have been stretching it, but they should certainly have been ahead: Eden Hazard struck the post early on and was denied by Jordan Pickford, too, while Pedro and Gonzalo Higuain both squandered openings.
It should have been enough to convince them they could turn up the heat against opponents clearly short on confidence: instead they could not handle Everton when they came out firing and ended up surrendering meekly to a Richarlison header. After that they failed to muster any kind of response before Gylfi Sigurdsson put the match beyond them by converting the rebound from his own saved penalty.
The resolve of old has long gone; Chelsea have, to coin the cliche, no bouncebackability anymore, and the manager's inability to cajole it back out may prove his undoing. "If we are able to play like the first half with consistency we are in another position in the table," Sarri said. "[But] you have to stay in the match if you are not able to score."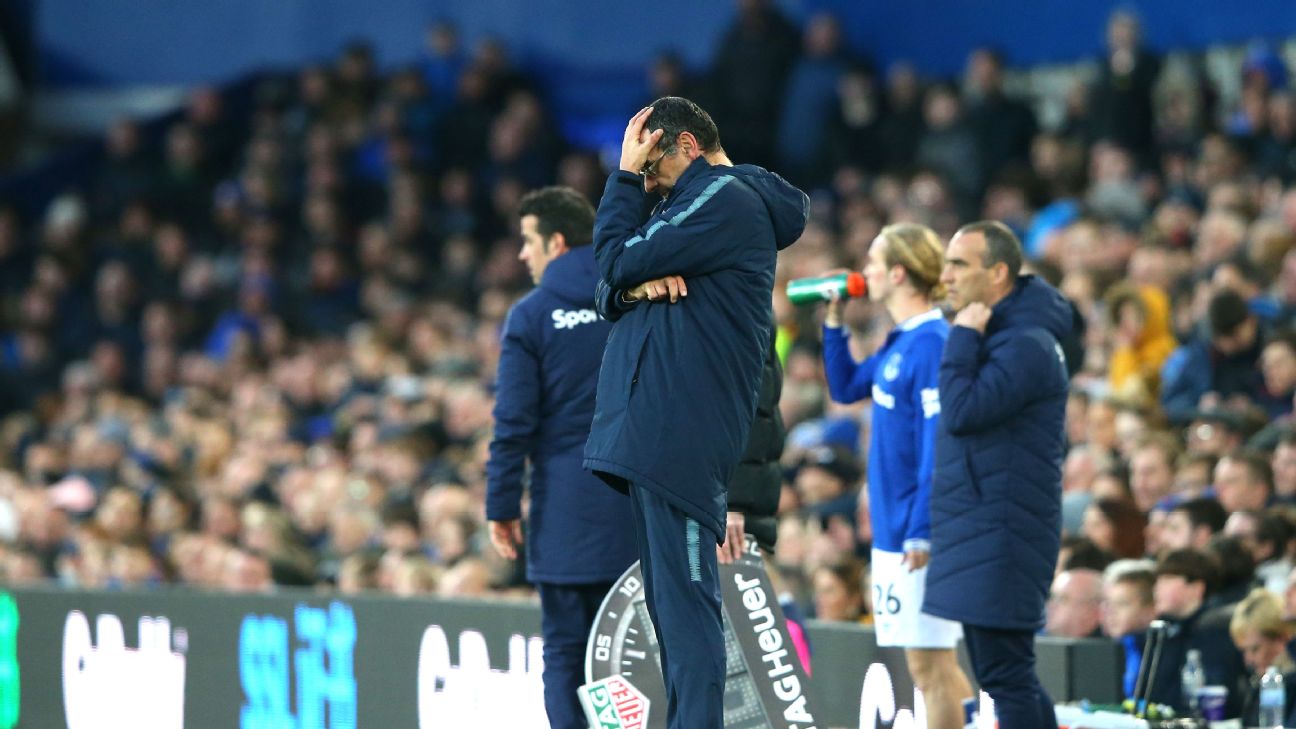 Finding someone to do that regularly continues to be an issue. Higuain was brought in to do that but has now found the net three times in his 10 appearances, with two of those goals coming against bottom club Huddersfield and the other against another relegation-bound side in Fulham. It was always asking a lot for him to adapt to Premier League football straightaway, but he struggled here and the fear is that Chelsea have a striker slightly past his prime. With Higuain also having a bout with a fever this week according to Sarri, a start for Oliver Giroud on the back of his hat trick against Dynamo Kyiv might have been a sounder decision.
These are the things that Sarri is not quite getting right and, as Hazard watched his attacking colleagues flounder, you wondered what was going through the Belgian's mind. Few would accuse Hazard of being mentally weak; it was he who, seven days previously, illuminated a lifeless collective performance with a last-gasp equaliser against Wolves. Five days after Zinedine Zidane's return to Real Madrid, a development that apparently strengthened his resolve to join the La Liga club, a desperate outcome like this will have done little to advertise the merits of staying.
In contrast to Sarri, the under-pressure Everton manager Marco Silva was able to reflect that he had overseen an unlikely turnaround. "The difference was too clear; I said to our players something simple: 'We have to do everything different if we want to win the game," he said of his half-time team talk. Everton were transformed; Sarri was left scratching his head and Chelsea, sitting on the shoulder of the top four rather than squarely among them, have some big questions to answer now.