Premier League review: Has Mauricio Pochettino done all he can with Tottenham?
Nick Miller recaps another wild weekend in the Premier League, as questions are raised over Mauricio Pochettino's future and Arsenal's win over Manchester United answers exactly nothing.
Concern of the weekend
Mauricio Pochettino is usually pretty amiable when speaking to the media whether it be win, lose or draw, so it was easy to miss the severity of his statements after Tottenham's 2-1 defeat to Southampton on Saturday. Delivered in much the same manner that he might order lunch at a pleasant cafe, Pochettino accused his players of "complacency and arrogance" and a "lack of hunger." Whatever the tone, it was startlingly honest.
What's most troubling for Spurs is that these are the basics. Pochettino was essentially saying that after a fine first-half in which they should have put the game out of sight, his players didn't try as hard as they could have after the break.
And whether he meant it this way or not, it was as much an indictment of him as his players. One of the many downsides of not buying anyone in the last two transfer windows is this is more or less the same core group of players who Pochettino has managed for five years: Are they no longer listening to him quite as intently? Are his words and methods not getting through quite as well?
Which all leads to the chilling question for Spurs fans: Has he done all he can at Tottenham?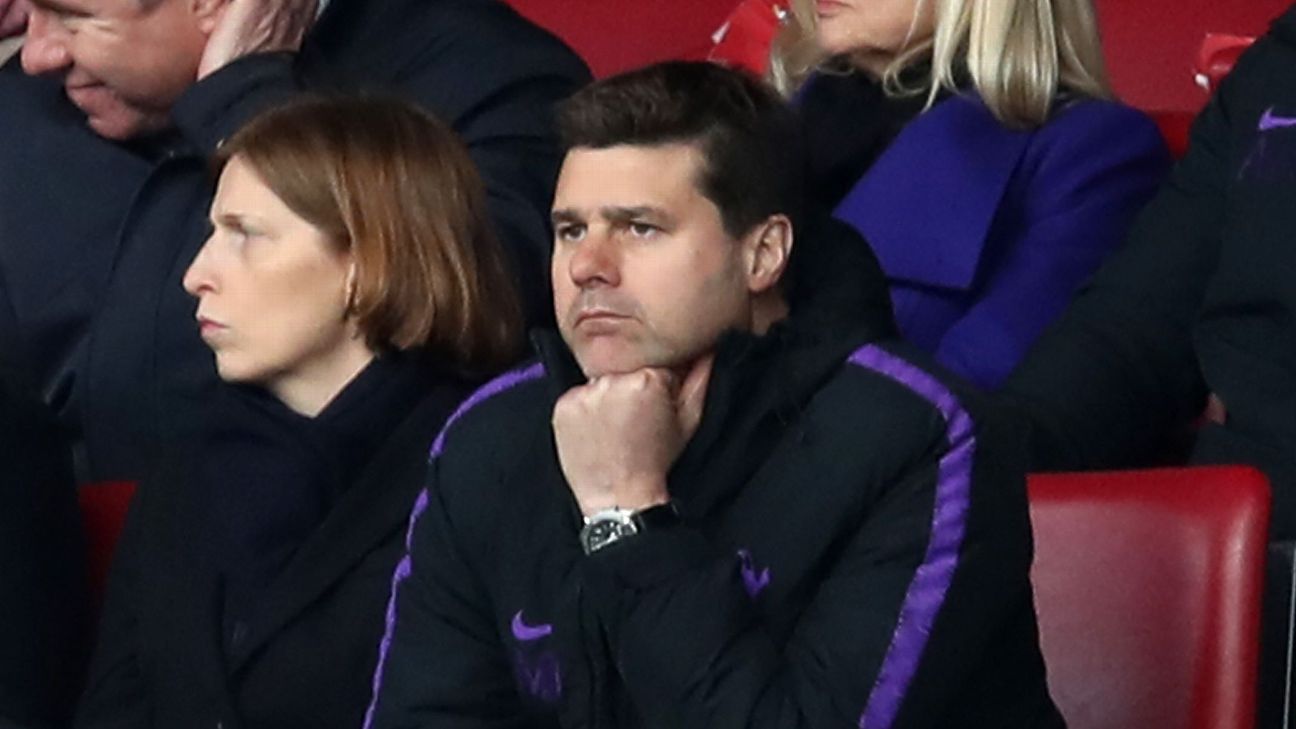 Battle of the weekend
Ralph Hasenhuttl milked it in a big way after the final whistle. First he gathered his Southampton players into a huddle, then went to all sides of St Mary's to salute and take the acclaim from the crowd after this crucial win.
And he was right to milk it. Southampton's performances in recent weeks have been better than their results suggest, but Saturday was still the first time this season that they have come from behind to win. Most of the attention will be on Tottenham's capitulation, but the change in both personnel and attitude after the break from the hosts had just as much to do with the result.
Fulham and Huddersfield are heading down, but the other likely candidates for relegation are all either winning or at least showing signs of life. The last few weeks at the bottom of the table are going to be great fun.
- Miller: Spurs get reality check at Southampton
Confusing game of the weekend
Sometimes a clear conclusions can be drawn from a big game. But occasionally you're left with a sense of confusion, and to wonder what exactly you have seen. Arsenal's 2-0 win over Manchester United was a broadly even game decided by a goalkeeping error (or late-swerving shot, depending on how kind you're being to David De Gea) and a generously-awarded penalty. United were better for long spells, but couldn't break through with what is still a patchwork side.
Unai Emery threw caution to the wind with an attacking starting XI, but this was not a game won by overwhelming attacking force, and a tactical tweak by Ole Gunnar Solskjaer in the first-half evened things up after Arsenal took the lead, giving another indication that he is more than just a motivator. Beyond that, we learned little of significance.
Four points now separate Tottenham, Arsenal, United and Chelsea, and with eight games remaining (nine for Chelsea), the battle for those two Champions League places is going to be as keenly contested as the title race.
- Ogden: Emery's gamble pays off against United
Positives of the weekend
"Nobody gets rid of us if we play the way we play today," said Jurgen Klopp after his team survived a couple of scares to beat Burnley 4-2 and stay within a point of Manchester City at the top of the Premier League table.
As well as the result, there were several things that will have pleased Klopp: That Liverpool went 1-0 down (to a goal that should never have stood) but didn't freeze and, admittedly with a few strokes of luck, came back to win; that Mo Salah, while not getting on the scoresheet, looked more like his old self; and that the much maligned Adam Lallana was excellent after his surprise selection.
Summary of the weekend
Often it's better in these columns to simply hand over to someone who knows more about football.
So, in reference to the confusion over Raheem Sterling's first goal for Manchester City in their 3-1 win over Watford, judged onside when it should have been off, here's Javi Gracia with a succinct summary of the real problem: "I don't think the VAR is the solution. I think the solution is first of all to have the rules made clear.
"The VAR I'm sure can help the referees to make less mistakes but first of all we have to know the rules and to know if it's offside or not offside this play."
Manager of the weekend
Earlier in the season, Rafa Benitez struck a slightly defeatist tone in most of his public statements. In fairness he did have good reason to be pessimistic, given the state of Newcastle United, but the fear was that tone would make its way to the players and they would take a negative attitude onto the pitch.
There was a moment in their 3-2 comeback win over Everton which proved, if that was once true, it isn't anymore. Ayoze Perez had just equalised, Newcastle coming from 2-0 down with a grave sense of injustice that Jordan Pickford was still on the pitch, but while the goalscorer and a couple of others celebrated what looked like a good point won, Isaac Hayden ran around to grab them and urge them back towards the halfway line. The message was clear: Never mind a draw, there's still nine minutes left, we can win this.
Win it they did. Newcastle have now won five home games in a row and are closer in points to the top half of the table than the relegation zone.
Benitez may seem a little downbeat, but he's conjured something remarkable once again.
Worry of the weekend
Whether Pickford should have been sent off is a debate that will run and run, but more to the point is why he ended up rugby tackling Salomon Rondon: He dropped the ball at the Venezuelan's feet in a manner that simply suggested he wasn't concentrating.
It was the latest error by Pickford in a season when he's already conceded 42 goals in 30 games, and if Gareth Southgate tried to seek comfort elsewhere he might be struggling.
Tom Heaton helped donate a goal to Sadio Mane this weekend, Alex McCarthy and Marcus Bettinelli can no longer get into the Southampton and Fulham teams respectively, while Jack Butland is the keeper for the team sitting 16th in the Championship. England's goalkeeping situation will be a puzzler for a little while.
Goal of the weekend
Anthony Knockaert can be a deeply frustrating footballer. The man who drove Brighton to the Premier League a couple of years ago has rarely shown that same form once in the top flight, but against Crystal Palace he showed a little glimpse of it, curling a stupendous winner into the top corner for a vital 2-1 victory.
"We'd like to see more of that," said Chris Hughton afterwards.
Sad quote of the weekend
"I'm just tired of losing," sighed Huddersfield's Jonas Lossl after their latest defeat, 2-0 to Bournemouth.
The best thing you can say about Huddersfield's season is that it will be over soon.