Man United winning without playing particularly well a return to tradition
LONDON -- After Manchester United defeated Crystal Palace 3-1 on Wednesday night at Selhurst Park, both managers agreed that United had been superior -- and yet it was slightly difficult to pinpoint precisely what worked for Ole Gunnar Solskjaer's side.
Up front, Romelu Lukaku scored two goals, but his all-round performance was inconsistent, full of poor touches when trying to link with teammates. There was little combination play in the final third, with Alexis Sanchez again peripheral and Diogo Dalot too wide to link with his teammates. In midfield, Paul Pogba was impressive, but Fred and Scott McTominay still seemed uncertain of their positional responsibilities. Both full-backs looked ragged after half-time, and David De Gea's distribution let him down after colliding with the post midway through the second half.
But, yet again, United won. Two excellent finishes from Lukaku -- the first a side-footed slot into the far corner after good work from Luke Shaw, the second an outstanding acrobatic effort after the ball broke loose from a corner -- had put them into a commanding position. Joel Ward's far-post header briefly made it a contest, before Ashley Young, pushed forward from right-back to right midfield for the final 15 minutes, converted from a narrow angle to confirm the victory.
The expected goal figures reckoned Palace had created the better goal-scoring opportunities here, managing 1.9 xG to United's 1.5, but it's far from the first time this season the Eagles have squandered presentable opportunities and their opponents have taken them. Manchester United were the latest beneficiaries, winning without truly playing well -- a mark of the old-school United that Solskjaer knows so much about.
Solskjaer was compromised by injury absences; no Anthony Martial, no Jesse Lingard, no Ander Herrera, no Nemanja Matic, no Juan Mata, and Marcus Rashford only fit enough for the bench. His tactics were formulated to guard against Palace's left-sided threat, with Dalot pushed on as a right-sided midfielder, but asked to drop back and help Young defend against Palace's threatening trio of Wilfried Zaha, Jeffrey Schlupp and Patrick van Aanholt.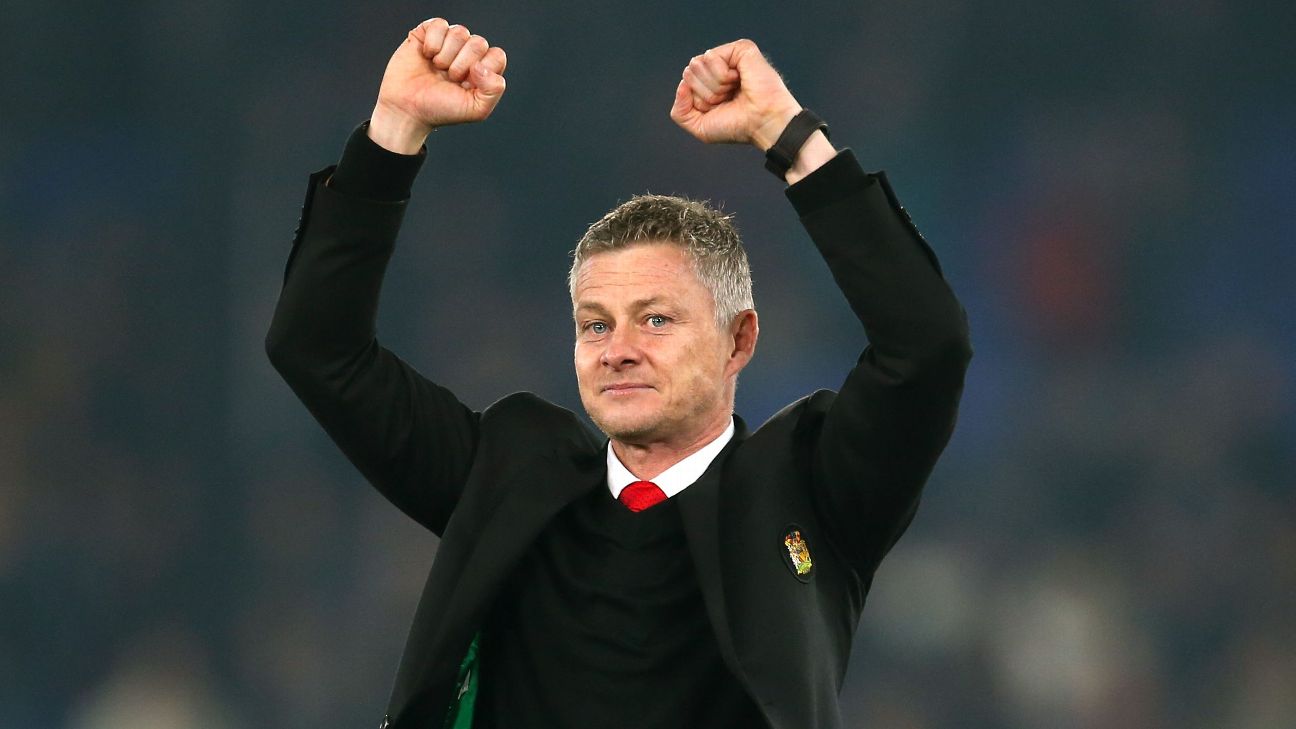 "It was a little bit a means to an end because of the injuries we've got up front," admitted Solskjaer of his decision to play Dalot, a right-back, on the right of midfield. "He played winger when he was younger at Porto, and he's skilled going forward -- and yes, Zaha and Van Aanholt are a good left side for Palace."
Whereas Sanchez drifted inside from the left, Dalot never moved from the right flank, which meant Palace never had space to break into down that side. Young stayed in position, almost as a third centre-back when United had the ball, with Shaw given license to push forward, from where he assisted the opener.
In the centre, Pogba pushed forward at times, but was given little opportunity to combine with Sanchez and Lukaku, who simply don't appear capable of linking play together, let alone bringing a third man into the equation. The goals came rather out of nothing; United had long periods of possession without breaking through Palace's lines.
As well as collecting an extremely impressive run of results -- United are now unbeaten in 11 league matches -- Solskjaer has also excelled in terms of the PR side of the job. Almost everything has successfully been spun to fit the line that United have reverted to the club's old traditions. Last week it was McTominay being compared to Darren Fletcher. On Wednesday it was young debutant James Garner being likened to Michael Carrick.
- Man United ratings: Lukaku 8/10 after brace at Palace
"I know he's young and it's not fair, but he's in that mould," Solskjaer said. "He sees the game, he plays simple passes, and he plays through the lines."
Even United's injury crisis has been linked to United's shift to a more attacking style, with Solskjaer happy to play along with that explanation. Some reporters cited statistics that show United are making 10 extra sprints per game compared to the Jose Mourinho era, supposedly a reflection of the attacking football, and supposedly a cause of the injury crisis. Yet ultimately this is simply one extra sprint per player, per game. The injury epidemic is far more likely to be a coincidence; but the vibe around the club is that the good times are back, and anything -- even bad news stories -- are being related back to the days of Sir Alex Ferguson.
But Solskjaer's results are impossible to fault, and this victory particularly pleased the United boss.
"This is the game I've always dreaded," he said afterward. "I knew this would be difficult after PSG, Chelsea and Liverpool, the mental energy that goes into those games. This is a game where we're expected to win, and the focus was excellent."
Palace boss Roy Hodgson was complimentary about Solskjaer's side on the night, particularly in terms of their organisation and work rate. "So often when you play teams of this quality, they find a way of picking you off. We can only hold our hands up and say they deserved the victory," he said.
And that's the thing: Solskjaer's side didn't sparkle, but they did enough to give the impression they were comfortable.
That, more than anything else, is a return to the old United traditions.