How the top Premier League managers approach away games vs. their rivals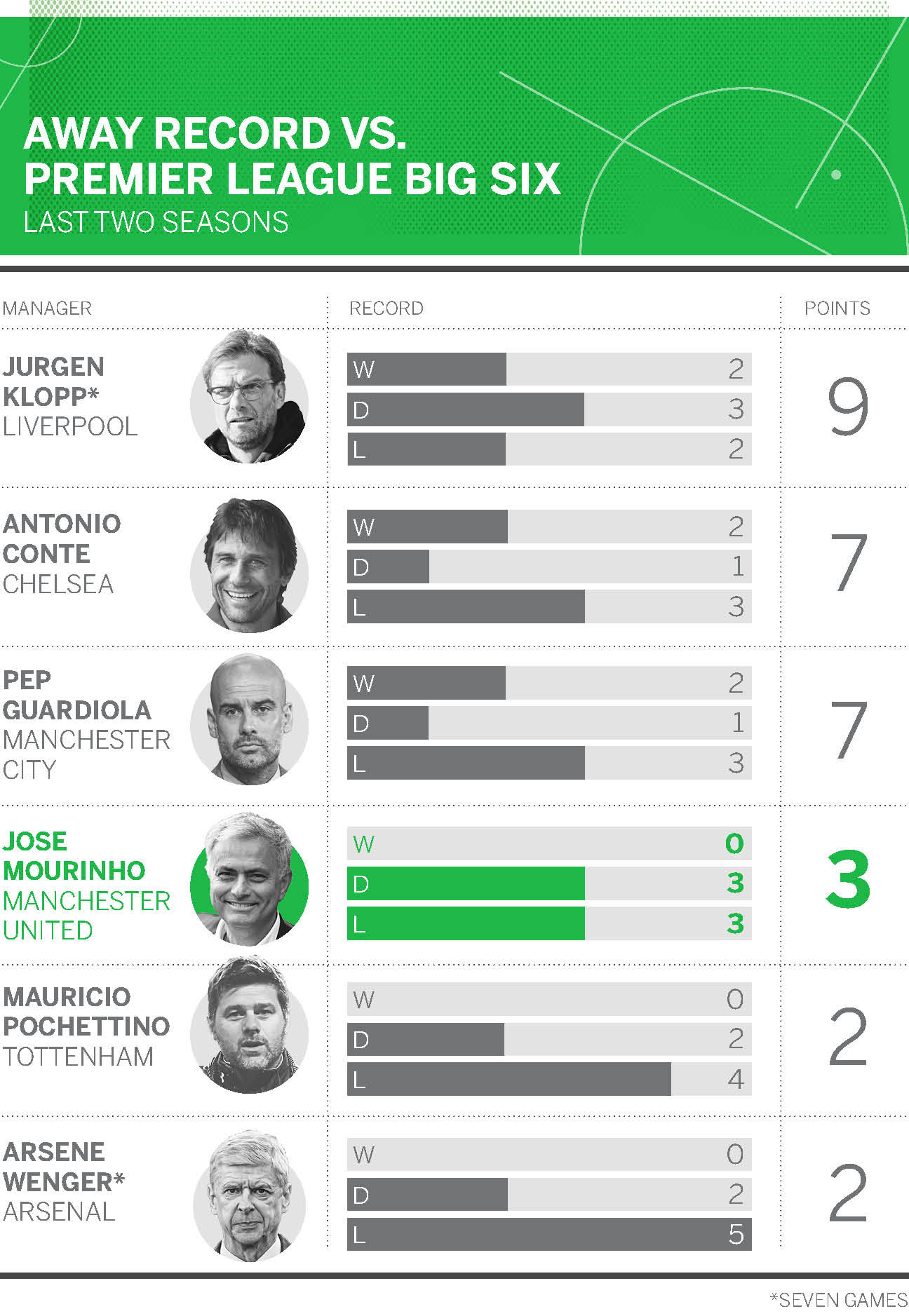 Ahead of a weekend that sees Manchester City host Arsenal and Chelsea take on Manchester United, we asked our correspondents to look at how their club's manager has approached away games against top-six rivals over the past two seasons.
Manchester City
Pep Guardiola is unequivocal in his approach to every match, big or small, home or away: He wants to win. It is a philosophy that brought plenty of criticism in his first season, when Manchester City suffered painful defeats away to their title rivals, notably a 2-0 reverse to Tottenham, which could have been far more emphatic, and a 1-0 loss at Liverpool on New Year's Eve that featured a dismal display. But Guardiola will not change, and, after a serious upgrade in his squad over the summer, City were utterly dominant in their first away test against a top-six rival when they beat champions Chelsea 1-0 in September. -- Jonathan Smith
Manchester United
Jose Mourinho's approach to big away games was illustrated by what happened in the 0-0 draw at Liverpool last month; he says he goes into those games looking to win -- and that's true -- but, crucially, not before he knows he isn't going to lose. Mourinho said United were never given the opportunity to attack Liverpool because Jurgen Klopp was also cautious in his approach. Both sides had one good chance, both were missed and it finished goalless. Mourinho has become a master at making big games about fine margins: The game plan is based on a belief that the organisation of the team is good enough to keep the opposition out, while hoping his players are good enough to take advantage of the few chances they will get at the other end. -- Rob Dawson

Tottenham
Mauricio Pochettino likes Spurs to dominate possession and press aggressively on the front foot, and he has not tended to do anything differently in the biggest games. That, though, has been part of the problem. The best example was a 2-0 defeat at Liverpool in February, when a high defensive line was exposed twice by Sadio Mane inside the first 10 minutes. Pochettino has proved a master at problem-solving but is yet to come up with a formula for winning big away games; Spurs looked no better in last week's 1-0 defeat at Man United than they did at Old Trafford in Pochettino's first season, when they lost by the same scoreline. -- Dan Kilpatrick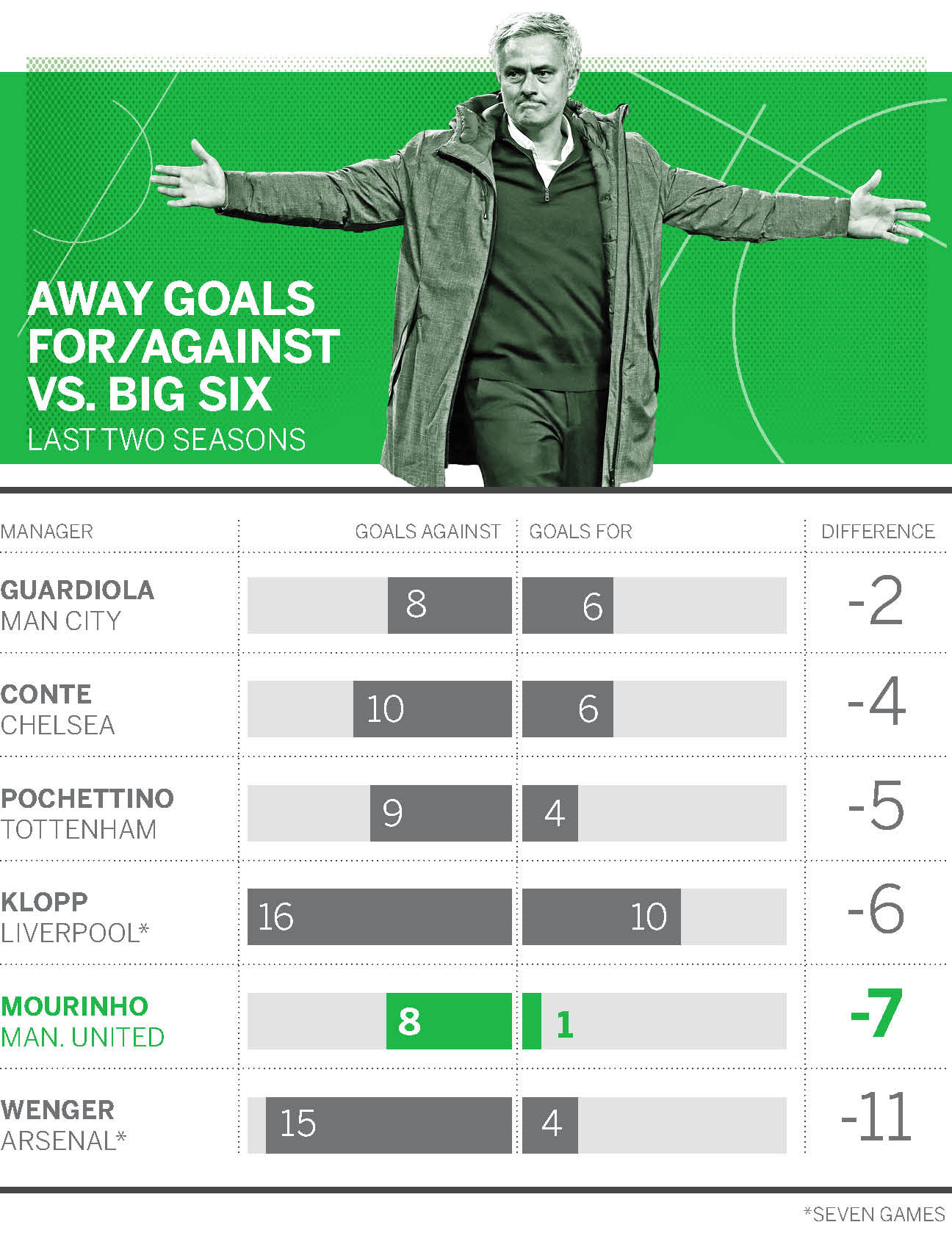 Chelsea
Antonio Conte always looks to win, and his attitude toward away matches against big rivals is to try to force opponents to adapt to Chelsea's 3-4-3 system. Indeed, a 3-0 humbling at Arsenal last season led to a formation change, and the positive approach later yielded a thrilling 3-1 win at Manchester City. However, it has also made Chelsea predictable at times: Man United nullified Eden Hazard in a win at Old Trafford, while Tottenham matched systems and outplayed Chelsea at White Hart Lane. Conte, though, learned his lesson from that latter loss, deploying David Luiz in midfield in a 3-5-2 at Wembley in August, and was rewarded with a dramatic win. -- Liam Twomey

Arsenal
Arsenal's poor record against their main title rivals is one of the major complaints against Arsene Wenger, whose team continues to suffer humiliating away defeats in big games. The 4-0 loss at Liverpool in August was only the latest example of Wenger trying to stick to his normal, attack-minded football, only to see his defence get completely ripped apart. However, three weeks after their Anfield hiding, Arsenal drew 0-0 at Chelsea and showed a more balanced approach; that should be the way forward for the Gunners. -- Mattias Karen

Liverpool
Jurgen Klopp has the best statistical record among his rivals, and it's no surprise; some of Liverpool's best performances under their German manager have come away from Anfield in high-profile games, and such matches seem to suit the way Liverpool set up. With home teams almost having an obligation to attack in front of their own fans, Liverpool have been able to match that and go toe-to-toe, remaining unbeaten against the Premier League's top six through all of last season. The two losses have come in 2017-18, with Sadio Mane's sending off at Manchester City and a defensive horror show at Tottenham Hotspur to blame for that. -- Glenn Price
Follow @ESPNFC on Twitter to keep up with the latest football updates.