How can clubs avoid the Premier League relegation battle?
After seven rounds of matches, the relegation situation is taking shape in the Premier League. While Crystal Palace's historic awfulness takes the headlines, there are plenty of others looking over their shoulders, including recent champions Leicester and Everton who, after a summer of spending, would have aspired for the top four.
ESPN FC assesses the bottom 10 clubs' credentials in reverse order (20-11).
Crystal Palace - 0 points
What sends them down?
Irredeemable damage may already have been done. Frank de Boer's appointment was ill-fitting and terminated prematurely, giving rise to the worst start in Premier League history: seven games, seven defeats, and not a single goal scored. Palace are the only team in Europe's top 20 league not to hit the back of the net and beyond Christian Benteke, hopeless before his knee injury, they do not have a striker worthy of the job title.
What keeps them up?
A miracle? Or more precisely, Roy Hodgson's training ground work swiftly undoing the confusion that reigned under De Boer and making Palace tough to beat before he works on the rest. Chelsea is their next fixture but a kinder schedule awaits. At least the crisis came early.
Bournemouth - 4 points
What sends them down?
Has Eddie Howe's adventurous approach been found out in his third season in the top division? His team are conceding too many goals while not scoring enough. None of the summer's big signings, Jermain Defoe, Nathan Ake or Asmir Begovic have found form yet, while Howe relies on the nucleus that came up through the divisions.
What keeps them up?
Four points from the last three matches suggests a tighter approach and a rethink may yet save them. Howe's belief in attacking does not preclude pragmatism and team spirit remains strong among his players.
Swansea City - 5 points
What sends them down?
In truth, Swansea have been circling the drain for a while and they are no longer the paragon club they were during their first years in the Premier League. Paul Clement did a fine job in rescuing the mess left by Bob Bradley's ill-suited appointment last season, but the loss of Gylfi Sigurdsson to Everton remains significant for a team that struggled to create chances in Saturday's 1-0 defeat at West Ham.
What keeps them up?
Clement is an adept coach, capable of switching systems, but needs to find a way to get more from his front line. Wilfried Bony and Tammy Abraham is a pairing of experience and promise, but needs far better service. Perhaps Renato Sanches, one of the world's hottest young prospects on loan from Bayern, can eventually inspire.
Leicester City - 5 points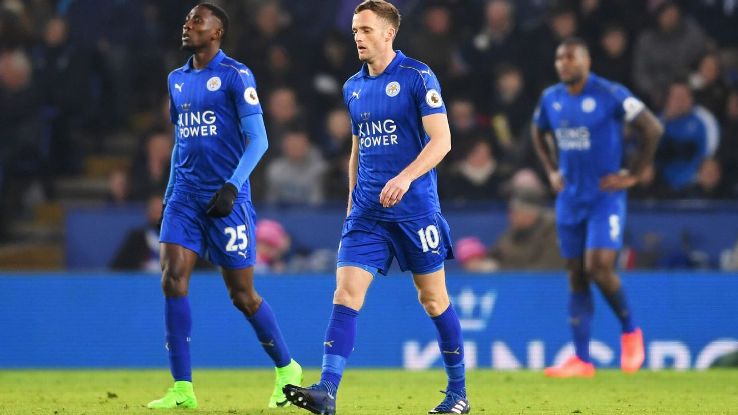 What sends them down?
The crisis is not as acute as that which brought down Claudio Ranieri in March, but Leicester have still made their worst ever start to a Premier League season. Craig Shakespeare, assistant turned caretaker turned permanent manager, presides over a team that scores goals but concedes too many. Losing Danny Drinkwater to Chelsea on transfer deadline day and failing to sign Adrien Silva from Sporting Lisbon in time now appears a serious mistake.
What keeps them up?
Jamie Vardy is still scoring, though is being nursed through a niggling hip problem, so if the defence can be tightened up, then Leicester, still possessing plenty of their 2015-16 title team, should be fine. Young centre-back Harry Maguire, for all his excellence on the ball, is a work in progress.
Everton - 7 points
What sends them down?
Everton being relegated would count among the greatest shocks in Premier League history but should it happen, then it would register as £150 million of spending going to ruin. Failing to sign a centre forward to replace Romelu Lukaku (who moved to Man United) is the most obvious cause, but a poorly protected defence has also been a problem.
What keeps them up?
Should the rot be allowed to set in, Everton might find themselves in a relegation battle their squad is poorly equipped for, but the likes of Wayne Rooney and Sigurdsson have the quality to guide them out of it. Though it may require a change of manager, with Ronald Koeman presently appearing befuddled.
West Ham United - 7 points
What sends them down?
The standard of football Slaven Bilic's team have played this season makes their points total seem generous. Bilic, by no means a tactician, has made some mystifying team selections, and is struggling to accommodate Javier Hernandez and Andy Carroll together up front.
What keeps them up?
Bilic's ability to pull off results when it matters keeps him employed for the moment, though he might also point to the return of Manuel Lanzini as a vital boost. The Argentinian energised the Hammers to Saturday's last-gasp defeat of Swansea.
Brighton & Hove Albion - 7 points
What sends them down?
A glance at Chris Hughton's squad does not suggest the quality required to survive. A manager who prefers to defend first and attack only when the back door is shut, does not have the forwards to hand for that to be a successful strategy.
What keeps them up?
Winger Anthony Knockaert was Brighton's star man last season, but has suffered a delayed start to this campaign after injury and personal problems. Should he and Glenn Murray, an underrated striker, find fitness and form, then Albion might find a path to safety.
Stoke City - 8 points
What sends them down?
Mark Hughes is a manager under a modicum of pressure as last season's 13th place represented a decline on three successive ninth-placed finishes. Inconsistency is his team's problem at the moment, and the bet365 stadium is not the fortress of its reputation.
What keeps them up?
Stoke's recent problems have owned something to a series of defensive injuries, but only Bruno Martins Indi is now on the sick list. Meanwhile, at the other end, Peter Crouch, scorer of the winner in Saturday's 2-1 defeat of Southampton stays evergreen, while Jese Rodriguez and Xherdan Shaqiri offer real pedigree.
Southampton - 8 points
What sends them down?
Mauricio Pellegrino is suffering similar problems to predecessor Claude Puel; Saints struggle at home and to score goals. They have only notched more than once in a single game, a 3-2 defeat of West Ham in August, and no player has scored more than once, either.
What keeps them up?
An experienced squad, including Virgil van Dijk, finding his way back after long exile, should have enough to pull clear of too much danger. All is not well at St Mary's, where fans are getting restless, but there are surely three worse teams than Southampton in the Premier League.
Huddersfield Town - 9 points
What sends them down?
A bright beginning, after victories in their first two matches, has given way to some troubling signs. David Wagner's team have not been able to exert the pressing game that won them promotion last season and have scored just one goal since August. It would not be a surprise to see Huddersfield plummet in the coming weeks.
What keeps them up?
The key to Huddersfield's success, aside from that pressing game, was to get playmaker Aaron Mooy on the ball, but opponents appear already to have worked out that strategy. Wagner, known for being meticulous in his preparation, may need to amend his approach and perhaps turn attentions to scouting a better quality striker for the January transfer window.
John Brewin is a staff writer for ESPN FC. Follow him on Twitter @JohnBrewinESPN.