The cost of Premier League relegation enough to make clubs panic
Relegation is not the end of the world for a Premier League club but it is undoubtedly costly. With just over two months of the season left, the top division's current bottom three -- Sunderland, Hull and Middlesbrough -- may well be making plans to avert the financial flux that demotion will bring.
The blow can be cushioned, chiefly by getting back up as soon as possible with the benefit of parachute payments, as Hull and Burnley were able to do last season at the first attempt, but that requires continued backing from owners already set for significant losses.
Accounting for the cost of relegation
Having sellable player assets certainly helps. Newcastle lead the Championship table currently and while manager Rafael Benitez was able to refresh his squad to the tune of £54.74 million last summer, he did so at a mighty profit of £30m, having been able to cash in last season's players for a total of £85.72m -- including Moussa Sissoko to Tottenham for £29.75m and Georginio Wijnaldum to Liverpool for £23.8m.
"Newcastle have underwritten themselves by those sales," Kieran Maguire, a lecturer in football finance at Liverpool University told ESPN FC. "[Owner] Mike Ashley, although all the other clubs think Benitez can buy any player he wants, has spent the money pretty smartly."
Aston Villa, who came down with Newcastle last season, have paid out £68.94m in transfers this season, but could only sell off £39.02m worth of players on high wages. Villa lie 15th in the Championship, only six points clear of the relegation zone, a situation that would have been far worse had they not won three matches in March.
Good money after bad
Last month, Villa published accounts declaring a loss of £81m for the previous financial year, before relegation's deleterious effects on finances have been totted up. This season has seen the club continue to spend, with Brentford striker Scott Hogan added on January transfer deadline day for a fee that may reach £15m, and wages that will reach £10m over a four-and-a-half year contract. Added to that, Villa have several players on Premier League wages, unwanted by clubs in the higher division.
"If a player's reputation has not suffered there is market for the player at that level they're on, and the club that gets relegated is in a strong position because they can generate cash, and get the player off the wage bill," said Maguire. "It's when a player ends up playing in the reserves or is not performing, then you have to bring in more players and that's only going to increase your wage bill."
Dr Tony Xia bought Villa last year from Randy Lerner for a reported £76m, a knockdown price near half the £150m price tag that Lerner had looked for when putting the club up for sale in 2014.
Villa received £40m in parachute payments this season, and will get £33m next season, before it drops to a final payment of £13m in the third season. Having made £65m from TV revenue last season, they can expect only £6m in 2016-17, whereas this season's Premier League clubs are receiving a minimum of £100m.
With the club in already "deep financial stress," to use Maguire's description, next season looks like make or break for Villa. The greater majority of Championship clubs run at a considerable loss, with Brighton, behind Newcastle in second this year, losing £26m in last season's failed promotion campaign.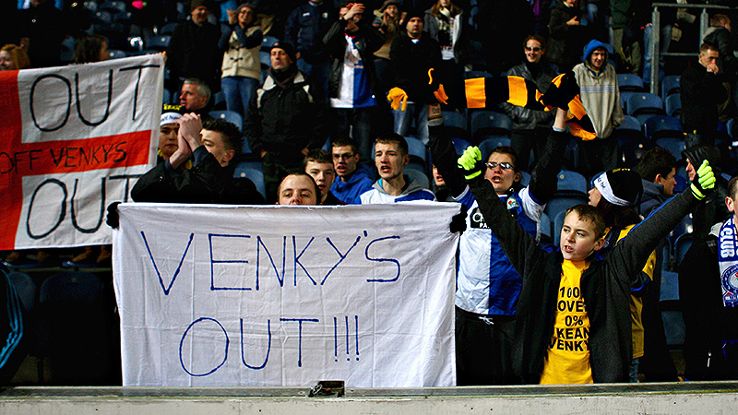 Bouncing back is difficult
Villa may be approaching a worse-case scenario but tough times await for relegated clubs. Ellis Short, Sunderland's owner, put his club on the market last November for a guide price of £240m, and will have to drop severely in the event of relegation. Throughout the division and below, there are clubs who have been unable to fight their way back to the Premier League and are paying the heavy financial consequences of their repeated failures.
Blackburn Rovers, with debts of £106m, teeter on the brink of relegation to League One. QPR are still fighting a legal battle to offset a Financial Fair Play fine of £50m for breaking Football League rules in the 2013-14 season and last year the club's major shareholders wrote off £181m of debt. Leeds United and Sheffield Wednesday, both in playoff positions at the moment, are long-forgotten Premier League forces who had to hit rock bottom to revive themselves.
Middlesbrough had been out of the Premier League since 2009 until last May's promotion, and endured huge financial losses, offset by the backing of chairman Steve Gibson, who, Maguire estimates since rescuing the club from liquidation in 1986 has personally pumped in £152m. A further £82m was owed to Gibson and his associates by the end of the financial year of 2015, according to the club's published accounts.
Boro did not break the bank in their summer spending, with an outlay of around £34m, but manager Aitor Karanka may not survive his team scoring the least goals in the Premier League.
Clubs taking preventive measures
The three clubs above the bottom three -- Crystal Palace, Swansea and Leicester -- have each made managerial changes this season in attempts to avert financial pain.
While Leicester have a reported 30 percent pay reduction built into contracts in the event of relegation, they would still have a huge overall wage bill for the Championship, and would face the likely prospect of having to sell their stars. Last season's champions increased their wage bill considerably in giving new contracts to Riyad Mahrez and Jamie Vardy among others and added high earners like Islam Slimani to their squad.
Having a billionaire owner Vichai Srivaddhanaprabha will certainly help, of course, but the Thai duty free magnate would have to absorb considerable losses and work within the financial regulations of the Football League. The unpopular removal of Claudio Ranieri became a necessity in those circumstances.
For similar reasons, but on the other side of the drop zone, Norwich, relegated last May, sacked Alex Neil "in the best interests of the club" as it became clear that a Championship playoff position was dropping from sight. Having suffered problems in the recent past, Norwich have been conservative financially, and this season are operating at a £9m transfer profit, but cannot afford to be out of the big league.
The financial reality of relegation from the Premier League inspires such cutthroat decisions.
John Brewin is a staff writer for ESPN FC. Follow him on Twitter @JohnBrewinESPN.