Grimsby fans say they were asked 'to show their bras' to Stevenage stewards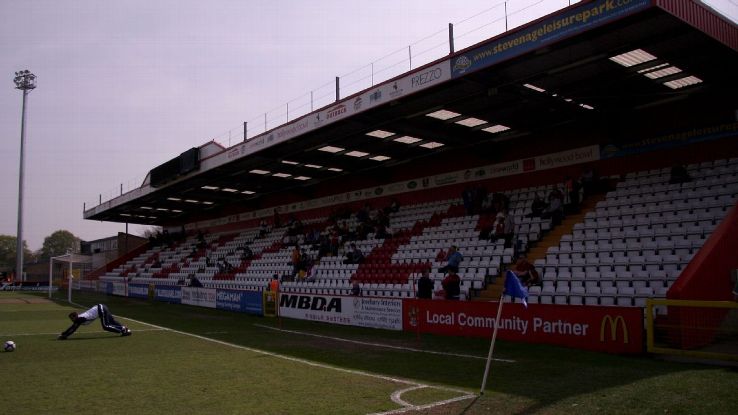 English League Two club Stevenage Borough have denied that stewards behaved inappropriately after being accused of asking a section of female away supporters were asked to "lift their tops up to show their bras to female stewards" for security reasons.
The allegations were made by the Mariners Trust, a supporters' group that represents over 3,000 Grimsby Town fans, in an open letter that questioned the conduct of the stewards at the Lamex Stadium ahead of Town's fixture there last Saturday.
The letter alleged that female supporters had been subjected to a "gross invasion of privacy" and were asked to show their bras "in the queue in front of other supporters, including men and male stewards," on entry to the ground.
It is also alleged that supporters were asked by female stewards whether they could check their bras to confirm that they were underwired.
The letter read: "The supporters were made to feel uncomfortable and when they replied they would 'rather not' they were 'reluctantly' let in to the ground.
"This act would effectively constitute a sexual assault, and these types of searches are unlawful."
But Stevenage, who revealed their prematch risk assessment gave management reason to believe there was "the potential for anti-social and uncooperative behaviour" from a "high-risk group attending", deny any inappropriate incidents took place.
A statement published on the club's official website read: "Grimsby's supporter liaison officer was made fully aware of the nature of the search regime prior to the game, to ensure all attending were aware and could allow sufficient time to access the stadium.
"Stewards used for this role in the away section of the stadium were provided by a reputable agency and are qualified to act as such. Searches conducted are recorded on CCTV and on this occasion, were in the presence of deployed police officers.
"No incidents were recorded on the day of any inappropriate behaviour towards female supporters or young spectators. Had such incidents been either reported or flagged up, the issues would have been dealt with immediately.
"The club takes these allegations seriously and will both study the CCTV footage and speak to the relevant parties to ensure that no infringements of accepted procedures took place."
The Football League confirmed it was looking into the situation.
A spokesman said: "The EFL has been made aware of the contents of correspondence published by the Mariners Trust and a media statement released by officials at Stevenage in relation to events that are alleged to have taken place at Saturday's League Two game between Stevenage and Grimsby.
"At this current time the EFL's security advisor is looking further into the matters raised and will be seeking the observations of both clubs. We are not in a position to make any further comment until such a time when all the facts have been made available and are fully considered."
The Mariners' Trust also claimed children as young as five were subjected to full body searches and that some supporters had items that were not on any banned list confiscated by stewards.
"We understand the need to keep supporters safe, but amongst the items taken include a tiny bottle of hand sanitiser [which is allowed by law onto an aeroplane], contact lens solution, cough sweets and medication," the letter said.
"This over-the-top approach unfortunately set the tone for the rest of the afternoon."
The letter also claimed there was a lack of washing facilities in a male toilet and that a female steward posted in a male toilet near the away stand had refused to move when asked to by Grimsby fans.
It concluded: "As outlined above, we believe there were a number of serious failings by your football club which need to be addressed as a matter of urgency, not just for any future visits by Grimsby Town fans, but also to ensure no other visiting team's supporters are treated as animals in the way your club did on Saturday."