Carlo Ancelotti to advise Derby's Paul Clement ahead of Man United match
Derby County head coach Paul Clement will turn to Carlo Ancelotti for advice ahead of his side's FA Cup fourth-round tie against Manchester United.
Championship club Derby host Louis van Gaal's United on Friday evening looking to reach the next round of the competition, which would further increase the pressure on Van Gaal.
Clement worked under Ancelotti, who is set to become Bayern Munich's new boss in the summer, at Real Madrid and the English coach is optimistic about his team's chances.
He said in The Times: "I am not sure it will quite be a giant killing if we get a good result.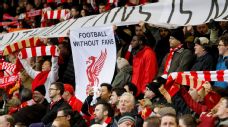 "It is a challenge we are really looking forward to up against a team that is not in great form. I'm in regular contact with Carlo. If I really need him I know he will be there for me.
"Will I speak to him [Ancelotti] before this game? Yes, I think I will. He will tell me to work with the players, get close to the players and ignore everything else. He always used to say 'control what you are in control of.'"
Ancelotti twice eliminated United from the Champions League during his eight-year spell as manager of AC Milan, while he also won three of his four Premier League encounters against them during his two seasons in charge of Chelsea.
Clement does, however, believe Van Gaal is the right man to lead United, despite the uncertainty surrounding his position following a sixth Premier League loss of the season.
"They chose him and he's got the right to play in a way he feels is best," he said. "That's part of the selection process. The man who followed Sir Alex had his difficulties, and now the next man in has had some difficulties too, but coaches need time to develop what they want to do.
"I don't know if he should take responsibility for the style. It's the choice of the coach and about the history of the club and what the fans are used to.
"I'm not sure they got the wrong man. When you look at the big clubs -- Barcelona, Bayern Munich, Real Madrid, United -- there are very few people who can do those jobs, and Van Gaal is absolutely on that list."
Clement added that Van Gaal remains one of the most revered managers of the modern era despite his struggles at Old Trafford.
Van Gaal, most likely in his final job before retiring, boasts an impressive CV which lists league championships and domestic cups in the Netherlands, Spain and Germany, as well as UEFA Cup and Champions League titles -- both with Ajax in the 1990s.
"He's one of many coaches who have spent his career at all the big clubs,'' Clement said.
"I think he's well thought of, from a coach relatively new to this. Van Gaal, [Jose] Mourinho, [Carlo] Ancelotti, [Guus] Hiddink, [Pep] Guardiola, he's part of that group.
"When you look at the big clubs - Barcelona, Bayern Munich, Real Madrid, Manchester United - there are very few people who can do those jobs, and he [Van Gaal] is absolutely on that list."
Information from the Press Association was used in this report.