Wycombe boss Gareth Ainsworth wants halt to Aston Villa fan boycott
Gareth Ainsworth has asked Aston Villa's mutinous fans not to boycott the FA Cup third round replay with Wycombe.
Manager Ainsworth believes Wycombe could net a six-figure windfall from the replay at Villa Park, and has pleaded with the club's supporters to delay any protests against beleaguered boss Remi Garde.
Villa are rooted to the Premier League's foot, and came under huge fire from fans during and after Saturday's 1-1 FA Cup draw at League Two Wycombe.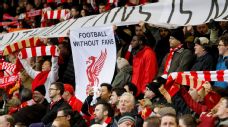 Visiting captain Micah Richards told furious Villa fans "We are doing our best" when confronted at the dugout, while travelling supporters swarmed the team's bus on leaving Adams Park.
When asked if he would want Villa fans to shelve any protests and turn out in numbers for the replay, Wycombe boss Ainsworth said: "Yes, do it in the next league game after the replay please, because you'll kill us if you do that!
"Villa are in a tough place at the moment, they've got good players but they just don't seem to be gelling as a team.
"I want to say thank you to the Villa fans for showing us so much respect by clapping us off the pitch.
"For them to do that when they are in a bit of disarray, that was great.
"This game would be worth £144,000 if it screened live on TV, which we hope it will be now of course. And then you could add in a sizeable gate, hopefully.
"Everyone knows about our debt, so this would be huge for the club, and hopefully it will be a packed house up there.
"But we'll be giving our all again up there, we'll go for it and just see what happens."
Villa manager Garde has now gone 10 games without a win in his increasingly testing west Midlands tenure.
The French boss refused to accept his players are failing him however, despite another frustrating weekend.
"I don't think they let me down," said Garde. "But of course that's something you always ask yourself if you're not winning games.
"We have to accept the criticism from the fans, they travel a long way.
"This is what we deserve, probably.
"I warned the players at half-time that we had to keep the level otherwise they would find a way back in, so I don't know why we didn't manage to keep that up. We started the second half poorly."
Garde hailed captain Richards as "brave" for taking time to listen to the supporters' protests at the side of the pitch, then admitted he does not know the extent of the defender's ankle injury.
"I don't know exactly how bad it is," said Garde.
"I'm not sure it's very important - but still it was important enough for him to ask to leave the field."