Exeter hold injury-hit Liverpool to force FA Cup third round replay
Three thoughts on Exeter's 2-2 draw against Liverpool in the FA Cup third round.
1. Under-strength Liverpool escape with a draw
It was probably the result that Liverpool and Jurgen Klopp wanted the least. If they had won, then great, they would be through to the next round of the FA Cup, but if they had lost, then it would be one less thing to worry about as they try to make the top four in the Premier League and win the Europa League or Capital One Cup.
As it is, Liverpool will now have to squeeze yet another game into their already-packed schedule after Exeter City held them to a 2-2 draw. "I can't believe we have to play another game!" Klopp said after the final whistle.
Exeter City

Liverpool
Game Details
"My German friends send me messages saying they are going on holiday," Klopp said after Liverpool's defeat to Newcastle on Dec. 6, laughing in the manner of a man who only had half an idea of what he was getting himself into.
In the 33 days between his old colleagues at Borussia Dortmund clocking off for their winter break and returning to domestic action, Liverpool will have played nine games, including the replay they must now also fit in. Klopp was drawn to English football by its passion and intensity, but he must be infuriated by its relentlessness.
And so he played a scratch team on Friday, and it was hard to quibble greatly with the selection, even though it was so inexperienced. Christian Benteke and Jose Enrique were the only two players in the starting line-up who have played more than four times for the club and, between them, the pair accounted for 117 of the XI's 135 total appearances.
A few had a couple of training sessions with the first team under their belt, while Tiago Ilori was recalled from his loan at Aston Villa, where he played no games, this week. It wasn't exactly a staggering shock that he could barely move by the end of his time on the pitch.
"If they want, this is the future of Liverpool," Klopp said before the game, offering his youngsters a chance to impress. Plenty of them did but, at times in the first half especially, Liverpool looked every inch a team of youngsters and outcasts cobbled together at the last minute.
Some of the kids thrown in, notably Brad Smith, who scored the second goal, and midfielder Cameron Brannagan, did plenty to show Klopp they might well be able to handle the first team, but the German manager will probably hope he doesn't have to call on them too many more times in the future.
2. Bad night for Benteke and Bogdan
It would be easy to place much of the blame for this performance on Benteke; he's one of the few senior players on the Liverpool team and a man who cost an eye-watering amount of money in the summer. However, the Belgian is not exactly the sort of player who will run past five players and win a game on his own, but rather one who thrives on good service.
In that respect, you could say that this game was a microcosm of his Liverpool career so far. It took until six minutes into the second half for Liverpool to deliver a proper cross, from which he was only denied by the fine efforts of Exeter keeper Bobby Olejnik.
More of the blame should be directed at another of the theoretically experienced players who started the game for Liverpool. Adam Bogdan has over 100 senior appearances to his name, largely for Bolton, but repeated the gaffe-fest that was his performance against Watford a few weeks ago.
At 1-1 on the stroke of half-time, the goalkeeper allowed Lee Holmes' corner, albeit a fine delivery, to fly over his head and into the net. If that wasn't bad enough, Bogdan was so easily put off by the slightest attention from a lingering attacker.
There has been much talk about Liverpool recruiting a new goalkeeper, despite Klopp's repeated denials, but at this point, they're in more need of an upgrade to their back-up, rather than starter Simon Mignolet.
Teams with ambitions in the Premier League simply cannot get away with a mend-and-make-do option as their No. 2 anymore, but Liverpool have fallen significantly behind their rivals: Chelsea have Asmir Begovic, Arsenal have David Ospina, Tottenham have Michel Vorm and Manchester United have Sergio Romero.
All could comfortably be first choices at Premier League clubs, but Liverpool have a man who -- partly due to injury -- wasn't even a regular for Bolton last season. Bogdan has already contributed greatly to the loss of three points at Vicarage Road and he very nearly caused Liverpool to go out of the FA Cup as well.
3. Exeter impress on their big night
This was an even more impressive effort from Exeter, given that it was achieved with two of their better players coming into the game lacking in fitness.
David Noble hasn't played since the end of November, when he was forced to leave a game against Bristol Rovers at half-time with a hamstring injury, while Christian Ribeiro has missed even longer after undergoing surgery on his knee.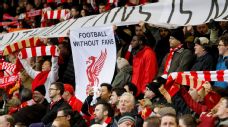 The interesting thing was that, good as they were, Exeter didn't actually have to play massively beyond their abilities to record this draw. Theirs was a solid, robust effort and perhaps the most impressive part of it was the way they went about things, attacking from the very earliest stages and keeping on with that policy for the majority of the game.
Of course they had to defend in numbers as Liverpool grew in strength, but as injury-time arrived, they were still looking for a winner, even though it would have denied them that memorable -- and lucrative -- replay trip to Anfield.
Tom Nichols was terrific alongside the excellent Josh Read up front, while both Ribeiro and Noble did well in their time on the pitch. The snappily dressed Paul Tisdale made some smart substitutions and showed why he's one of the more highly rated managers in the Football League.
To say Exeter deserved their replay would be quite an understatement.
Nick Miller is a writer for ESPN FC, covering Premier League and European football. Follow him on Twitter @NickMiller79.