Manchester United and Liverpool must treat FA Cup seriously
There was a time when winning the FA Cup was as prestigious a triumph as winning the league. That time has passed. The FA Cup now is a curious beast. We are told that it represents the last bastion of English football tradition. We are reminded of muddy pitches and Ronnie Radford, and yet the trophy bears the name of a corporate sponsor; the scheduling has been sliced up for television; the final kicks off at tea-time and the ball looks like a piece of hard candy. No, the FA Cup is not what it was. But Manchester United and Liverpool should play this weekend as if it is.
Liverpool haven't won a trophy since they overturned second flight Cardiff City on penalties in the 2012 League Cup, Manchester United since Sir Alex Ferguson's oddly comfortable farewell Premier League title of 2012-13. That's too long for two clubs of their stature. And while an FA Cup would not, in itself, represent a return to the summit of English football, there is a lot to be said for nurturing success with success, building a culture of cup finals, using the pressure to acclimatise yourself for when greater challenges emerge.
Brian Clough was a firm believer in this notion. He used the now defunct Anglo Scottish Cup to boost the confidence of his players.
"Footballers need something tangible to prove they are on the right lines," Clough wrote in his first autobiography. "The competition was frowned upon and scoffed at as a meaningless, valueless trinket. Not by us."
The FA Cup is not quite that meaningless, certainly, but there's no doubt that it has lost its lustre, fading slowly as potential Champions League revenues swelled in the late 1990s. Arsenal would, you suspect, rather win the league than equal Blackburn Rovers' 130-year-old record of three consecutive FA Cup wins. Manchester City and Chelsea will soon have more pressing European concerns, and who ever would have thought we'd get to say this in our lifetimes: Tottenham and Leicester will see defeat on Sunday as a chance to focus on their title challenge.
Manchester United could conceivably rejoin the title race, but there's been nothing in recent months to suggest that this is likely. Liverpool manager Jurgen Klopp's laughter at a journalist who suggested his team could mount a late charge has proved to be, not false modesty, but an entirely appropriate reaction to the notion. Both clubs will play in the Europa League, but the FA Cup is the best way to reassert their authority on the domestic scene. And Clough's doctrine has worked well for United in the past.
United's last extended period without a trophy came between their FA Cup win over Millwall in 2004 and their thumping 4-0 victory over Wigan in the League Cup final of 2006. During that period, the prevailing feeling was that Ferguson had lost his way, straying from the variants of 4-4-2 that had brought so much success and toying with something altogether more fluid. Ferguson insisted that good times were on the horizon, but United lost nine games in the 2003-04 campaign and though they were harder to beat the following year, they only scored 58 goals at the other end. In both seasons, they finished third and the dissent in Old Trafford intensified. And then in 2006 came the final in Cardiff.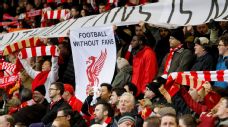 "While this contest provided little true corroboration of Sir Alex Ferguson's claim that he has a young team that will flourish in a couple of years," wrote The Guardian immediately after that 4-0 win, "the players certainly imitated the stance of celebrated predecessors at United."
It wasn't long before they were imitating the success of their celebrated predecessors too. The following season, United won their first four games, wobbled briefly and then retook first place on Oct. 1. They weren't budged again, cruising to the first of three successive titles. There were countless factors at play here, of course, not least the rapid development of Wayne Rooney and Cristiano Ronaldo, but the affirmation those players received against Wigan was certainly a part of the process. Perhaps one day, something similar will be said of Arsenal and their cup victories of 2014 and 2015, but let's not get ahead of ourselves.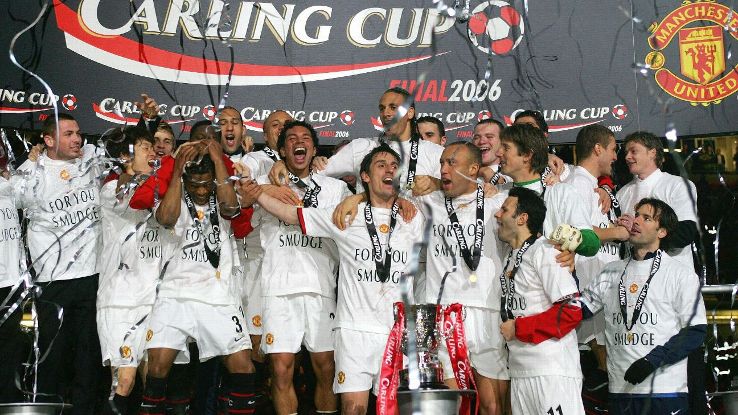 The truth is that United manager Louis van Gaal needs a beacon of hope to display to his players, to the club's supporters and quite possibly to the club directors. Everyone needs a reminder of what it is to be Manchester United. It is not soporific sideways passing, it is not pedestrian possession; it is winning trophies. Van Gaal could be just six games away from doing just that.
The same must be said of Liverpool. Since the departure of Gerard Houllier in 2004, the Reds have won only three trophies of any kind, all on penalty shoot-outs. The fact that one was the Champions League certainly soothes the pain a little, but it's not a return worthy of such a proud club. Liverpool, in the ascendancy in their League Cup semifinal with Stoke and still in the Europa League, may be in decline, but they are spoiled for choice when it comes to prizes.
Since the departure of manager Phil Taylor in 1959, every Liverpool manager bar Roy Hodgson and Brendan Rodgers has won a trophy of some kind. If Klopp wants to quickly ease that pressure, Exeter on Friday night is a good place to start.
There are lots of clubs with cause to give the FA Cup short shrift this season, lots of managers who could really do with the free weekends available to those eliminated early. Van Gaal and Klopp are not among them. For them, the FA Cup should be treated very seriously indeed.
Iain Macintosh covers the Premier League and Champions League for ESPN FC. Follow him on Twitter @IainMacintosh.