Championship clubs in the FA Cup: what you need to know
The FA Cup third round begins on Friday night as Exeter City host Liverpool, but what about all the teams below the Premier League? In the second of a two-part series, Nick Ames profiles the teams from the English League Championship, those sides right beneath the top tier.
Birmingham City (vs. Bournemouth, Jan. 9): Saturday's tie might awaken bad memories for Blues supporters. When Bournemouth visited their St Andrew's stadium for a Championship match last season, they inflicted an 8-0 thrashing -- Birmingham's record home defeat -- upon the home side.
Blackburn Rovers (at Newport, Jan. 9): Blackburn, who were formed in 1875, are one of an elite trio of clubs (along with Aston Villa and Everton) who have been founding members of both the Football League (in 1888) and the Premier League (in 1992). They won the former twice and the latter in 1995; they also won the FA Cup six times between 1884 and 1928.
Bolton Wanderers (at Eastleigh, Jan. 9): Bolton won one of the most famous FA Cup finals back in 1923. Incredibly, up to 300,000 fans are estimated to have crammed inside Wembley as they beat West Ham 2-0 -- the defining image was of a white horse named Billie picking its way through the crowds to push them back from the pitch. There is now even a "White Horse Bridge" leading to the rebuilt Wembley Stadium in honour of the occasion.
Brentford (vs. Walsall, Jan. 9): The west London club have made headlines due to their more scientific approach to recruiting players and preparing the team. Brentford's owner, Matthew Benham, believes mathematical modelling and statistical evaluation can give his side an edge in the race for a Premier League place.
Brighton & Hove Albion (at Hull, Jan. 9): Brighton were runners-up in the 1983 FA Cup final, drawing 2-2 with Manchester United before losing the replay 4-0. But the first match will forever be associated with the Brighton forward Gordon Smith, who missed a clear chance to win it towards the end of extra-time. The words "And Smith must score," uttered by the radio commentator Peter Jones, have entered folklore in the years since.
Bristol City (at West Brom, Jan. 9): The "Robins" (so called because of their red shirts) last reached the FA Cup final back in 1909, losing 1-0 to Manchester United. They are one of two league clubs based in England's sixth-largest city, Bristol Rovers being the other.
Burnley (at Middlesbrough, Jan. 9): Burnley (population 73,500) became the smallest town to contain a Premier League club when they were promoted for the first of two short-lived spells in 2009. They were a famous name in the old Division One, though, winning it in 1921 and 1960.
Cardiff City (vs. Shrewsbury, Jan. 10): The "Bluebirds," who come from the capital of Wales, are the only club from outside England to have won the FA Cup. They defeated Arsenal 1-0 at Wembley in 1927 thanks to a goal from Hughie Ferguson -- although he had some help from Gunners' goalkeeper Dan Lewis, who let Ferguson's weak shot squirm from his grasp.
Charlton Athletic (at Colchester, Jan. 9): These are turbulent times at Charlton. A fixture in the Premier League during the 2000s, the south London side is struggling in the Championship and thousands of supporters protested against their Belgian owner, Roland Deuchatelet, after last Saturday's 1-1 draw with Nottingham Forest.
Derby County (at Hartlepool, Jan. 9): Big-spending Derby sit second in the Championship and are owned by locally-born businessman Mel Morris -- whose company, King, developed the addictive "Candy Crush" video game. They won the FA Cup in 1946.
Fulham (at Sheffield Wednesday, Jan. 9): Situated next to London's River Thames, Fulham's Craven Cottage stadium enjoyed an unusual adornment between 2011 and 2013. The club's former owner, Mohamed Al Fayed, commissioned a statue of Michael Jackson (who had the visited the club in 1999) to be erected outside the ground. However, present owner Shahid Khan removed it two years later and it now sits in the National Football Museum.
Huddersfield Town (vs. Reading, Jan. 9): Huddersfield are managed by David Wagner, who was assistant to Jurgen Klopp at Borussia Dortmund and also won eight caps for the U.S. national team in the late 1990s as a player. They were FA Cup winners in 1922.
Hull City (vs. Brighton, Jan. 9) Hull was once considered one of England's less glamorous locations, with its football club following suit, but the north-eastern city was named seventh in Rough Guide's World Top 10 Cities for 2016 list and will be the UK City of Culture in 2017.
Ipswich Town (vs. Portsmouth, Jan. 9): Ipswich have provided the England national team with its two most successful managers. Sir Alf Ramsey, who guided them to the World Cup in 1966, and Bobby Robson, semifinalist in 1990, both took the reins after winning major trophies with the East Anglian club. Under Robson, Ipswich won the FA Cup in 1978 with a 1-0 win over Arsenal.
Leeds United (vs. Rotherham, Jan. 9): Leeds are one of English football's biggest names but have not been in the Premier League since 2004. Their current manager, Steve Evans, is their sixth since Italian owner Massimo Cellino took over the club in April 2014. They won the FA Cup for the only time in 1972, defeating Arsenal 1-0.
Middlesbrough (vs. Burnley, Jan. 9): Middlesbrough are currently top of the Championship and are managed by the former Spain international Aitor Karanka, who spent three years as assistant manager to Real Madrid during his time at the Bernabeu. They conceded what is now the second-fastest goal in an FA Cup final when Roberto Di Matteo scored for Chelsea in 1997.
MK Dons (at Northampton, Jan. 9): MK Dons have a controversial history. They were created in 2004 when Wimbledon, once a Premier League club, moved 40 miles outside London to Milton Keynes -- a town that was constructed in the 1960s -- and accordingly adopted the club's present name. Such a move is very unusual in English sport, but MK Dons have risen through the league impressively and this is their first season in the Championship.
Nottingham Forest (vs. QPR, Jan. 9): Forest's heyday came in the late 1970s when they enjoyed a stunning spell under the legendary manager, Brian Clough. Between 1977 and 1980 they were promoted to the old First Division, became league champions and won the European Cup twice. Prior to that, they also won the FA Cup twice.
Queens Park Rangers (at Nottingham Forest, Jan. 9): QPR, who are based in west London, have spent six seasons in the Premier League since its formation in 1992 and are now managed by the former Leeds and Chelsea forward Jimmy Floyd Hasselbaink. Their star striker, Charlie Austin, scored 18 goals in the top flight last season despite the club's relegation.
Preston North End (at Peterborough, Jan. 9): Arsenal's "Invincibles" made headlines when completing a top-flight campaign unbeaten in 2003-04 -- but Preston had done it first. They won the first season of the Football League without losing a game in 1888-89, also winning the FA Cup without conceding a goal. They retained their league title the following year and won the cup again in 1938; despite a less eventful recent history, they are one of English football's most storied names.
Reading (at Huddersfield Town, Jan. 9): Reading's nickname, the "Royals," results from their location in the Royal County of Berkshire -- where Windsor Castle, one of the Queen of England's most famous residences, is situated.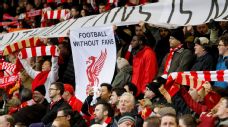 Rotherham United (at Leeds, Jan. 9): Rotherham's visit to Yorkshire rivals Leeds would have seemed strangely similar -- yet also completely different -- a year ago. Back then, the current Leeds manager, Steve Evans, was in charge of the "Millers" while Rotherham boss Neil Redfearn was in the Leeds dugout.
Sheffield Wednesday (vs. Fulham, Jan. 9): Sheffield Wednesday's home stadium, Hillsborough, is the largest outside the Premier League with a capacity of 39,732. The club's unusual name comes from its initial status, until just under 150 years ago, as a cricket club... that played its matches on Wednesdays. They have won the FA Cup three times, most recently in 1935.
Wolverhampton Wanderers (at West Ham, Jan. 9): Better known by their famous "Wolves" nickname, Kenny Jackett's side are based in the Black Country, once famous for its coal mining industry, and count West Brom as their local rivals. They have won the FA Cup four times, most recently in 1960.
Nick Ames is a football journalist who writes for ESPN FC on a range of topics. Twitter: @NickAmes82.