Greg Dyke: England can win World Cup 'one day soon'
FA chairman Greg Dyke launched this year's 50th anniversary of England's World Cup triumph by hoisting aloft the Jules Rimet trophy and insisting the Three Lions will soon reclaim their crown.
Four of England's 1966 heroes Sir Geoff Hurst, Martin Peters, Gordon Banks and George Cohen gathered at the Royal Garden Hotel in Kensington in the same room where the tournament's draw was made 50 years ago on Wednesday.
The hotel was also the venue for the team's celebratory dinner the night they beat West Germany in the final.
As well as the actual replica trophy used at the time, there was an original World Cup Willie -- the tournament mascot -- on show on Tuesday, as Dyke proclaimed the future can be bright for England's current crop.
"It was one of the most remarkable sporting years in English history and I am standing next to this golden reminder," Dyke said, after thrusting the Jules Rimet into the air.
"I genuinely believe the building blocks are in place to one day soon emulate the '66 winners.
"We owe it to them. We owe it to a generation of teenage dreamers to show we can do it again."
The day marked the first of a number of events planned this year to celebrate England's only major football success, while exhibitions will also be held at Wembley and the National Football Museum in Manchester.
Hurst famously scored a hat-trick in the 4-2 win in the final, with Peters also on target, while Cohen played right-back and Banks in goal.
"Anyone of my age will tell you it was one of the days of their life," Dyke said. "I can remember going to at least three of the games. I couldn't get a ticket for the final and watched the match on a little black-and-white telly at my aunt's house.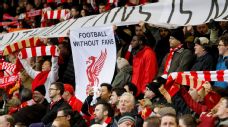 "Alf Ramsey [England's manager] announced beforehand that we would win it, and he never wavered. It was the tournament when England welcomed the world for the first time and our football hot-beds in the north showed their passion for the game on a global stage.
"We have to make sure we tell those stories and keep them alive. No-one will forget the achievements of the North Koreans or the antics -- and that's the polite version -- of Argentina and their captain [Antonio] Rattin, or the goals of Geoff Hurst and Bobby Charlton, and others.
"It is important to remember and pay tribute to each and every player in the final and also in the squad. We hope the celebrations cement the 66 winners their place in history and hope a new generation will hear their story and be inspired by it."