Mourinho aims to test Tito's mettle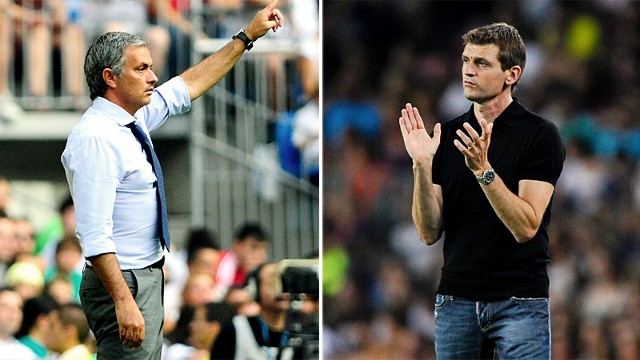 Jose Mourinho never quite got to grips with Pep Guardiola, even allowing for last season's Liga title win. He has had his claws into Tito Vilanova already - literally in one famous case - but this fixture far outstrips the importance of any Supercopa skirmishes.
Real Madrid lie eight points behind Barcelona, and even at this early juncture that looks a potentially fatal gap, especially if it is extended to 11 points at the Camp Nou on Sunday. To follow the example of previous seasons, the losing of two matches might even have cost Real their title already. A defeat in the Clasico, even in early October, could sink a ship that is already lurching.
• Xavi: Clasico won't decide La Liga

• Jose: It's just another game

• Blog: Real's positive problems

• Blog: Attack best defence for Barca
Mourinho is in his third season with Real Madrid, territory that was only ever chartered once before, at Chelsea, when his most unsatisfactory season at Stamford Bridge was posted. A recollection of that year points to a time of internal strife, bruised egos and the Mourinho message going awry. The early-season strife at the Bernabeu has been redolent of that time. The intense psychological undertaking that is playing for Mourinho may not be sustainable, and we have seen public signs of fraying edges.
Cristiano Ronaldo's ever-changing moods, and a reported rift with Sergio Ramos that centres around the recent excommunication of former favourite son Mesut Ozil, all point to a fractious dressing room. Mourinho, deluged as ever by a rabid Madrid press, is fighting fires when he would prefer to be concentrating on winning football matches.
Last season's title win was a triumph for Mourinho. Wresting the title from a Barcelona team that will go down as one of the greats may just be his finest moment as a manager. The pressure of Spain's great rivalry told on Guardiola in the end; the relaxed figure seen at last week's Ryder Cup with his family cut a considerable contrast to the almost cadaverous figure who had suffered on the sidelines for four years. Winning so much comes at a cost and cannot last forever. There is a time when walking away is the best policy, as Mourinho would no doubt countenance.
Now the pressure lies with Vilanova, and so far he has acquitted himself more than capably. Six wins from six matches is Guardiola-standard stuff. The results have been achieved during a time of considerable stress. There are some tired legs in the Barcelona ranks. And injuries are biting hard after Carles Puyol joined Gerard Pique on the treatment table to leave Vilanova without a recognised centre-back.
Xavi and Iniesta have been used sparingly after yet another summer of international success with Spain. And David Villa's bedding back into the team has not been without its problems. The terse exchange between Lionel Messi and Villa against Granada revealed fault lines in a garden that may not be as rosy as results suggested.
High stakes, high anxiety, such is the way when Barcelona play Real Madrid, even at such an early stage of the season.
Barcelona player to watch - Alex Song When Puyol dislocated his elbow against Benfica, it was the latest in a litany of injuries to befall the increasingly vulnerable captain. Life without Puyol may be difficult to consider but it must be addressed. When Song was signed from Arsenal in the summer, it was because he offered options in a number of positions, with centre-back being one of them. Barca were in the market for such a player all summer, and having been priced out of purchasing Javi Martinez, Song was their next option. Set to partner Javier Mascherano in a converted-midfielder central-defensive partnership that may confuse passing Premier League fans, Song can at least point to some strong performances from when he was called into this role at Arsenal.
Real Madrid player to watch - Cristiano Ronaldo Is he happy? What is he thinking? What we do know is that he is still scoring. A midweek hat-trick in Amsterdam saw him crack into a smile, and possibly just at the right time too. Once a player who saved his worst games for playing against Barcelona, going back to his Manchester United days, he has recently looked to have their measure. It perhaps began with the winning goal in 2011's Copa Del Rey final, but last season he scored against them in three of his four appearances, and was on the mark in both Supercopa encounters. The burden of expectation will be on him once more, but he may now be enjoying playing against Barcelona.
Key battle: Michael Essien v Xavi Mourinho's first couple of Clasicos saw him try and fail to take on Barcelona at their own game and fail miserably. Allowing them space was a deadly error. At the Camp Nou, he will be under less pressure to engage in open warfare, and so blocking off supply lines will be the order of the evening. Essien is one of those lieutenants that Mourinho likes to look to, and a move to Spanish football, where athleticism is less required, might just have been the right move for him. If Mourinho should turn to him, then Essien will be detailed with stopping Xavi dictating the pace, as tough an ask as any in world football but one that he will be happy to do for a man who has revived his top-level career, having looked an odd man out at Chelsea.
Trivia: The Clasico that generated the most goals ever was a 5-5 Franco-era clash in 1942-43.
Stats: The most common result in league matches between the clubs at the Camp Nou has been 1-0, which has been the score nine times, while eight encounters have ended with Barcelona winning 2-1. (FCBarcelona.com)
Odds: A Real Madrid win is a very backable 4.00 at bet365, while a draw is 3.80, not a bad price in itself. At a shade under odds-on, Barcelona are 1.80.
Prediction: We have barely mentioned Messi but will do now. He is going through something of a goal drought, having not scored in a whole three consecutive matches. Going four matches blank is unthinkable and he must be expected to score in a game that may well end up as a draw.