Red rivals set to usurp City throne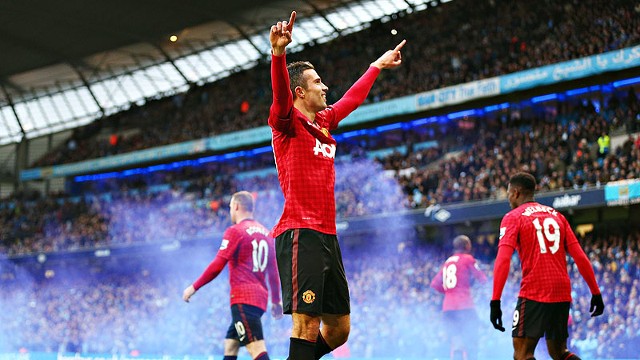 With a 15-point gap between the top two, Manchester's second derby of the season has lost some of the intrigue that it would normally expect. The title race is all but over; even a City win is unlikely to spark a United capitulation. Beyond northern pride, this game will have little impact on the season.
United have fallen below their high standards across all fronts this season as they were knocked out of the FA Cup, Capital One Cup and were beaten by Real Madrid in the Champions League, but with seven games left they are in full control of reclaiming their title from the blue half of Manchester.
A 3-2 win back in December is where the title race may have changed, as Robin van Persie's stoppage time winner evaded Joe Hart and put United six points clear. They have never really looked back and their 25 wins from their 30 games is unprecedented in the Premier League era.
City, meanwhile, have the FA Cup to play for but little else. With the sale of Mario Balotelli leaving them short up front in January, the champions have looked sluggish since the turn of the year and their away form has seen them drop valuable points at QPR, Southampton and Everton. Too often their big-name players have not stood up to be counted and, as the club's hierarchy comes to terms with the loss of their title, it will be interesting to see how many are there at the start of the next campaign. Although at least Yaya Toure has committed himself.
Manager Roberto Mancini, too, has been subject of constant speculation over his future, and his recent criticism of the likes of Samir Nasri and Vincent Kompany has added more fuel to the fire. A morale-boosting win over United would get the fans back on his side but, ultimately, it would be too little, too late.
Manchester United player to watch: Nemanja Vidic. If Vidic had been fit throughout the whole season, who knows what United could have achieved. As it was, they have done pretty well without their talismanic Serb in the Premier League - racking up 77 points from their 30 games. Still, the stats have revealed that Vidic has the highest win percentage of any United player who has made more than 60 appearances for the Old Trafford outfit. At around 72%, Vidic is not accustomed to the taste of defeat and his grit and determination to fight for the cause
Man City player to watch: Samir Nasri. Criticised by Mancini for his efforts in training and his inconsistency on the pitch, Nasri took the unusual step of hitting back at his manager, claiming his failure to get his point across in correct English had caused the press to overreact. What is certain is that the Frenchman has underperformed this season, by his own high standards. Able to control a game, Nasri put in a fine performance against Newcastle to prove that he is capable of firing on all cylinders. City, and Mancini, will expect the same at Old Trafford.
Key Battle: Robin van Persie v Vincent Kompany: With Wayne Rooney coming back to full fitness, the Dutchman's role takes on even more importance. The £24 million signing's goals have virtually won the title for United, but he has struggled of late and although Fergie claimed that he might be suffering from the "intensity" of the season, he won't be getting a rest anytime soon. Class is permanent though and Van Persie will need to be marshalled carefully by City's captain if the away side are to stay afloat. Like Vidic, the Belgian has also been hit with injuries this season and it was noticeable how much more fluid City played when he returned against Newcastle. These two are arguably two of the best in their positions in the league and their tussle will be intriguing to watch.
Trivia: For the previous five clashes which have resulted in a winner in the first game, the second game was won by the same team. The only time the honours were shared in a Premier League season was in 2003-04.
Stats: Since Cristiano Ronaldo left United, the Red Devils have won regularly against the rest of the big six, with 15 wins out of 17. Against the same big teams, City's away record since the 6-1 win at Old Trafford in October 2011 has seen then win only once in six visits.
Odds: United (2.20), City (3.25) and the draw (3.40) are on offer with bet365 but a 0-0 draw comes in at 13.00 if you think both sides will just be going through the motions.
Prediction: With the title all but done and dusted, a City win seems improbable and even a draw would not do them any favours. United to take another step closer to the trophy.