Colombia can plunge Messi and Argentina into further despair
In the opening few days of Copa America action, one game leaps out. The continent's best two teams in last year's World Cup -- Brazil and Uruguay -- are likely semifinalists. The next best pair are Argentina and Colombia -- and these two heavyweights meet each other in Salvador's splendid stadium on Saturday.
Brazil and Uruguay share a certain continuity. They have retained the coaches who took them to Russia last year, with Uruguay's Oscar Washington Tabarez in charge of La Celeste since the start of 2006. Argentina and Colombia, meanwhile, are in a state of flux; Colombia, because coach Carlos Queiroz has only recently taken over, Argentina because, bizarrely, they are going into a major tournament under the command of a caretaker boss.
Former international right-back Lionel Scaloni has been keeping the seat warm since the World Cup. He mainly owes his job to the fact that he is cheap: Argentina needed a big pay out to rid themselves of his expensive predecessor, Jorge Sampaoli.
- Australia keen to take 2020 Copa America chance
- Vickery: Time for Brazil's other stars to step up with Neymar out
In his nine games in charge, Scaloni has been merrily renewing the squad. Just nine of his 23 players were in Russia, and there are only five survivors from the group that came second in the 2016 Copa. No other squad at the Copa America has overseen such change.
And yet there is some continuity. The old firm of Lionel Messi, Sergio Aguero and Angel Di Maria ride again.
A while back it seemed highly possible that Messi would sit this tournament out. There is another Copa in 12 months' time, when Argentina will play their matches at home, presumably no longer under caretaker management. Perhaps the little Barcelona genius would save himself for that one? But no. Time and opportunities are running out for him to get his hands on a trophy with his country at senior level, and so he has returned.
It seems abundantly clear that Messi has put his foot down. The Scaloni regime appeared disinclined to consider Aguero, preferring Mauro Icardi as first choice centre-forward. Messi, however, made his preference known. Aguero is back.
Scaloni stepped in last year full of bold words -- especially for a caretaker. He wanted to change Argentina's style, seeking a more direct style of play. He looked at a number of systems, but he was usually setting up the side with a pair of wingers in a 4-3-3 formation, and was looking for his central midfielders, especially Leandro Parades, to get the ball forward quickly into wide areas.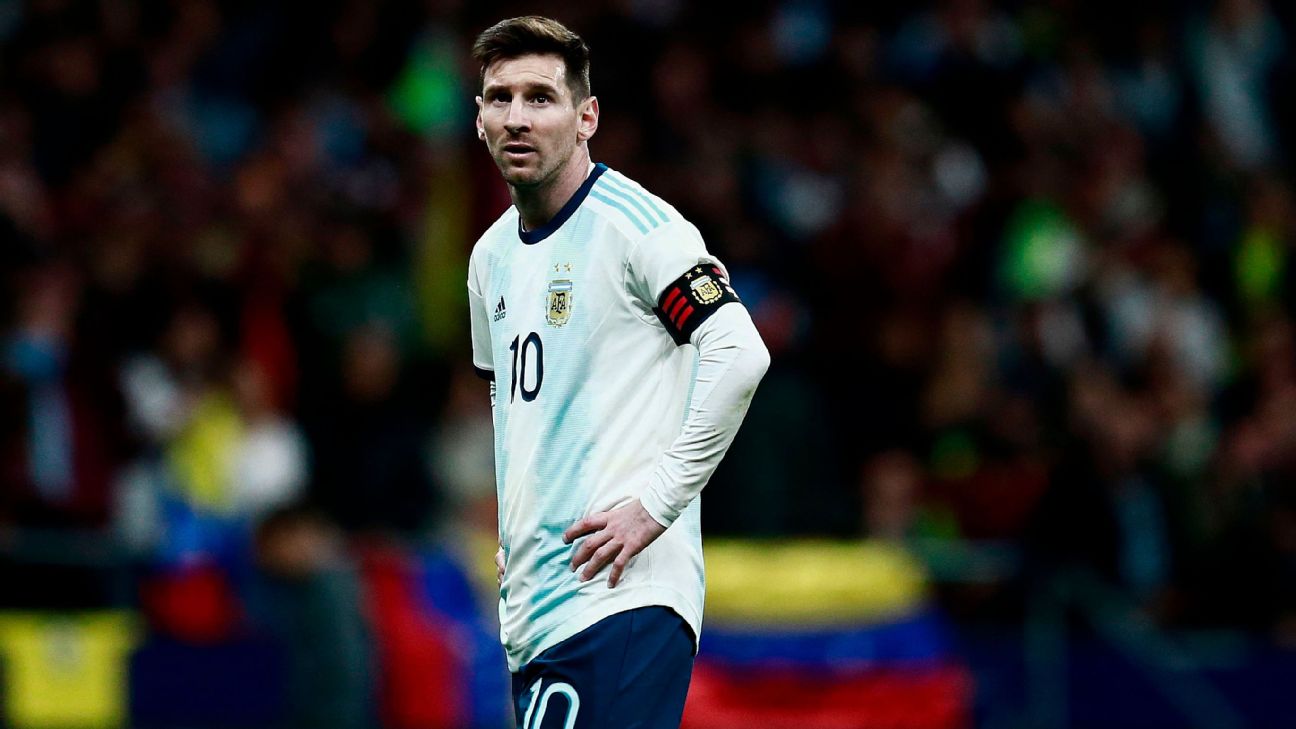 The return of Messi complicates this a little. In the Barcelona star's first game back, against Venezuela in March, Scaloni retained his width by playing three centre-backs and two attacking wing-backs, with Messi operating behind the striker. That formation will probably not be seen again. The defence collapsed, and an orthodox back four is much more likely.
Against Nicaragua last Friday, Scaloni returned to a 4-3-3 but with a tweak. Messi came inside, and Giovani Lo Celso, one of the midfield trio, was sent out wide on the right. Lo Celso is very left footed, and this new position cramped his style. But when he drifted in and combined with Messi, Argentina were at their best. The Lo Celso-Messi link up promises to be one of the most intriguing aspects of the Copa.
It will be particularly interesting to see how this right flank works on Saturday as Colombia are not at their strongest at left-back. Coach Queiroz has been using William Tesillo in the role. Tesillo is a centre-back by trade, and will not relish being drawn out into wide open spaces. If he plays, one possibility is that Messi will be more keen to exploit the space out near the touchline.
The match ups at the other end are just as fascinating. For all Scaloni's tinkering, the long running structural problems persist. There is a dearth of top class talent in goal and across the defensive line. High hopes are held for Tottenham's Juan Foyth, but it would seem too early for him to be the centre-back solution that Argentina have been craving.
What's more, Colombia can unleash their new weapon. At the age of 28, Atalanta striker Duvan Zapata is in the form of his life. After missing out on a place on the plane to Russia he has enjoyed a magnificent season in the Italian league, and has been mightily impressive in the first few games under the command of Queiroz. Zapata scored his first international goal away to Peru on Sunday, and it is easy to imagine the Argentine defence having all sorts of problems with his strength and power.
So does Queiroz start Zapata up front with Radamel Falcao? It would be a very bold move. Juan Guillermo Cuadrado could take care of the right flank, working up and back. But the problem would be on the left. If James Rodriguez is used there, then the space in front of Tesillo -- the space Messi will look to find -- would be left dangerously unprotected. Whatever happens, central midfielders Wilmar Barrios and Mateus Uribe will be looking to keep a close watch on Messi.
But there is much to think about for Queiroz as he plans for Saturday's game. Fielding just one striker would allow him more defensive solidity, but it may rob him of the chance to expose a vulnerable opposing back line. It is possible, of course, that Zapata will be held in reserve. The big striker made a huge impact off the bench in recent matches against Japan and Peru, and, ever the pragmatist, Queiroz may seek to draw Argentina's sting and then open up in the closing stages.
This, then, is a clash full of fascinating permutations -- and the fact that, by any normal tournament standards, the two teams go into the game somewhat under-prepared only adds to the interest. A meeting of potential semifinalists, Argentina against Colombia will surely be one of the highlights of the group phase.