Brazil's penalty loss to Paraguay in Copa should serve as wake-up call
CONCEPCION, Chile -- The 2015 Copa America was set up for a final between Chile and either Brazil or Argentina. Everything seemed to be going to plan. But clearly Paraguay had not read the script.
Ramon Diaz's side went a goal down early to Brazil, and many must have already been anticipating a semifinal on Tuesday between the two great powers of South American football. But, as they had done in the group phase against Argentina and Uruguay, Paraguay dug deep and roared back to equalise. Indeed, the late substitutions made by Diaz showed that he had every intention of winning the game in the 90 minutes.
Before criticising Brazil, it is only fair to pay tribute to their 15th-minute goal. A throw on the left found Philippe Coutinho, who laid the ball back to Filipe Luis. He played square to Robinho, who passed square again to Elias and began a burst into the penalty box. Elias, meanwhile, slipped advancing right-back Daniel Alves behind the defensive line. He pulled back a cross, and the movement of Roberto Firmino took the defence to the near post, creating space for the arriving Robinho to sweep home. It was fine, collective football, stretching the opposition by moving the ball quickly and intelligently from one side to the other, making diagonal progress and finishing it off with presence in the box.

Brazil
Paraguay
Paraguay wins 4-3 on Penalty Kicks.
Game Details
So the question becomes this: If Brazil were capable of producing one such move, why were they so utterly incapable of doing anything remotely similar in the remaining 79 minutes?
This is a theme for which Brazilian football needs to have a long, hard look at itself. Not just because of a penalty shootout elimination against Paraguay, but because what took place in Concepcion is an example of what has happened to the game in the country that once thrilled the world.
Brazil have given up beating rivals on the flow of the game. Now it is all about moments -- a flash of inspiration here, a piece of individual genius there -- and above all, the counter-attack. Get the first goal, sit deep and wait for the opportunity to go at pace. So once the team had opened the scoring against Paraguay, there was no need to worry, no need for the team to concern itself with the flow of the game and establish controlled possession. It was just a case of waiting for Paraguay to over-commit and then punishing them on the break.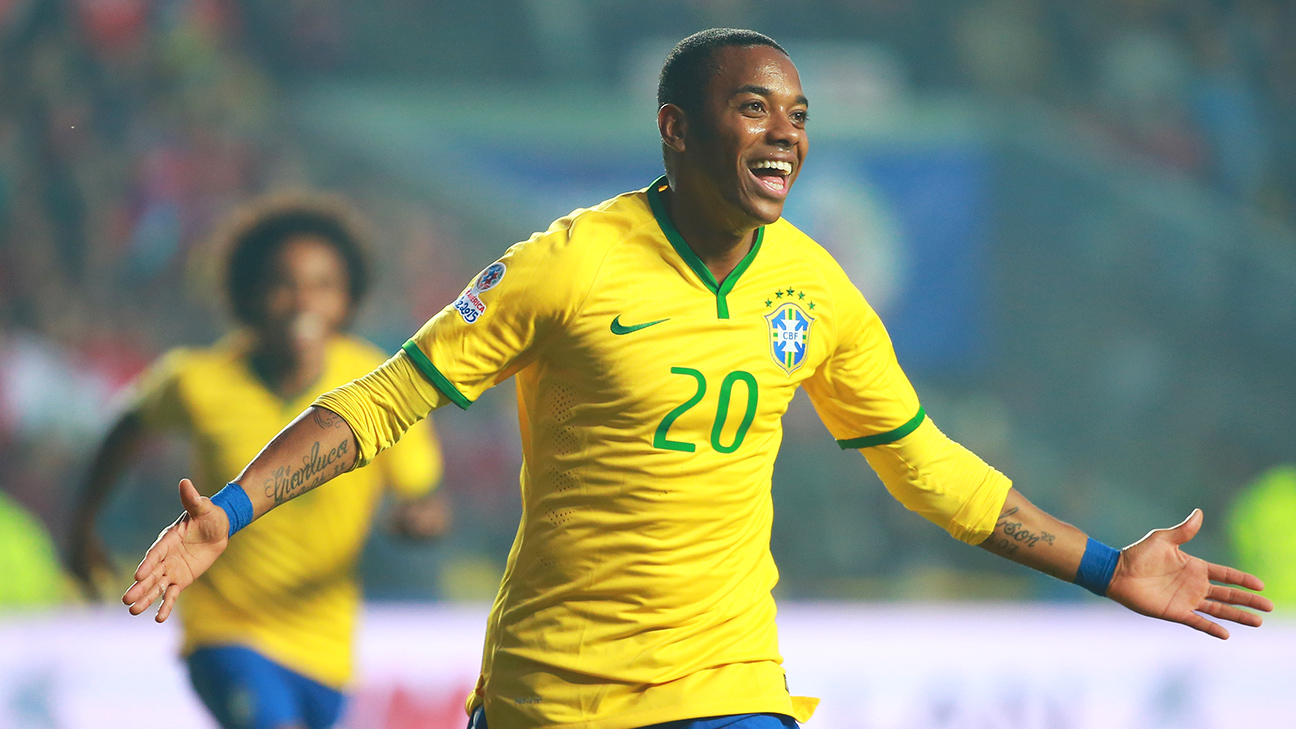 On plenty of days, it has worked. It may even be in the long-term benefit of the Brazilian game that it did not work this time against Paraguay -- because it is hard to believe that Brazil are not capable of something more expansive and ambitious.
Two things prevented this tactic from working on Saturday. One was the work of Paraguay coach Diaz. In the buildup to the game, he had drilled his defence and covering midfielders to keep compact and to move forward aggressively. Many times his team were able to halt the Brazilian counter-attack in the early stages because there was pressure on the ball to delay the pass, meaning that the striker drifted offside.
The other thing that went wrong for Brazil was a moment of madness from centre-back Thiago Silva. The Paris Saint-Germain man is a magnificent defender, but there is a reason he spent the past year on the bench for Brazil, only regaining his place against Colombia. During the World Cup, he proved a flaky captain, refusing to take a penalty in the shootout against Chile and sitting distraught on his own. Dunga, a World Cup-winning captain in 1994, doubted Silva's mental strength.
Against Paraguay, for no apparent reason, Silva jumped with his arm high and gave away a needless penalty for handball -- just as he had done for PSG against Chelsea a few months earlier. It was a moment silly enough to make Dunga regret dropping David Luiz. Without it, for all their pressure and their resilience, it was hard to see Paraguay scoring a goal. As it was, goalkeeper Jefferson got close to a well-struck penalty from Derlis Gonzalez.
Ramon Diaz knew what was at stake. Jefferson has had a nervy tournament, but he is lithe and athletic, an excellent penalty saver. His Paraguayan counterpart, Justo Villar, is short for a keeper. Diaz, then, would have preferred not to take the chance of penalties. On came talented attacking midfielder Osvaldo Martinez and Oscar Romero as Paraguay looked for a win in normal time.
But it was not to be -- and Brazil went into the shootout as favourites. Since Dunga slotted home in the successful 1994 World Cup final shootout, Brazil have an excellent record in such contests. They beat Holland that way in the 1998 World Cup semifinal. In the 2004 Copa, they won both semi and final -- against Uruguay and Argentina, respectively -- to win the trophy. In the next Copa, three years later, under Dunga they came very close to elimination in a semifinal shoot out against Uruguay but won through and went on to shock Argentina in the final. And, of course, in last year's World Cup they went through those dramatic scenes before beating Chile.
The exception was the match against Paraguay in the quarterfinals of the previous Copa, when, bizarrely, Brazil did not manage to score a single penalty. This time they managed three -- but the two left-footers, Everton Ribeiro and Douglas Costa, missed the target entirely. With the exception of Roque Santa Cruz, who fired over, Paraguay's penalties were emphatic and well placed. Gonzalez clinched it by firing into the opposite corner than the one he had chosen in normal time.
And so after beating Brazil on penalties in the quarterfinal for the second time, Paraguay are through to face Argentina for the second time in the tournament.
Tim Vickery covers South American football for ESPN FC. Follow him on Twitter @Tim_Vickery.