Flamengo face steep challenge in Ecuador to secure Copa Libertadores progression
On a gloriously sunny afternoon in front of a Maracana stadium packed with fans in their red and black colours, Flamengo beat local rivals Vasco da Gama 2-0 on Sunday in the second leg of the final of the Rio State Championship. This was a repeat of the first-leg scoreline, and so, by a comfortable margin, Flamengo are kings of their own hill, with Rio bragging rights assured.
But there is no time to celebrate. Being champion of Rio de Janeiro is all very well. It is a historic title -- but one which in recent times has lost much of its importance. Flamengo also have their sights set much higher this season, as they aim to be champions of South America.
Only once, back in 1981, in the heyday of Zico, have Flamengo won the Copa Libertadores. In the last few years, a second triumph has become something of an obsession, but though they have taken part eight times this century, they have never come close. A quarterfinal elimination in 2010 is their best effort in that span. Last year they fell in the second round, and in their three previous attempts -- 2012, 2014 and 2017 -- they failed to make their way out of the group, a failure of humiliating proportions that they are anxious to avoid this time round. For that reason, their game on Wednesday night is every bit as important as Sunday's final win over Vasco.
-- Flamengo: Tragedy in the Vulture's Nest
With four of the six group games played, Flamengo would seem to be sitting pretty. They top the group, ahead of Uruguay's Penarol on goal difference, and have a five-point cushion on the team they meet on Wednesday, Ecuadorian champions LDU, referred to locally as Liga of Quito.
But there is something false about the respective positions of these clubs.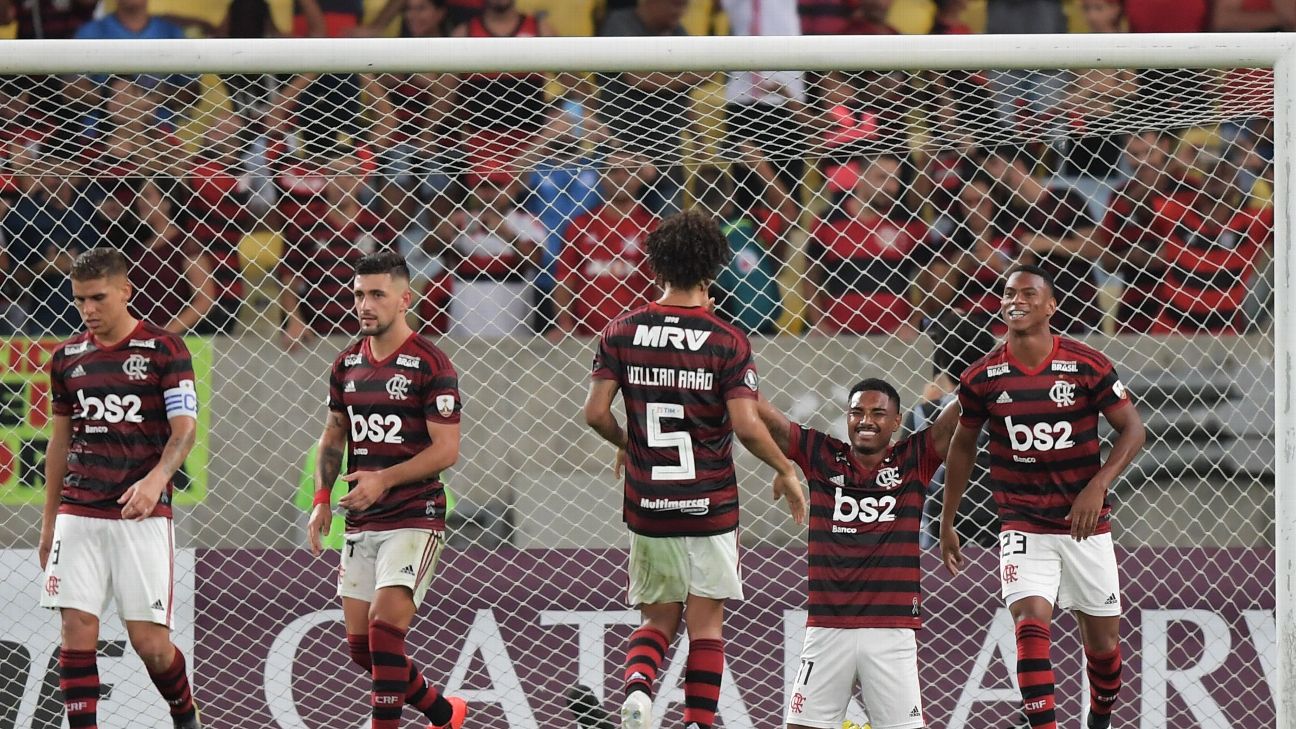 The first point to make here is that home advantage counts in South America. Journeys can be long, climatic conditions can vary, atmospheres inside the stadiums can be intimidating. The last week of Libertadores action contained 16 games, with one a draw, one going to the away side and a staggering 14 won by the hosts. A customary average in the competition is about three home wins to every away -- about twice as many as are usually found in Europe's Champions League. The entire group stage of this year's Libertadores to date has consisted of 37 home wins to 11 away.
There has been a quirk in the fixture calendar of this year's competition. Some sides have played the last three of their matches at home. Others have been on the road for all of their last three. Flamengo are in the former situation, Liga of Quito the latter. The position in the table of Flamengo, then, is artificially high, while that of Liga is artificially low.
This is especially relevant for Wednesday's game because Liga normally derive extra advantage from their home matches. They play at altitude -- the city of Quito situated 2,800 metres above sea level -- and this affects unacclimatised visitors in different ways. Some feel the effects more than others, but all to some extent will feel the lack of oxygen and will lose part of their athletic capacity. It will not be possible for Flamengo to play their usual game.
When the teams met in the Maracana last month, Flamengo were worthy winners. They were more dominant than the 3-1 scoreline would indicate, as Liga coach Pablo Repetto was quick to acknowledge after the game. Playing with splendid intensity, Flamengo marked high and kept their opponents strangled back in their half of the field.
There is no way they will be able to produce something similar for a full 90 minutes on Wednesday. Veteran coach Abel Braga outthought Barcelona, Ronaldinho and all, when he took Internacional to the Club World crown in 2006. He will have to be flexible on Wednesday, as Liga, of course, know all about the conditions and will use them to their advantage. In 2008, they became the first (and so far only) team from Ecuador to win the title, making full use of the altitude of their home city. Their ploy will be to stretch the game out, to hit long diagonal passes in order to force Flamengo to defend over a wide space and tire all the more quickly in the rarefied air.
The stakes are every bit as high as the altitude, as a defeat for Flamengo would leave them suddenly looking very vulnerable. In the final round, Liga are at home once more, this time to San Jose of Bolivia, the weakest team in the group. Two wins in front of their own fans would carry Liga to 10 points, and Flamengo would then need a draw from their final fixture, away to Penarol.
Avoiding defeat on Wednesday would put an early end to the tension and the worry for the Rio giants. Come back from Quito with a draw and Flamengo will be entitled to celebrate again.